FreshGrass | Bentonville 2023 Highlights Perseverance and Passion
---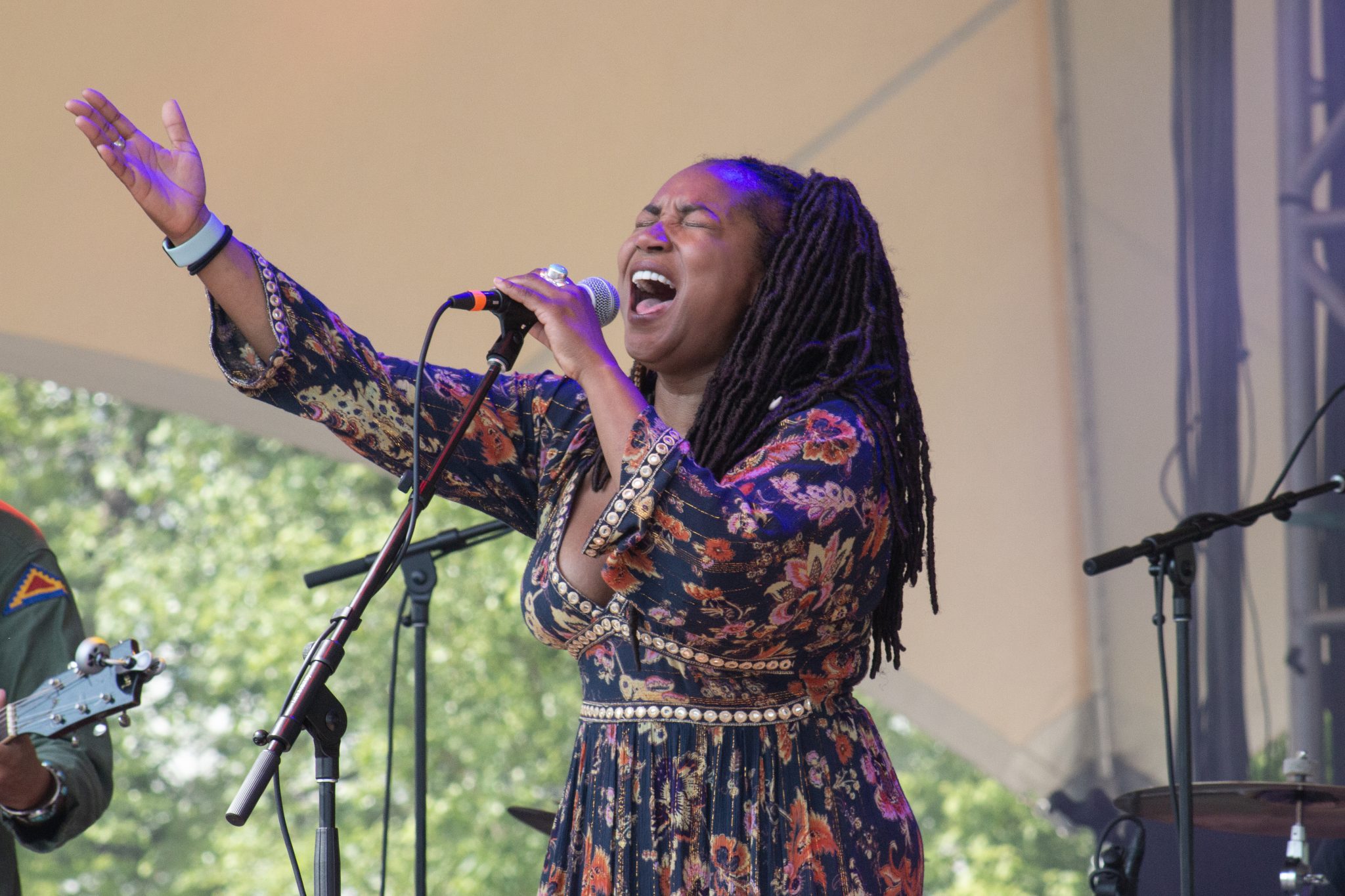 Miko Marks performances at the third annual FreshGrass | Bentonville. Photo by Hilary Saunders
The third annual FreshGrass Festival at The Momentary in Bentonville, Arkansas, started off in the rain. Friday afternoon was not just damp, but soaking as storms rolled through the northwest part of the state. The ground around the No Depression stage even flooded, but intrepid fest-goers made the most of it by stomp-dancing in the puddles along to the sweet, swinging sounds of bassist Melissa Carper's country trio.
Luckily, the rain didn't cancel any sets, and all of Friday's performers and attendees persevered through the weather. By Saturday, the skies parted for a gorgeous spring day full of what presenter FreshGrass Foundation calls "innovative grassroots music." The nonprofit foundation, which also publishes No Depression, curated yet another exciting lineup this year in Bentonville, featuring headliners like Caamp and Elle King, bluegrass stalwarts like The Del McCoury Band and Molly Tuttle & Golden Highway, soul legends like Mavis Staples, and exciting international newcomers like Alsarah & The Nubatones and Cimafunk. This year, the FreshGrass WYLDE Market also set up in between the Main Stage and No Depression Stage at The Momentary, featuring more than a dozen independent pop-up shops (including fan-favorite chain stitchery Fort Lonesome).
Staff from No Depression and the FreshGrass Foundation were on hand to cover the festival and contributed their highlights below.
FRIDAY
There are fewer things that I look more forward to than the
House of Songs
partnership. This festival's cohort featured an unrivaled group of singers and songwriters —
Billy Keane, Judy Blank, Lizze No, Shannon Wurst, Kaïa Kater, and Jesse Aycock
. The combination of instrumentation from No's Celtic harp playing, Kater's effortless agility on the banjo, and Aycock's lap steel guitar helped paint the picture of 16 original songs all written in the week leading up to the festival. With each cohort, House of Songs — led by Graham Weber and Troy Campbell — reminds us to appreciate the process and storytelling that comes with every song written within a community. (Read more about House of Songs' work, including during the pandemic,
here
.) —
Hilarie Spangler, FreshGrass Foundation director of programs, grants, and ventures
I had heard of
Tank & The Bangas
from a number of different sources, including those I met on this year's
Havana Funk Expedition
, but this was the first time I got to see them live. The New Orleans-based funk and soul band won the 2017 NPR Tiny Desk Contest and was nominated for the Best New Artist Grammy in 2020, and frontwoman Tarriona "Tank" Ball led the audience at the
No Depression
stage in revelry after the torrential rain earlier that day.
— Hilary Saunders, Managing Editor,
No Depression
The Lil Smokies closed down the No Depression stage Friday night and their electrifying style of progressive roots left the Day 1 crowd yearning for more. Their fusion of bluegrass and progressive folk further energized the audience, which earlier endured rain and wet conditions, creating an immersive experience filled with foot-stomping melodies and heartfelt harmonies. And in typical late night closer fashion, the band welcomed special guest Sierra Ferrell to the stage, and she added her own West Virginia vocal stylings to a couple of high-octane tunes to close out the night. — Adam Kirr, Director, Marketing and Retail, FreshGrass Foundation
Seeing Hawktail's set on the No Depression Stage was easily a festival highlight for me. Influenced by Swedish polska music, their performance was an absurd feat of musical coordination and virtuosity. It's rare that you get to witness such seamless musical conversation at such a high level! — Matty Jackmauh, Development and Community Engagement Assistant, FreshGrass Foundation
I had just seen
Miko Marks
at City Winery in New York City on her joint tour with Rissi Palmer (read their conversation with the Black Opry's Holly G
here
), but I wasn't going to turn down a chance to see this powerful singer again. For the last two songs, I ended up standing in the audience next to
Lizzie No
, who simply beamed in awe of her friend and fellow performer. —
Hilary Saunders
When one reaches a certain level of mastery with an instrument, as Alison Brown has with the banjo, they are comfortable standing back to let their supporting players speak for themselves. Brown assembled a fantastic band (best live flute playing I've ever seen, hands down) and played flawlessly alongside them, letting loose on "Girl's Breakdown," her homage to Earl Scruggs' "Earl's Breakdown," tuning her banjo as she played at a blistering speed. — Matty Jackmauh
FreshScores is a mixed-media special program that has become a staple at both FreshGrass festivals. Here in Bentonville, Melissa Carper's musical accompaniment to Charlie Chaplin's The Circus silent film was a captivating fusion of old-time music and whimsical melodies — a perfect complement to the on-screen slapstick comedy of monkeys disrupting Chaplin's attempt to walk a tightrope. Carper's nimble fingers danced across the strings of her upright bass, providing a lively rhythmic foundation that synced with Chaplin's comedic timing, eliciting laughter and amusement from the audience. — Adam Kirr
Back in January, I was able to join Trombone Shorty (a two-time FreshGrass Festival alumnus) and Grammy-nominated Cuban funk-rock star
Cimafunk
for five days in Havana. The full story about that magical cross-cultural exchange between music students from New Orleans and Havana can be found
here
, but this weekend was the first time I actually witnessed a full-band Cimafunk performance. The band's energy was magnetic, and the entire crowd at the
No Depression
stage bounced, boogied, and got down together in one glorious mess of humanity.
— Hilary Saunders
Here are photos from the weekend by Hilary Saunders. Click on any to enlarge and view as a slideshow.
---