Fresh-faced: My First Experience at FreshGrass Festival – Day 1
Posted On September 22, 2015
---
I went into the Freshgrass experience not knowing what to expect. I knew a few things, this was a festival at a contemporary art museum, I had friends that had played the fest in the past and they loved it, and that I hadn't planned on attending until I received an email just about a week ago asking me if I would like to come to Mass MoCa in North Adams and shoot at the festival. Bluegrass? Photography? Museum? Friends? Check all 4 boxes, I am there.
Upon walking into the festival I was immediately greeted by someone in a red shirt and a big "WELCOME to Freshgrass!". This is something that stuck with me all weekend long, everyone here was so incredibly friendly and inviting. There was a warmth surrounding the grounds that crossed from the volunteers, to the artists, and the fans that were there to hear great music. Descending a stair way into the main courtyard I was greeted by the sound of a familiar voice. That was the voice of Cold Chocolate's Ethan Robins, and it was great to catch someone I knew right off the bat upon walking into the festival grounds. It really set the mood for me and that this was going to be a weekend of fantastic music with a family type atmosphere even though I was like the new in-law that wasn't all that sure how he fit into the family dynamic.
The wife and I got our bearings with the grounds, the layout, who would be where at what time, where the best food trucks were before heading to Joe's Field to catch Twisted Pine. On
the way I was stopped by another person who very obviously was running the show (hence the walkie talkie and multiple lanyard passes). This time, it was Jodi Joseph from Mass MoCa and she asked who I was, where I was from, if I needed anything. I am guessing she saw the camera bag and 2 DSLRs hanging around my neck. Again, this just further firmed the fact that the folks running the show are concerned with how their press guests are doing. It was such a great feeling to be greeted in this way and made to feel like we were all in this thing together. It's hard to explain, but the backstage media lounge with a different speciality brew on tap, snacks, and waters made that even more evident. This was something great and it was just the beginning of a beautiful weekend.
Twisted Pine was absolutely fantastic. It was great to see good friend Chris Sartori laying it down on the low end and the rest of the band was a real treat. The bluegrass community is alive and well in Boston and TP is a strong indicator of that fact. The way all the instruments blended in the mix was great, Dan Bui's mandolin lines dancing on top of the guitar. Each member taking their time to shine with a solo, the harmonies of Kathleen Parks and Rachel Sumner, pure bliss. And the musicianship was incredible. Ricky Mier took home the banjo competition last year and it's easy to see why, the guy is a maniac on that thing (and in the best possible way). Kathleen Parks may very well be the most impressive bluegrass fiddler I have ever seen (as she was on display throughout the weekend here, with Cat and the Moon, the fiddle competition, and on the pop up stages). Just a killer set from a band absolutely deserving of being on that big, bright stage.
Flatt Lonesome kicked it off next and the charm oozed out from the stage as they picked their way through some great classics and their own contemporary mix of country and bluegrass tunes. The young band pays homage to what came before them in a fashion unlike most, from their fashion sense to the tunes that they pick. This was an incredibly enjoyable set and the voice of Buddy Robertson may have just been my favorite voice that I heard all weekend long.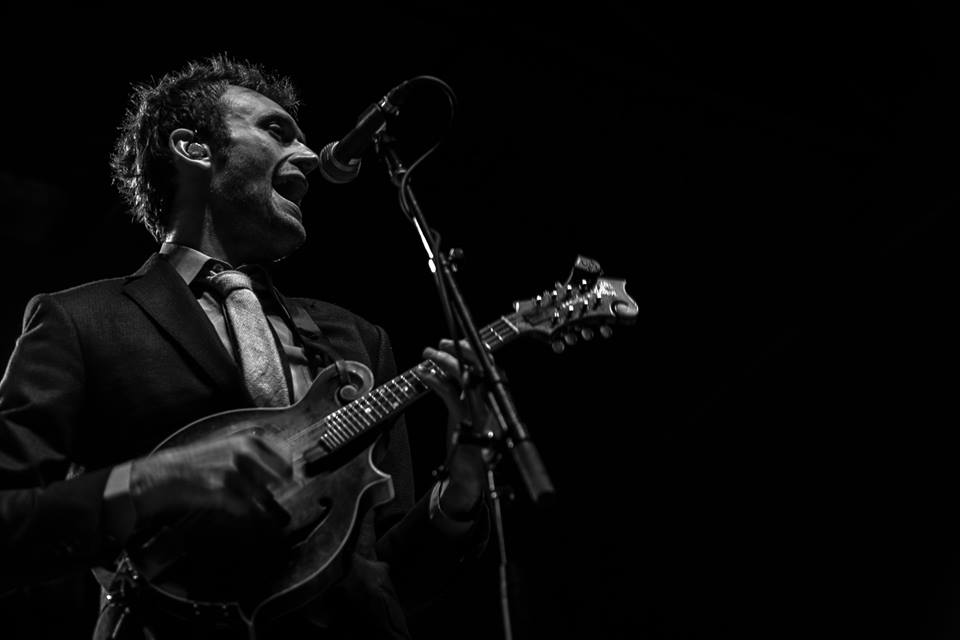 Punch Brothers…there is not much I haven't said before about them that I could possibly say now. The greatest live band that I have ever seen in my life? I feel pretty confident in saying that. The most talented group of musicians to grace a stage, period? I feel fairly confident in that as well. What really got me this time about the set was that while I am usually laser focused on what Chris is doing, it was Noam 'Pickles' Pikelny that caught my attention for the duration of the set. The band was on fire, playing a host of old tunes, a Josh Ritter cover-which even the longest freight train imaginable couldn't interrupt (hey, it is bluegrass right, freight trains are a theme here), and some great new songs from their latest, it was a great set for when the dark settled in on Joe's Field.
Houndmouth was probably the best surprise for me of the weekend. My wife has been adamant about how great this band is for months now, and it wasn't until this set that I truly understood why. There is a perfect blend in their music. Picking from the different geographies of the musical globe that influence them and smashing them all together in an energetic and fierce combination that is infectious, groovy, and fun. The band is just plain fun and the amount of fun they are having on stage, leaches out into the audience and overtakes you as you move and shake to their songs. Matt Myers is one hell of a guitar player, that was clear as he riffed through Hendrix-SRV style blues and grungy rock fashioned overdrive tones. 4 part harmonies? Yes please. My only complaint was that I was too fired up to go to bed after this set. These guys were incredible.
And, sleep…
---