Foo Fighters Drummer Taylor Hawkins Dies in Colombia
---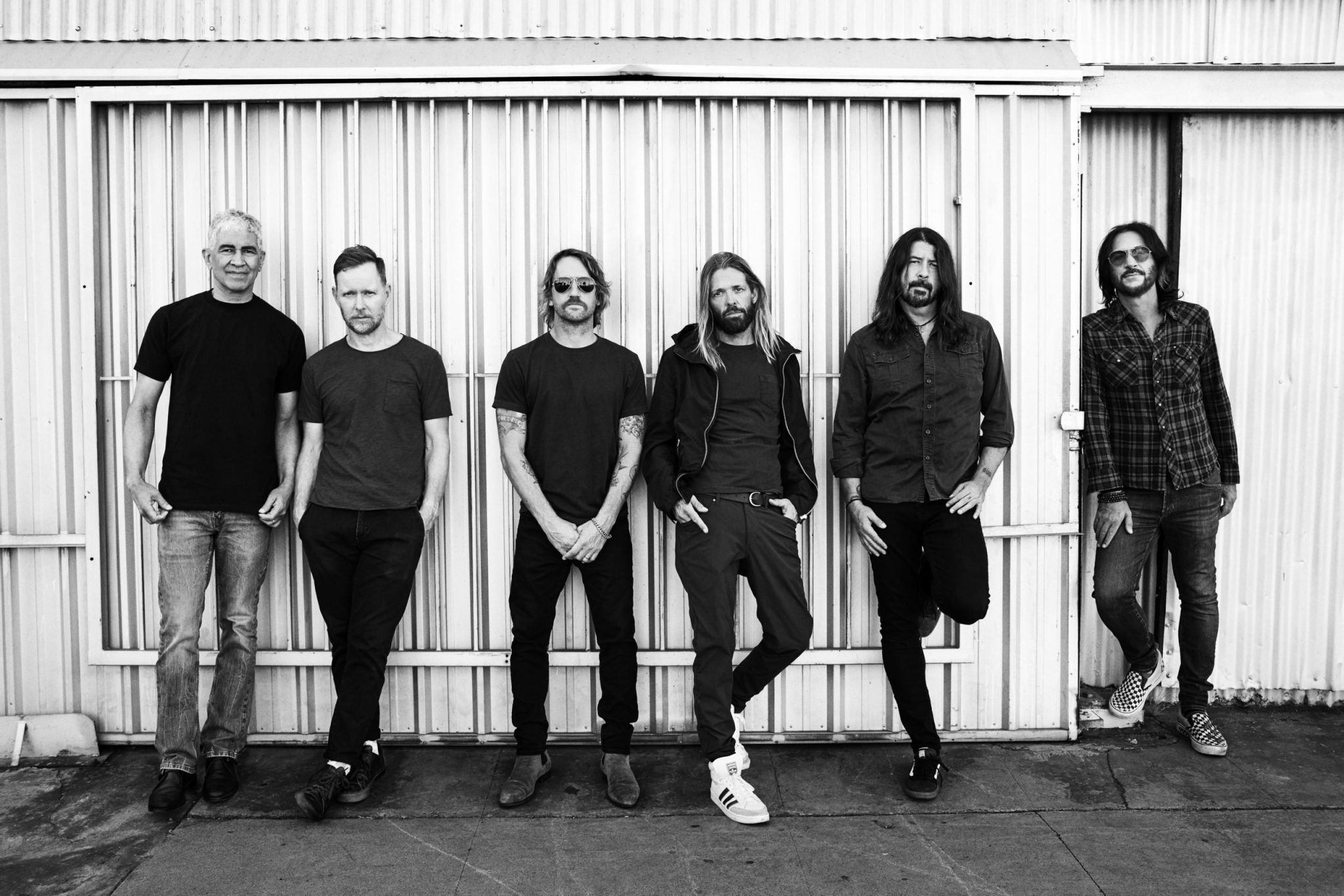 Taylor Hawkins, fourth from the left, has died. Photo by Danny Clinch
In a press release dated just after 11 p.m. ET, rock band Foo Fighters' publicity team Nasty Little Men confirmed the death of longtime drummer Taylor Hawkins. At the time of writing, the cause was unconfirmed. The message, which was repeated on the band's social media accounts, reads:
The Foo Fighters family is devastated by the tragic and untimely loss of our beloved Taylor Hawkins. His musical spirit and infectious laughter will live on with all of us forever. Our hearts go out to his wife, children and family, and we ask that their privacy be treated with the utmost respect in this unimaginably difficult time.
As Rolling Stone reports, the band was on tour in South America and was preparing to perform at Festival Estereo Picnic in Bogota on Friday, March 25. Foo Fighters also had a worldwide tour — with dates across North America, the United Kingdom, Europe, Australia, and New Zealand — booked throughout the rest of 2022.
Hawkins, who was 50 years old, joined the Foo Fighters after the band had already recorded its 1997 LP, The Colour and the Shape — known for the breakthrough single "Everlong." Before taking the gig, he served as the drummer in Alanis Morissette's touring band.
Foo Fighters frontman Dave Grohl founded the band in 1994 after the dissolution of Nirvana. Grohl, who drummed for the famed grunge trio, shifted playing guitar for what he originally intended to be a solo project. But as his songwriting evolved, the band grew, and Grohl needed to find a drummer up to his own high standards. Hawkins, often praised for his joyful, yet ferocious timekeeping, became an integral part of the group. And the friendship between the two — at times publicly contentious, but more often brotherly and jovial — became a defining element of the Foos' live dynamic.
Though known as one of the most bombastic rock bands of the 21st century, Foo Fighters occasionally embraced softer elements of folk music. Early records contained slower songs like "February Stars" from The Colour and the Shape and the jangly "Next Year," from 1999's There Is Nothing Left to Lose. But on 2005's In Your Honor, the band offered an entire acoustic side to its double album. Tracks like Grohl's mature love ballad "Miracle" made its way into Foos sets for years, but the Hawkins-penned "Cold Day in the Sun" became more of a fan favorite. He often did his best Levon Helm impression while performing, singing and smashing his cymbals and snares simultaneously.
On their journey to becoming one of the biggest rock bands in the world, the Foo Fighters also explored other elements of songwriting and musicality. Grohl's memoir of "life and music" was released (and reviewed here at No Depression) in 2021 and guitarist Chris Shiflett has embraced more of an alt-country sound with his own solo projects. (Read more in this profile in the Spring 2020 "Live and in Person" journal here.) Hawkins, for his part, also released three rock and roll solo LPs as Taylor Hawkins and The Coattail Riders, as well as a prog-rock album under the name Birds of Satan. Last year, Foo Fighters reunited to celebrate its 25th anniversary with a new album, Medicine at Midnight, and was also inducted into the Rock & Roll Hall of Fame.
Tributes across all genres of music and facets of pop culture have emerged all night. Fellow drummers ranging from Ringo Starr to "Queen of Percussion" Sheila E to Eric Slick (Dr. Dog) shared remembrances, as did fellow rockers like Rage Against the Machine guitarist and folk singer Tom Morello.
God bless Taylor peace and love to all his family and the band peace and love. 😎✌️🌟❤️🎶🌈☮️ pic.twitter.com/wn2izxn4Vd

— #RingoStarr (@ringostarrmusic) March 26, 2022
I am devastated to hear the news of one of my favorite drummers Taylor Hawkins has passed. Blessings to the family and to the band. I'm so sorry for your loss. Taylor you will be missed! 💔💔💜💜🙏🏽🙏🏽🙏🏽 #taylorhawkins #foofighters #drummer pic.twitter.com/FJAFQOa76X

— SheilaEdrummer (@SheilaEdrummer) March 26, 2022
taylor hawkins was one of the nicest musicians i have ever met. i am stunned.

— eric slick (@ericslickmusic) March 26, 2022
God bless you Taylor Hawkins. I loved your spirit and your unstoppable rock power. Rest In Peace my friend. pic.twitter.com/AkiRLF2L3e

— Tom Morello (@tmorello) March 26, 2022
Hawkins is survived by his wife Alison and their three children.
---