Fisk Jubilee Singers Keep 'Living History' Alive
Posted On August 25, 2020
---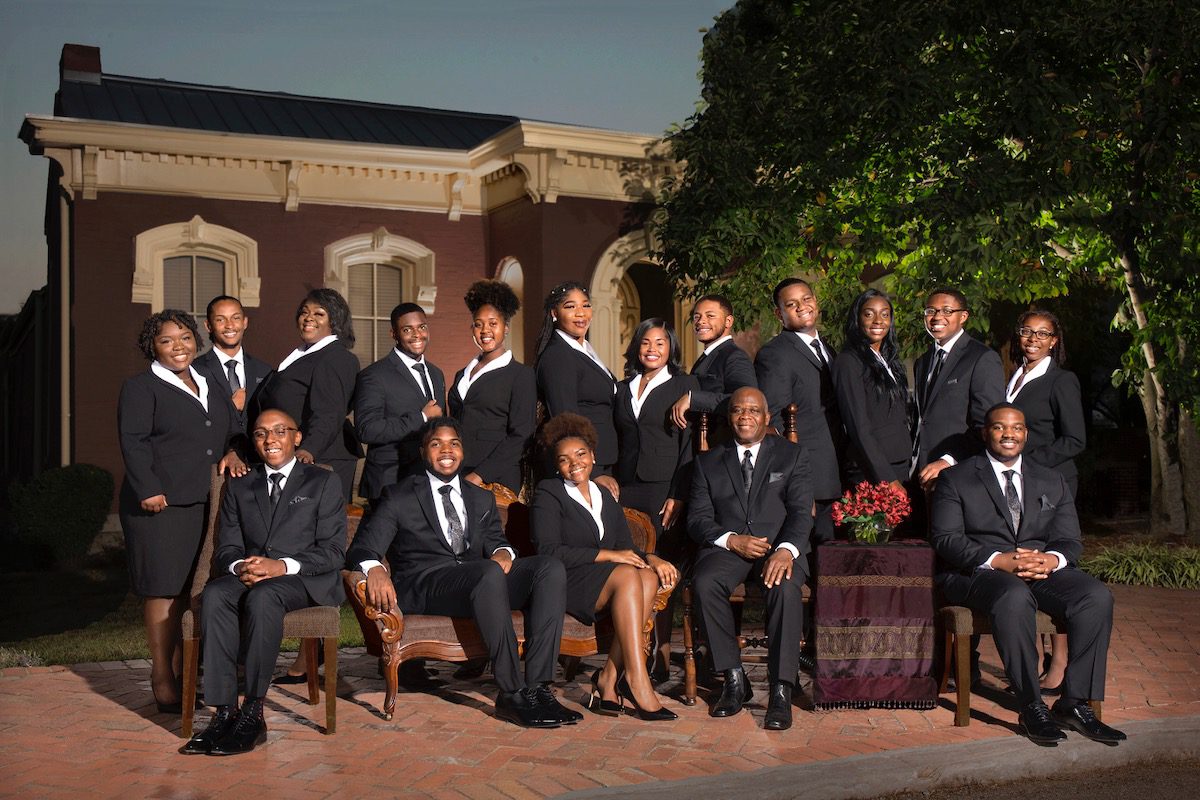 The 2019 Fisk Jubilee Singers with Director Paul Kwami in front of Fisk University's Harris Music Building in Nashville. (Photo by Bill Steber and Pat Casey Daley)
The Fisk Jubilee Singers didn't plan to release an album of Negro spirituals* and politically current songs about treating strangers with kindness in the middle of the Black Lives Matter protests — it just worked out that way.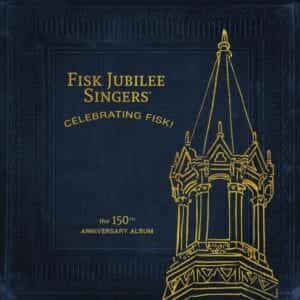 Celebrating Fisk!:The 150th Anniversary Album was released June 26 on Curb Records and features spirituals like "Wade in the Water" as well as more contemporary choices featuring guest artists like country singer Lee Ann Womack and blues musician Keb' Mo'.
The album, which collects performances recorded in 2016 and 2017, celebrates the milestone anniversary of Fisk University's founding. The HBCU (historically Black colleges and universities) was founded in Nashville in 1866, soon after the end of the Civil War, to provide education and the path to a better life to "young men and women irrespective of color." Student choral group The Fisk Jubilee Singers were founded not long afterward, and by 1871 set out on their first tour. Those early performances, including one for Queen Victoria in 1873, helped raise money for the university and introduced audiences across the country and around the world to Black music-making that was very different from the derisive minstrelsy shows popular in those days.
In 2008, the group was awarded the National Medal of Arts, America's highest honor for artists, and performed at the White House ceremony. It was a significant return to that building; in 1872 the Jubilee Singers had become the very first African American group to perform there during their first visit, when Ulysses S. Grant was president.
Today, the 16-member performance group tours worldwide and is open to any student of any major or year enrolled at Fisk. The first recordings that would become the Celebrating Fisk! album took place at the Ryman Auditorium in 2016, but they weren't intended as an album release.
"I honestly thought it was going to be a one-time event," says Dr. Paul Kwami, a Fisk alumnus and former Jubilee Singer who has led the group since 1994. "But then we decided so many people enjoyed the concert and encouraged us to present another. We went back in 2017 when the Ryman was celebrating its 125th anniversary. It's been a long-term project."
The shows at the Ryman, where the Jubilee Singers have performed many times in their history, were helmed by Grammy-winning producer Shannon Sanders. Kwami says that while he and Sanders discussed some guest performances ahead of time — including those from singer CeCe Winans, trumpeter Rod McGaha, and singer-songwriter Ruby Amanfu — others developed in surprising ways.
During a breakfast meeting to discuss the project, Sanders spotted fellow producer Frank Liddell and his wife, Lee Ann Womack, in the restaurant, and Sanders said right then "I'm going to talk to him," Kwami recalls. Womack agreed to participate immediately, and is featured on "Everybody Ought to Treat a Stranger Right," a gospel blues song with lots of hand-clapping percussion and lyrics reminding people of the power of respect.
On "Glory/Stranger," a collaboration with Christian hip-hop artist Derek Minor, the Jubilee Singers blend music about civil rights history and more contemporary commentary. "Glory/Stranger" is two songs in one: "Glory" is an Oscar-winning song originally performed by Common and John Legend for Selma, the 2014 film about Dr. Martin Luther King Jr.'s march in Alabama, with Legend's parts sung on the album by Sanders. Minor replaced Common's verses with his own from his single titled "Stranger," which asks the listener to "stand with me here for a moment, see if you can bear my pain."
Kwami says that while it's not typical of the Jubilee Singers to perform contemporary music, he wanted to include a variety that would attract a larger following, and the guest artists themselves also helped choose the songs. Winans, for example, had just recorded "Blessed Assurance," and the soaring gospel hymn was a natural fit for the group to learn, Kwami says.
Showcasing music by contemporary Black artists alongside the Jubilee Singers' usual repertoire of spirituals makes sense, Sanders adds, since spirituals were, in their time, pop music too.
Sanders says some artists featured on the album, like country singer Rodney Atkins, continue to work with the Jubilee Singers. At the Ryman, Atkins sang "Working on a Building," a gospel standard with rollicking piano and tambourine, with the choral group. Later, Atkins invited the Jubilee Singers to perform on his "Caught Up in the Country," a pop country song about farm life and rural America. Sanders says he hopes more artists will work with the Jubilee Singers and feature their vocals on unexpected tracks.
Sanders says while the release of the album wasn't planned to coincide with recent protests and the BLM movement, the timing has given Fisk and the Jubilee Singers a bigger spotlight.
"It made more people pay attention that may not have paid attention before," Sanders says. "Even from the inside out. It made everyone involved go harder, from the Jubilee Singers themselves to the university to me, the producer, and the label. It gave everybody a focal point. It gave them a voice in the movement."
Allen Christian, a 2019 Fisk graduate who is now a choral teacher in a Nashville public school, sang bass-baritone in the performances on the album and served as section leader all four years at Fisk. He says he'd hoped all along the Ryman recordings would be released, as he felt the performances were powerful and he wanted the world to hear them.
Christian says the album, with its message of treating people with respect, is especially relevant today. He believes that message, and this album, is a way to tell a hurting world that love is "the only way."
"This album really dwells on the idea that love is the key to live a life worth living," Christian says. "The common denominator between every song is peace, love, respect, and unity. I am a firm believer in 'what comes from the heart, reaches the heart.'"
Kwami says he learned a lot from recording this album, including how much respect the Jubilee Singers have earned over their century and a half of music.
"It was amazing when we had The Fairfield Four come to rehearse with my students and they spoke about how great an honor it was to perform with us," Kwami says. He looks forward to the group's upcoming projects, like the group's own 150th anniversary celebration next year. Sanders says he plans to work with the group again and is proud of the Jubilee Singers, who continue to preserve history through song.
"They're versatile enough to do other things with other people, but they'll always be what they are. They'll always sing spirituals," Sanders says. "We need them to keep that alive. That's living history."
---
*NOTE: Although the writer is white, the Fisk Jubilee Singers and their leader, Dr. Paul Kwami, refer to the historical songs they perform as Negro spirituals and asked that they be referred to as such in this story.
---