Fish & Bird… Across Canada in a Veggie Oil Van
---
April 2 @ 8:00pm: Cafe Deux Soliels, Vancouver, BC
April 3 @ 9:00pm: Fort St. Cafe, Victoria, BC w/ Far West
April 4 @ 7:30pm: Victoria Folk Club, Victoria, BC
April 7 @ 7:30pm: The Dream Cafe, Penticton, BC
April 8 @ 8:00pm: Jogas Cafe, Grand Forks, BC
April 9 @ 9:00pm: Velvet Underground, Nelson, BC
April 10 & 11 @ 8:00pm: Auditorium Hotel, Nanton, AB
April 12 @ 9:00pm: Henotic Lounge, Lethbridge, AB
April 14 @ 7:30pm: Mortlach Concert Series, Mortlach, SK
April 15 @ 8:00pm: Brandon Folk Music & Art Festival Studio, Brandon, MB
April 16 @ 7:30pm: Solid Grounds Cafe, Lorette, MB
April 17 @ 10:00pm: Times Changed High & Lonesome Club, Winnipeg, MB
April 18 @ 8:00pm: House Concert, Falcon Lake, MB
April 19 @ 9:00pm: The Apollo, Thunder Bay, ON
April 21 @ 8:00pm: Urban Cafe, North Bay, ON
April 22: Venue TBA, Toronto, ON
April 23 @ 8:00pm: Grumpy's Bar, Montreal, QC
April 25 @ 8:00pm: Divant Orange, Montreal, QC w/ David Simard
April 27 @ 8:00pm: The Spill, Peterborough, ON w/ David Simard
April 29 @ 8:00pm: House Concert, Guelph, ON
April 30 @ 9:00pm: The Local, Toronto, ON
May 1 @ 7:30pm: Little Montreal, Sudbury, ON
May 5 @ 9:00pm: Bushwakkers Tavern, Regina, SK
May 6 @ 10:00pm: Lydia's, Saskatoon, SK
May 7 @ 9:00pm: Track's Pub, Olds, AB
May 9 @ 8:00pm: Ironwood Stage & Grill, Calgary, AB w/ Oh My Darling!
May 12 @ 8:00pm: Art We Are Gallery, Kamloops, BC w/ Texting Mackenzie
May 20 @ 10:00pm: Biltmore Cabaret, Vancouver, BC w/ The Tequila Mockingbird Orchestra
May 21 @ 8:00pm: Moby's, Salt Spring Island, BC w/ The Tequila Mockingbird Orchestra
May 22 @ 8:00pm: Centennial Square, Victoria, BC w/ The Tequila Mockingbird Orchestra !!FREE SHOW!!
Burst Into Flower this spring with Fish & Bird!
Fish & Bird are hitting the road once again! These travelers of the highways are reaching far and wide across the country this spring, rousing audiences everywhere they go in their veggie-oil fueled Delica Van. Songwriter and banjo player Taylor Ashton (Winnipeg) and fiddler Adam Iredale-Gray (Victoria) are joined by guitarist Ryan Boeur (Vancouver) and upright bassist Zoe Guigeno (Toronto), rounding out an already irresistable sound with top notch players from across Canada. Don't miss Fish & Bird in your neck of the woods this spring!
Fish & Bird's relationship with folk music is a little complicated. Their love for old-time and folk traditions comes from deep in their hearts, but that profound respect doesn't stop them from showing the genre a little abuse. At the core of Fish & Bird is a partnership between virtuosic multi-instrumentalist Adam Iredale-Gray and singer/songwriter Taylor Ashton, and their musical education stems from playing such diverse styles as Irish music, jazz, garage rock, musical theatre, and old-time. Fish & Bird layer these styles into their traditional roots and stay fresh and unique through their desire to create new and exciting music utilizing all these various influences.
Their self recorded, self-produced, and self-titled debut EP, was released in 2007, to attentive audiences across Canada. Their latest recording, also self produced, recorded and packaged, the full-length "Left Brain Blues", is a more mature and developed exploration of what happens when the pair's musical influences collide. In just under an hour, it takes the folk genre for a wild ride through eastern influences, pop rock and traditional roots, while remaining cohesive. It showcases Taylor Ashton's agile voice, which ranges from a deep bass to a very sturdy falsetto, and the pair's creative arrangements, as well as a full cast of well known guest musicians.
A live Fish & Bird show comes in many shapes and sizes; from a duo to a five piece full band, and all sorts of configurations between, even switching up instruments among themselves. They have played hundreds of shows, toured the length of the country four times and played loads of close to home shows. They've garnered attention from the Canadian Folk Music Awards, and heard themselves on CBC and college/community radio stations across Canada. From the fundraiser for the upcoming 2011 Folk Festival in Victoria, to house concerts, sold out nightclubs and back rooms of cafes, what keeps them getting back on stage night after night is a passion to perform their unique brand of art folk for as many people as they can get to listen. Are you listening?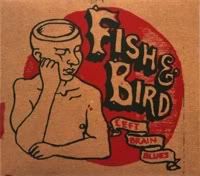 "There is something about Left Brain Blues that carves a path right to your core in the most intimate way." ~ Nancy Vivolo, VictoryMusic.org
Fish & Bird's WEBSITE
Fish & Bird on MYSPACE
Fish & Bird on TWITTER
Fish & Bird on YOUTUBE
Fish & Bird on CD BABY
Left Brain Blues REVIEW on VictoryMusic.org
---