Featured Photographer: cowtownchad and His Camera
Posted On January 8, 2019
---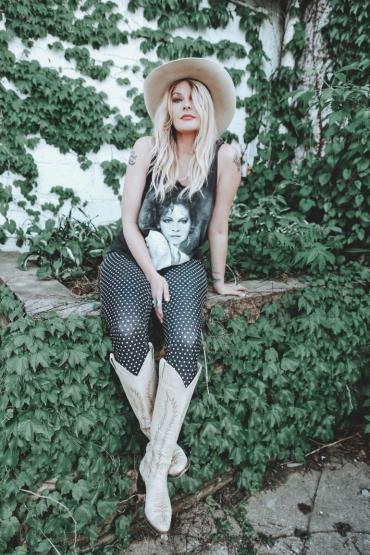 One of my new year's resolutions is to feature more individual photographers. First up is Chad Cochran, better known in the music photography world as cowtownchad, whom I first met several years ago at an Ohio festival. Since then we have also caught up with each other at AmericanaFest and have shared many stories. While his performance photos have been featured in this column, I am especially taken with his informal portraits, or "on the fly" portraits, as he calls them. To me they have a sense of the unguarded moment that only available light and natural surroundings offer. In short, they look and feel organic. I think you will be as taken with them as I have been (and others have been, as well — some of his work is archived in the Rock and Roll Hall of Fame). Now, in his own words, and photos below, is:
cowtownchad
South Carolina, January, 2016: "I've always had an interest in the business side of music. Who has done your photos before?" I inquired. "My friend, Andy Tennille; do you know him?" answered Caleb Caudle. I was familiar with the name, but couldn't immediately place it. "I've heard of him, who is he?" I replied. Caudle: "He's Tom Petty's tour photographer." I froze. I had a brand new camera in my hand. I hadn't really taken any portraits of people, let alone musicians, at this point and wasn't even sure what all of the buttons did. In my mind, I kept thinking, "His friend is Tom Petty's tour photographer? Why am I here?" I went on to shoot the session and it went great. Those photos went on to get published numerous times. Maybe this was the start of something?
In February of that year, I asked to shoot BJ Barham of American Aquarium. This shoot didn't go as well. I didn't have decent light, I still didn't really know what I was doing, and I was only able to salvage a couple of decent shots. I was pretty sure I had started and ended my musician portrait career in a span of 60 days. Then, I got a message from Lydia Loveless telling me I take pretty pictures of Ohio and asking if I would have any interest in putting some people in them. I said no. My landscape photography provided me the opportunity to decompress from a demanding day job. I would hop in the car, listen to music, clear my head, and try to find decaying farm houses and barns that I used to see as a child. Lydia persisted and we ended up doing a session. This time things went a bit better. She and I would reconnect in June 2017 for the "Barber Shop" series that was so well received. Eventually this friendship would land me at the Ryman Auditorium when she opened for Jason Isbell in October 2017.
The Beginning
I didn't start photography in what is probably considered the "normal" way. My wife bought me a camera in December 2010. I had an artistic outlet through college playing guitar and singing in different bar bands. I put it all aside for years, but still needed something to keep me busy. I immediately gravitated toward the rural landscapes I grew up seeing as a kid. I was born and raised in the small town of Fredericktown, Ohio. At the time, we had about 1,800 residents and our claim to fame was creating the Future Farmers of America jacket. Someone told me about Instagram and I quickly came up with the moniker "cowtownchad." I was living in Columbus, Ohio, at the time, which is sometimes referred to as "cowtown." So, I tacked on "chad" and I had a user name. Slowly, I would see bands and musicians I knew start to follow my page. Was this my way to get back into music? I didn't know at the time, but the answer was yes.
2017-2018
In 2017, things started to snowball. I had a concept called "I Didn't Want To Tell You," where I would do a portrait of a musician and then they would share a story with me about something they don't normally (or never) talk about. The goal was to show that mental health is something we all deal with in one way or the other, to lessen the stigma around it and let people know we are all in this together. The project never really took off (I still want to do it), but the portraits did. I also started to gain some momentum with these "on the fly" portrait sessions before musicians and bands would have shows. I connected with so many people that year, including John Paul White, Shonna Tucker, Aaron Lee Tasjan, Colter Wall, and my aforementioned first trip to the Ryman.
In 2018, I decided to focus my photography primarily on music and portraits, and it has been a wild ride and filled with highlights. I was asked to photograph Amanda Shires and Jason Isbell at the Ryman; a photo of Elizabeth Cook was hung in Times Square in New York City; Sadler Vaden used one of my photos for a T -shirt and another made its way into Guitar Player magazine; Billboard featured a photo of Andrew Leahey; I shot my fourth AmericanaFest in Nashville; several photos of Austin Lucas and The Pollies were used in album artwork; and The Rock and Roll Hall of Fame archived a large portion of my music photography. Not bad for a kid from small-town America.
2019
2019 will see me opening a new photography and art space in Cleveland, Ohio, at 78th Street Studios. If you ever happen to be passing through the Midwest, feel free to drop me a line and let's see if we can cross paths. Safe travels out there.
Chad Cochran goes by "cowtownchad" on social media and you can find him under that moniker on Instagram, Twitter, and Facebook. You can also visit his website at www.cowtownchad.com.
If there was ever a time to take your time in viewing the photos below, it is now.
---