Fanny: Four Fab Pioneering Femmes
---
When the name of your band conjures up images of either (1) the human arse, (2) a vaudeville star named Brice, (3) a protagonist from an 18th Century erotic novel by John Cleland, or (4) a character from a recurring Playboy comic strip, you might have a bit of a problem being taken seriously. I'm referring to a mostly forgotten early 1970s band named Fanny. The thing is, they were taken seriously — at least for a while. They signed a major record deal (the third all-girl act to do so), scored two Top 40 hits, appeared on TV variety shows, and toured the U.S., opening for the big arena acts of the day. They even impressed a rock star with impeccable taste — David Bowie — who looked back at their short-lived career in a 1999 interview in Rolling Stone magazine:
"One of the most important female bands in American rock has been buried without a trace…They were one of the finest… rock bands of their time, in about 1973. They were extraordinary: They wrote everything, they played like motherf**kers, they were just colossal and wonderful. They're as important as anybody else who's ever been, ever; it just wasn't their time. Revivify Fanny. And I will feel that my work is done."
Okay, Mr. Bowie, here's my contribution to revivifying the band.
In the early '60s, June and Jean Millington moved to Sacramento
from their birthplace of Manila in the Philippines. Their mother was a Filipina socialite; their father a U.S. Navy Lt. Commander. The sisters formed an all-girl band — the Svelts — while still in high school. Following several personnel changes, the band morphed into Wild Honey and enjoyed some success at L.A.'s famous Troubadour Club. That's where they caught the eye of producer Richard Perry, who took a particular interest in June and Jean and helped their reconfigured group, Fanny, snag a deal with Warner Brothers' Reprise label (the one formed by Frank Sinatra!).
The sisters said they named the group Fanny to denote "the female spirit." I guess it was the "spirit" of earlier times, when "Fanny" was a slightly cheeky pet name for Frances. Bassist/lead vocalist Jean and guitarist June, together with drummer Alice de Buhr and keyboardist Nickey Barclay, released four albums between 1970 and 1973: "Fanny," "Charity Ball," "Fanny Hill" (the name of Cleland's erotic novel), and "Mother's Pride." Their 1971 single "Charity Ball" reached #40 on the charts.
The band toured with the likes of Humble Pie, Jethro Tull and Slade — all British acts. In fact, Fanny, like so many other all-girl groups, was more popular in the U.K. than back home.
When June (once described by Guitar Player magazine as the hottest female guitar player in the music industry) and Alice left the group around 1974, the remaining members were joined by guitarist Patti Quatro (founder of the pioneering femme band The Pleasure Seekers) and drummer Brie Brandt. The restructured Fanny released one final LP, "Rock and Roll Survivors." The album spawned "Butter Boy," a single that reached #29 on Billboard's Hot 100 in April 1975.
And that pretty much marked the apex of Fanny's time as an almost-famous rock band. After their breakup, Patti and Brie went on to record and tour as solo artists with performers like Jimmy Buffet, Electric Light Orchestra, Keith Moon and Carole King. The Millington sisters kept active in the music business, playing as Fanny from time to time. In 2011, they released the album "Play Like a Girl" on June's label Fabulous Records.
I love the irony in the title of that album. If girls are supposed to "play nice" by rock-society's standards, then these ladies broke all the rules. To re-quote David Bowie, "they played like motherf**kers."
This clip shows Fanny at their best, with Jean belting out "Special Care":
Here they are performing one of their own compositions, "You're the One":
"Butter Boy" was the group's highest-charting hit. This Fanny lineup includes the great Patti Quatro on guitar:
Check out my blog posts on these other pioneering all-girl rock bands: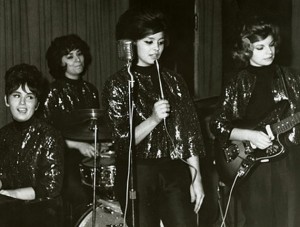 Goldie and the Gingerbreads: Rock First All-Female Guitar Band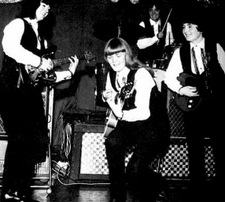 And Your Liverbirds Can Sing: The Electric Girls Once Called The Female Beatles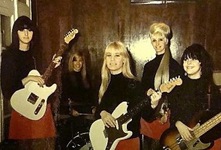 Motor City Mavericks: The Pleasure Seekers and Suzi Quatro
© Dana Spiardi, June 2, 2014
For more cool music perspectives, please visit my blog:
---