BLUEGRASS RAMBLES: Ernie Evans and a New Approach to Bluegrass Festivals
---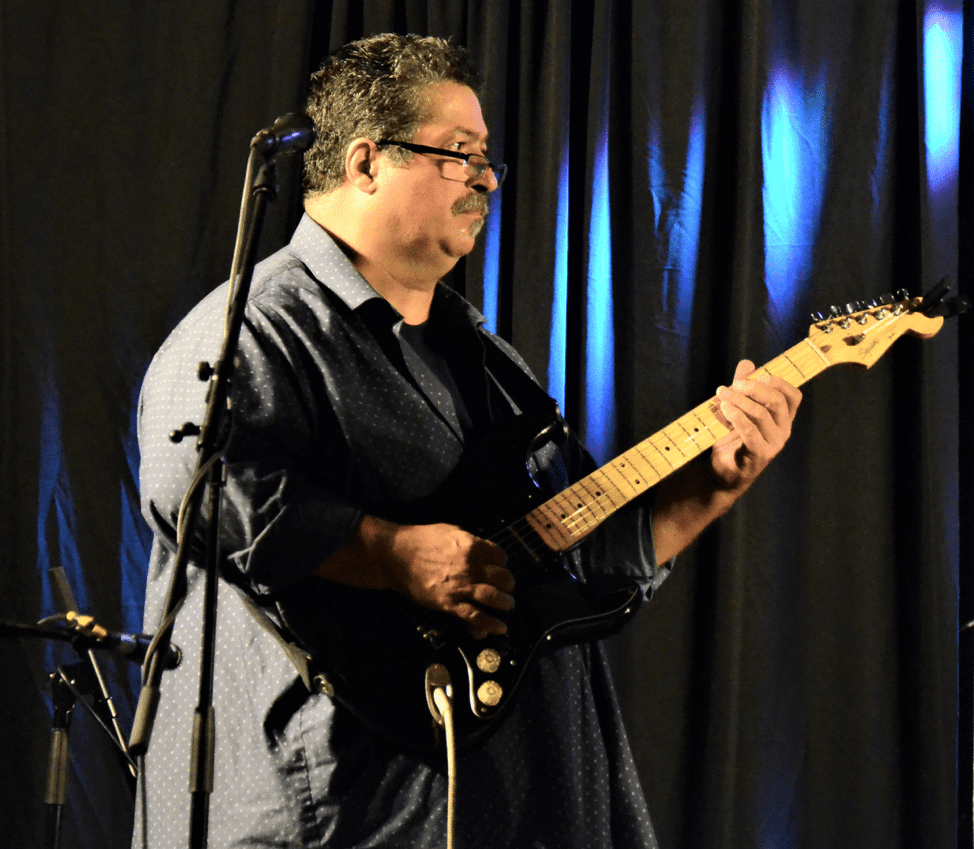 Ernie Evans runs The Florida Bluegrass Classic festival and much more. (Photo by Ted Lehmann)
Bluegrass music has a long and lively history in Florida, where we're coming close to the end of another winter festival season. While many people who come to the Sunshine State love to cluster along the Atlantic or Gulf shores, or visit the attractions of Orlando, Florida, most of its central core remains rural. Much of Florida is farmland, with the state ranking high in national production of beef cattle and citrus fruit. Sadly, many of the groves have been destroyed by rampant real-estate development and crop disease, but farming is still the third largest industry in the state.
Bluegrass and country music have long had an influence on the cultural life of this large community. Ralph Stanley and his brother Carter lived in Live Oak for a number of years before returning to their beloved Clinch Mountain area of Virginia. One of Bill Monroe's great songs is "My Florida Sunshine." Here's the great Claire Lynch singing that Monroe classic at a small festival in South Georgia.
And here's Chubby Wise playing "Orange Blossom Special," which has become known as the fiddler's national anthem. Any bluegrass or country fiddlers worth their salt learn this one and play their own variations on it:
When my wife and I began coming to bluegrass festivals in Florida about 20 years ago, there were enough events to fill our dance card. Most were in campgrounds or in large, open pastures recently cleared of dried cattle plops, often with electric outlets driven by diesel engines chained down long aisles to turn the field into a camping area. Large circus tents were erected, as a small, living community arrived to jam, visit, and enjoy great music. Bands came south to perform, and The Sunshine State contributed plenty of good indigenous music to the mix. Florida was contributing major talents to the national scene, names like Jason Barie, Cory and Jarrod Walker, and fiddler Aubrey Haney. The music was mostly traditional bluegrass, which was just what the audience wanted. Below, the Bluegrass Parlor Band, a well-known developmental program for young pickers in the Tampa area originated by Tom Henderson, plays "Freeborn Man."
But time moves on, the crowds have diminished, and the hunger for traditional bluegrass music lives on mostly in the hearts and minds of an increasingly elderly crowd who first heard Flatt & Scruggs on the Grand Ole Opry or attended the earliest bluegrass festivals during the 1960s.
Ernie Evans is a music entrepreneur with a particular love for bluegrass and country music. A musician and band leader himself, he toured the world in a country band before going into the furniture business. When he lost his corporate job in the great recession of 2005, he returned to music full time, performing and promoting music with his wife, Debi, from his home base in Jacksonville. Over the past decade, he has acquired or produced four annual festivals in addition to booking concert and fair events, producing a weekly radio show, and promoting music cruises from his corporate entity, Evans Media Source.
Over the years, Evans has discovered that bluegrass music alone cannot sustain an audience large enough to make the festival format viable. His response has been to grow the audience by broadening the range of music offered to Florida's dominant demographic, aging Baby Boomers. In late February, this effort achieved the desired weight at a festival he has named The Florida Bluegrass Classic, which he moved from a run-down campground in the famous speed-trap of Waldo to a spacious dog show park near Brooksville. He added country stars from the '70s and '80s, as well as pop music from the same era, to first-rate national and regional bands to create an interesting mix for bluegrass fans as well as the residents of nearby The Villages, perhaps the largest concentration of active seniors to be found anywhere.
By creating a nearly week-long drive-in experience for RVers, people who stay in nearby motels, and local residents, Evans found that the crowds for this event challenged the capacity of the site for the first time this year. Each day featured strong bluegrass bands as well as a country music performer familiar to the same demographic. (It has long been my contention that many bluegrass fans have gravitated there from country as country music has changed to a more modern and less amenable format for their tastes.) This year's country performers were David Church, Buddy Jewell, and Moe Bandy, who filled the pavilion on the festival's Saturday night, receiving a tremendous ovation at the end of his stirring 90-minute closing set.
Meanwhile, each day of The Florida Bluegrass Classic featured some local or national performers of significant interest, with strong bluegrass content, including Russell Moore & IIIrd Tyme Out, The Grascals, Nothin' Fancy, Bandana Rhythm, and Blue River Grass, thus introducing many people who had never heard bluegrass to the genre.
Michael Reno Harrell presented a wonderfully evocative solo act combining storytelling along with his own songs piercing to the center of many people's remembrances of their own youth.
At the other end of the musical scale was the Atlantic City Boys, a recreation of the quartet singing pioneered by the likes of Frankie Valli and well remembered by this same demographic. The Atlantic City Boys are a very popular group, performing everywhere from Las Vegas casinos to retirement homes. Here's a video of them singing "Can't Get My Eyes Off of You."
Evidently, the new model of playing to an age group rather than a specific genre within their experience was novel enough and acceptable enough to bring in the largest crowd Evans has ever had for this festival. All told, it's been a highly successful venture.
---