EASY ED'S BROADSIDE: The Return of a Japanese Folk-Rock Masterpiece
---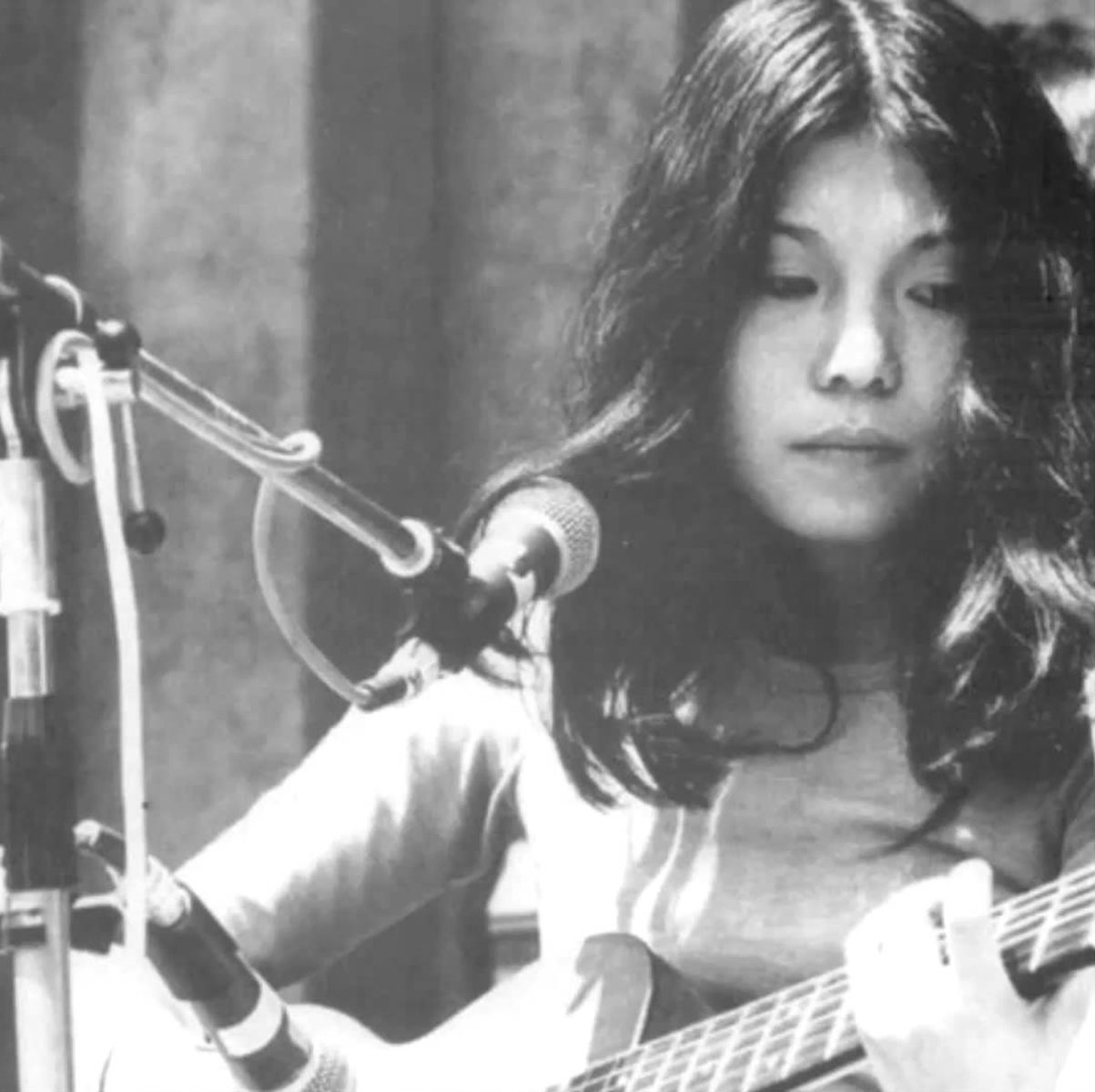 Photo from SachikoKanenobu.com
Of all the pleasure I may experience in writing about music, it is simply the joy of discovery and hearing something new that offers the greatest reward. Many hours of my day are filled with searching out curated playlists on streaming sites; reading favorite music blogs, e-zines, and books; wandering through digital archives of old music publications that have long ceased to exist; cross referencing at Discogs and AllMusic; and scanning the dozens of daily messages from musicians, labels, and marketing companies seeking my attention.
It is the latter that is most daunting, but I do open each one, at minimum scan the contents, reply if it's called for, and search for the occasional gold nugget. Since I'm not a music reviewer, most are submissions that are seemingly thrown against the wall in hopes someone might bite and write. Marketing companies in particular put a lot of effort into writing volumes with way too many words about their projects, and most often they're so uninspired and generic that it leaves me feeling quite sad for the musicians who have spent their precious dollars on what they think might achieve results.
A week ago I received a message from someone representing Light in the Attic, an indie label I am familiar with from their start in Seattle and that has been dedicated since the beginning to building a catalog of quality reissues featuring a wide range of styles and genres, including a healthy dose of Americana and roots music. While their latest project is quite far from that realm, Sachiko Kanenobu's 1972 album Misora was a previously unknown joy and blessing to these old ears, with a backstory worth sharing.
Considered to be one of the first female Japanese singer-songwriters, Kanenobu, who was born in 1948, was only 18 years old when she was signed to Underground Record Club (URC), a subscription-only indie label that didn't release Misora for six more years. It was recorded in just seven days, mostly done in single takes. But in a "life happens" twist before its release, she met Paul Williams, the American music journalist who founded Crawdaddy magazine, while he was in Japan, became pregnant with his child, and they quickly married and moved to New York. When the album came out her absence and the inability to promote it added a level of mystique, and within the Japanese folk music scene she was regarded as someone with equal qualities to Joni Mitchell and Sandy Denny, with her gentle fingerpicking, upper-range melodic vocals, and lyrics.
In an interview with American guitarist Steve Gunn published earlier this year in The New York Times, Kanenobu spoke about Misora:
"When I was in high school, I used to listen to this album by Donovan, and I actually tried to imitate him. The first one, I think. I tried copying it, but it was so difficult, and so I just created my songs out of attempting to play like that. In Japan around 1967, it was all folk and pop music — Peter, Paul and Mary, Pete Seeger, bands like that. Later, I got into the Okinawa scale, which is a unique scale, and not very Japanese in style. And then Takashi Nishioka from the band Five Red Balloons said, 'Why don't you come over and listen to this record? Don't you feel like it's kind of what you're doing?' And it was Joni Mitchell. Then I got influenced by Bob Dylan, of course — I love his words. I started reading his song book and it was kind of like my bible. I also got into the group Pentangle."
Kanenobu kept busy raising her children and working in art galleries, moving to Northern California in 1982. Through Williams' work and relationships she stayed connected to music.
"Paul brought Bruce Springsteen to come see us in New York — it was very early on," she continues in Gunn's New York Times interview. "He sang two songs for us with an acoustic guitar, that's an amazing memory. Also, I met Bob Dylan — much later, though, when I was living in California. It was at a ball field in San Francisco, around 1980."
But she didn't begin making music again until she met author Philip K. Dick in Sonoma and he encouraged her to write again and began producing sessions.
"I wrote some new English songs after Phil had told me I should, instead of in Japanese. He started talking about making an album together — he would produce it and he'd be in the studio this time. That was 1982, around February. I was so excited, and then he died in March. It was so sad, the darkest time in my life. He was like my muse. He always called me and encouraged me and read me short stories and made me laugh. I am actually writing a book about the whole thing."
Soon after Dick's death, Kanenobu and Williams divorced and she formed Culture Shock, an alternative band that released albums through the mid-'90s and gained a following in Germany where they often toured. She went electric and sang in English. When Misora was re-released in Japan in the early '90s to much acclaim, she released two Japan-only solo albums in 1995 (It's Up to You) and 1999 (Sachiko).
Today at 71, she is astonished and elated that her early music has been rediscovered. Last November, she returned to Tokyo to play Misora live in its entirety for the first time, and was joined by old pals including Haruomi Hosono, the record's producer. In America she has been doing select concerts, opening for Steve Gunn. Next month, Light in the Attic will be releasing remastered deluxe physical copies of Misora for the first time in America (the digital versions are already available on streaming sites) on vinyl and CD, each with lots of bells and whistles for her fans.
This week's column is one of many that I consider simply a labor of love. Misora goes far beyond its reputation, restating the importance of preserving art and music. Hats off to Light in the Attic for their continued vision and execution, and I sure am glad that I take the time to check my messages every day. You just never know what you'll find in the inbox.
---
Many of my past columns, articles, and essays can be accessed at my own site, therealeasyed.com. I also aggregate news and videos on both Flipboard and Facebook as The Real Easy Ed: Americana and Roots Music Daily. My Twitter handle is @therealeasyed and my email address is easyed@therealeasyed.com.
---