EASY ED'S BROADSIDE: The Cowtown Ballroom and Other Early '70s Hometown Music Halls
Posted On November 22, 2019
---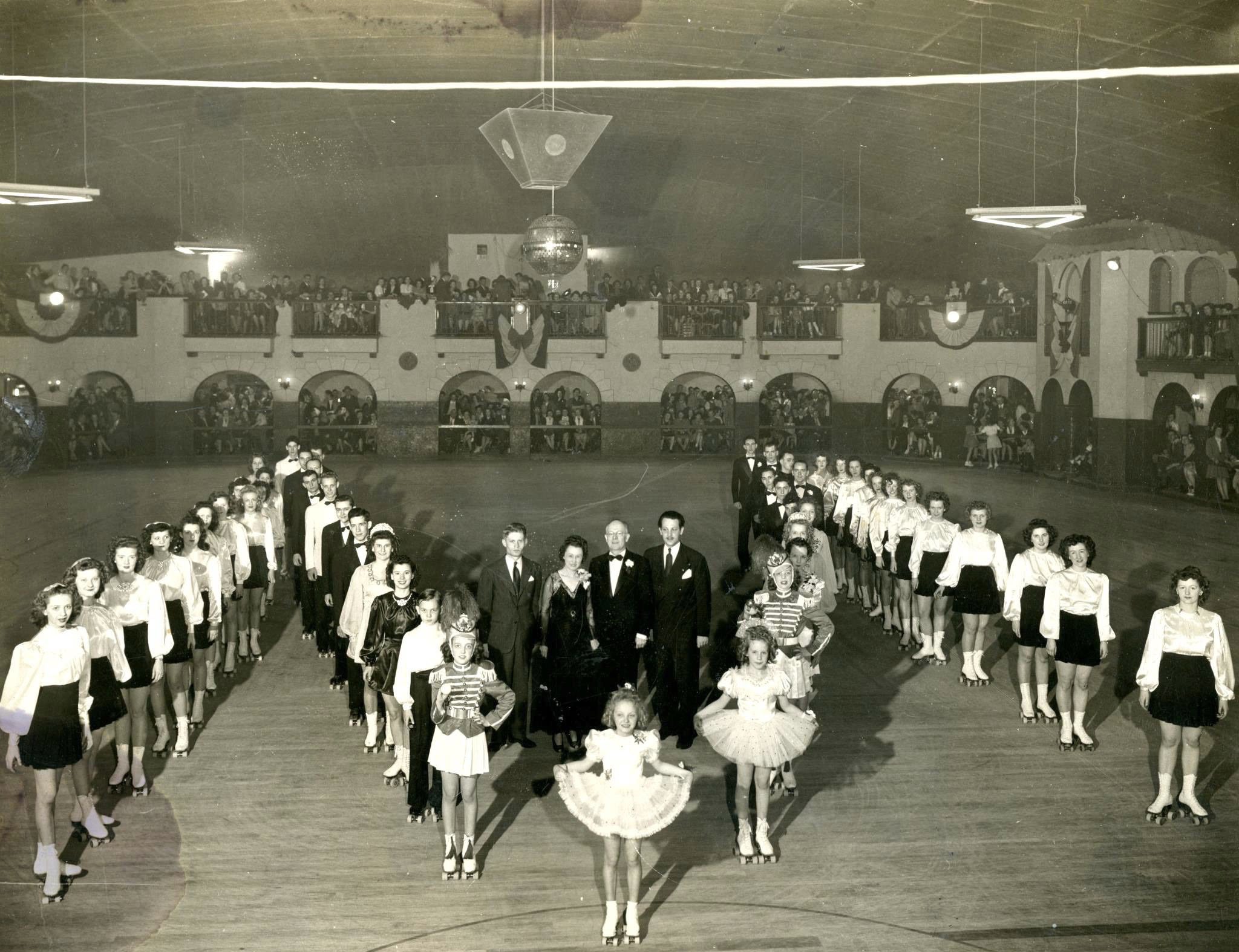 The Cowtown Ballroom interior, circa 1947 (From the collection of M. Lawrence Gallagher / Cowtown Ballroom Friends Facebook page)
Many of our collective memories about the '60s didn't actually occur during that decade. In fact, most cultural events we ascribe to that decade today actually took place in the 10-year period after the Summer of Love in 1967 and up until the 1977 release of Saturday Night Fever. While we choose to look back at the '70s as happy faces, cocaine, velvet ropes, and disco, it was really a special time where music was experienced and enjoyed outside of the strict business-first paradigm, and where the notes, beats, and lyrics served as an aural wall against the political and cultural-social shifts that were occurring at lightning speed.
Especially during the first half of the '70s, large festivals and stadium rock were not yet the norm, and there were just a tiny number of musicians and bands that could regularly fill 20,000-seat venues. There was no Live Nation or even Ticketmaster, each city and town had its own concert promoters, and most venues didn't have the capacity to handle more than two or maybe three thousand people, if even that. Probably the best-known halls were the Fillmore West and East, in San Francisco and New York, respectively.
Where I grew up in Philadelphia, it was The Trauma and Electric Factory. In your hometown it was likely something similar: an old ballroom or empty factory floor with a stage, no seats, and a light show. When the bands came to town it wasn't a calculated pre-planned business transaction to secure a ticket and buy a souvenir T-shirt, but rather a gathering of the tribes to experience the unplanned, unexpected, and uncharted. As someone who ambled between the both the front and back of the stage, I observed that sometimes the musicians were just as surprised at what occurred each night as the audience was. These were not concerts; these were experiences.
Cowtown Ballroom was a legendary concert venue in Kansas City, Missouri, that opened in the summer of 1971, and over the next 38 months it established itself as one of the finest venues along the concert trail. A little over 10 years ago I happened to see a documentary about the venue titled Cowtown Ballroom … Sweet Jesus! that was filmed as an oral history from many of the musicians that played there, along with the people who helped run it and the fans it attracted. If you were lucky enough to see it, you'll probably agree it's a tale of both geography and that small, special period of time in 20th-century music history.
For two Kansas City filmmakers, Joe Heyen and Anthony Ladesich, it was a labor of love that took years to put together. Some of the musicians interviewed included John McEuen, Jeff Hanna, and Jimmy Fadden from the Nitty Gritty Dirt Band; Brewer and Shipley, Jim Dandy of Black Oak Arkansas; B.B. King; Charlie Daniels; Steve Miller; The Ozark Mountain Daredevils; and a few more that escape me. It made the rounds at a number of film festivals and was screened often in Kansas City, but so far it has yet to land on one of the many streaming services. Which is a damn shame, because I know it remains as vibrant today as it was when I first saw it. (Heyen runs a website where you can buy the DVD.)
My then-15-year-old son attended the screening with me, and when the lights came up, I turned to him and said "You just saw my life … you just heard my story." I never spent time in Kansas City, but the same story played out throughout those times, throughout the country. For a great walk down memory lane, although it's a bit of a long one, below I've posted the list of concerts during Cowtown Ballroom's four-year run. It reflects a time when music was not yet pigeonholed into distinct genres catering to a specific audience, and when promoters put together shows that might not have seemed logical or profitable but were a helluva lot of fun to go to.
1971
The Flying Burrito Brothers with White Eyes 7/16 and 7/17
Ewing Street, Chet Nichols, Sound Farm 7/23 and 7/24
Nitty Gritty Dirt Band with Ted Anderson 8/1 and 8/2
It's a Beautiful Day & Sonny Terry and Brownie McGhee 9/26
Leo Kottke with Joy of Cooking and Joyful Noise 10/10
Steve Miller Blues Band with Grits 10/8
Frank Zappa (Flo and Eddie) with Rich Hill 10/23, two shows
Brewer and Shipley with Tide 11/13
Savoy Brown with Pot Liquour and Chicken Shack 11/24
Poco with Jerry Riopelle 12/4
Alice Cooper with P G & E 12/16, two shows
Freddie King 12/31
1972
Kansas City Philharmonic Jorge Mester, cond., with Chet Nichols 1/9
Westport Free Clinic Benefit 1/30
KC Philharmonic with Mike Quatro and the Jam Band 2/13
Poco with John David Souther 2/11
Brewer and Shipley with Danny Cox and White Eyes 2/15
Detroit with Mitch Ryder and Tide 2/18 & 2/19
Five Man Electrical Band with Tide 2/26
Mason Proffit with Morningstar and Commonground 3/12
Kansas City Philharmonic with Ted Anderson 3/19
Badfinger with Ashton, Gardner and Dyke 4/7
Ravi Shankar 4/8
Up Against the Wall Ball with Pilgrimage, Nation with J. C. Storyteller 4/18
Linda Ronstadt (backup band Glenn Frey, Bernie Leadon, Randy Meisner, Don Henley) with The Raspberries and Danny Cox 4/22
Savoy Brown with Malo and Long John Baldry 4/26
Benefit Westport Free Clinic KC Grits, Nation, Bulbous Creation,
and Shock 4/30
Hot Tuna (Jorma Kaukonen, Jack Casady, Papa John Creach, Sam Piazza) with Chet Nichols 5/6, two shows
Nitty Gritty Dirt Band with Hope 5/21
The Peter Yarrow Band with Lazarus 5/20
It's A Beautiful Day with Stoneface 6/1 & 6/2 & 6/3
Black Oak Arkansas with White Eyes 6/9
Dan Hicks 9/21
Poco with Chet Nichols and Danny Cox with Chet Nichols 9/29
Benefit for Westport Free Health Clinic KC Grits, Morningstar, Chessman Square 10/8
Steve Miller with Wishbone Ash 10/31
Robin Trower with White Eyes 11/10
Hot Tuna with Ozark Mt. Daredevils 11/22
Jorge Mester and KC Philharmonic w Danny Cox 11/26
Seals and Croft with Lawrence and Roselle 12/1
Frank Zappa (Petit Wazoo) with Steely Dan, 12/2, two shows
Black Oak Arkansas with Tranquility 12/15
Brewer and Shipley with Ozark Mountain Daredevils, Chet Nichols, Ted Anderson, KC Grits 12/31
1973
The Byrds with Flash 1/21
Nitty Gritty Dirt Band with Danny Cox and Steve Martin 2/2 & 2/3
Ozark Mountain Daredevils 2/8
Logins and Messina with Leo Kottke and Casey Kelly 2/10, two shows
B.B. King with Chet Nichols and KC Grits 2/19, two shows
Brewer and Shipley with Loudon Wainwright III and Ozark Mountain Daredevils 3/9 and 3/10
Paul Butterfield with Foghat, Ted Anderson, and Mark Almond 3/15
B.B. King with Malo 3/19
Dr. Hook and the Medicine Show with Hookfat and Tide 3/31
It's A Beautiful Day with Bloodrock and Sylvester and the Hot Band 4/7
Wishbone Ash with Finnegan and Wood and Vinegar Joe 4/13
King Crimson with Gentle Giant and Charles Lloyd 4/22
Fanny with Sanctuary and Backwods Memory 4/27
Poco with John David Souther 5/11
Canned Heat with Hookfoot 5/13
Commander Cody with Earl Scruggs 5/26
Nitty Gritty Dirt Band with Steve Martin 6/16 & 6/17
Charlie Daniels with Garland Jeffries and Hot Ice 7/3
Dan Hicks & the Hot Licks with Billy Spears Band 9/21
John Mayall with the Ozark Mountain Daredevils 9/29
Arlo Guthrie 10/21
Mike Quatro Jam Band with Bryan Bowers 10/31
Mott the Hoople with Kinky Friedman & His Texas Jewboys 11/2
Robin Trower 11/10
Ozark Mountain Daredevils with Danny Cox 11/16
Foghat with John Martyn 12/5
Jesse Colin Young with Leo Kottke 12/9
Blue Oyster Cult with Charlie Daniels 12/28
Sugarloaf with Pilgrimage, Stone Wall, One Thing at a Time 12/31
1974
Climax Blues Band with Speakeasy 1/9
Van Morrison & Caledonia Soul Orchestra 1/17
Nitty Gritty Dirt Band with Steve Martin 2/2 & 2/3
Commander Cody and His Lost Planet Airmen with Ozark Mountain Daredevils 2/8
The Strawbs 2/23
Bachman-Turner Overdrive with Pilgrimage and NRBQ 2/27
Nitty Gritty Dirt Band with Steve Martin 3/1
Harry Chapin 3/11
Redbone with Pilgrimage 3/16
Rory Gallagher with Tide 3/24
Bill Quateman with Hoyt Axton 4/6
Fanny 4/11
Captain Beefheart with Kansas 4/22
Firesign Theater 4/25
The Electric Light Orchestra with Suzi Quatro Band 4/26
Climax Blues Band with Black Sheep 5/10
Jesse Colin Young with Royal Scanlon 5/29
Golden Earring 6/13
Nitty Gritty Dirt Band with Brewer and Shipley, Larry Knight and Friends (Steve Baker, Steve Starr, Gary Signor), Country Heir 9/16
---
Many of my past columns, articles, and essays can be accessed here and at my own site, therealeasyed.com. I also aggregate news and videos on both Flipboard and Facebook as The Real Easy Ed: Americana and Roots Music Daily. My Twitter handle is @therealeasyed and my email address is easyed@therealeasyed.com
---