EASY ED'S BROADSIDE: Sex & Drugs & Country Music
Posted On September 20, 2019
---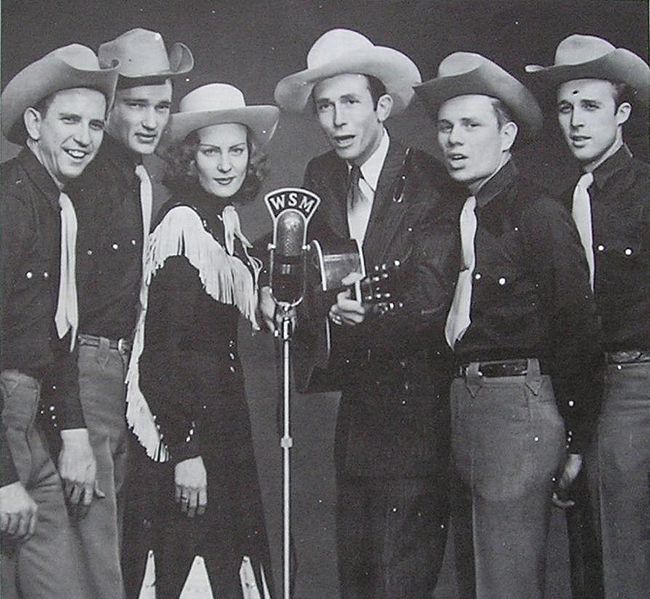 Hank and Audrey Williams and The Drifting Cowboys (photo via WikiCommons)
I was somewhere around 12 or 13 when my parents decided I needed to put braces on my teeth. While I can recall that there was indeed an overbite and a bit of crooked imperfection, it seemed that nearly every newly middle-class Jewish kid living in the suburbs endured the pain and torture of metal wires inside their mouth to symbolize status as much as the need for cosmetic enhancement and future health.
My orthodontist's office was a 25-minute bus ride from my school, and every six weeks or so I'd make the trip to have another adjustment. Just when the pain of the last visit would have subsided, he would tighten the wires once again, which would send me to the medicine cabinet in search of a Bayer or Bufferin tablet. That was likely my entry ramp to decades of seeking a level of joy and happiness through chemistry.
The office was in the basement of the orthodontist's home, and he had three exam rooms that he rotated through with incredible speed, spending only a few minutes with each boy or girl for a fleeting infliction of pain and encouragement. "Looking good, little princess," or "What a handsome cowboy you'll make" were part of his standard patter. "Keep up the good work, don't forget to brush and no chewing gum," were the last words you'd hear as he dashed to the next patient.
Working alongside the man, whose wife and kids lived upstairs above the office, I might mention, was a beautiful dark-haired woman in her 30s, with a wedding band on her finger, and, even more important to a boy my age, a curvaceous figure that would occasionally brush up against me and send me home with lewd and lascivious thoughts late into the night. She was an object of my young desire and I learned I was hardly the only one.
One day as I sat in the chair holding a mirror to view the progress my shifting teeth were making, I heard movement behind me. Shifting the reflection a bit, I witnessed the orthodontist in a passionate embrace with his assistant, his hands sliding over her tight white uniform and moving south. I had feelings of jealousy, envy, and betrayal all at once and learned a life lesson. Regardless of marriage, commitment, and any sense of social or religious morality and values, nothing transcends raw sexual desire.
On Aug. 26, 1977, a single was released on Stiff Records in England by Ian Dury and The Blockheads with the title printed on the label "Sex & Drugs & Rock & Roll." If any one song reflected the loose life of a particular style of music, this was it. I was 25 years old and working in the music business when it was released, and although it was in equal measure both accurate and fantasy, all I could think of when listening to it was changing the lyrics to "Sex & Drugs & Orthodontia."
After watching the first eight hours of Ken Burns' country music documentary, the one constant that stands out is that long before Elvis or any other rock musician packed their sexuality into a marketing rocket ship, male and female country musicians could barely keep their hands away from each other. Out on the road poppin' pills and drinkin' whiskey, and living in tight quarters away from the family, there were plenty of cheatin' hearts and endless highways of opportunity.
For a genre originally sold to the public on the bedrock of religion and family values, country music stars have not escaped the same lifestyle of hedonism and decadence we've come to associate with rock and roll in the 1950s through present day. Some examples of the latter that come to mind are Jerry Lee Lewis's 13-year-old wife and cousin, Keith Richards' notorious drug and alcohol use, partying upstairs at Studio 54, and the film archives of R. Kelly. So if we're gonna tell the story of three chords and the truth, shouldn't we be at least a little truthful?
What is lacking in Burns' documentary or most books I've read over the years is the darker side of country life, with its hidden secrets and contradictions. Nashville is not unlike Hollywood with its casting couches and "I'll scratch your back if you scratch mine" culture that, as we've discovered in the past few years, are far worse than imagined. Do you think that there weren't or aren't Harvey Weinstein/ #metoo equivalents in country music? Please … just start with Spade Cooley and go from there.
There's no doubt in my mind that Burns will do a fine job elevating and bringing attention to a new generation the great music of our American musical heritage. That he weaves into the story the presence and influence of African American musicians is a big step forward from past storytellers. His description of Hank Williams' early death due to drugs and alcohol is rightly unromanticized. He also shares with great detail the adulterous realities and accusations of many of the early musicians, and doesn't shy away from the attraction and union of Johnny Cash and June Carter, who were each married to others. But none of these stories are new, nor do they shine a light on the seedier side of 16th Avenue.
This notion that "Sex & Drugs & Rock & Roll" is simply about one particular career choice is laughable. You can substitute an auto plant assembly line, real estate office, your local police department, any athletic entity from youth sports to the pros, the college campus or whatever else you can think of. For me, it was the goings-on at the orthodontist that come to mind. Maybe Burns will cover that topic next.
---