EASY ED'S BROADSIDE: Molly Tuttle's Earliest Chapters
---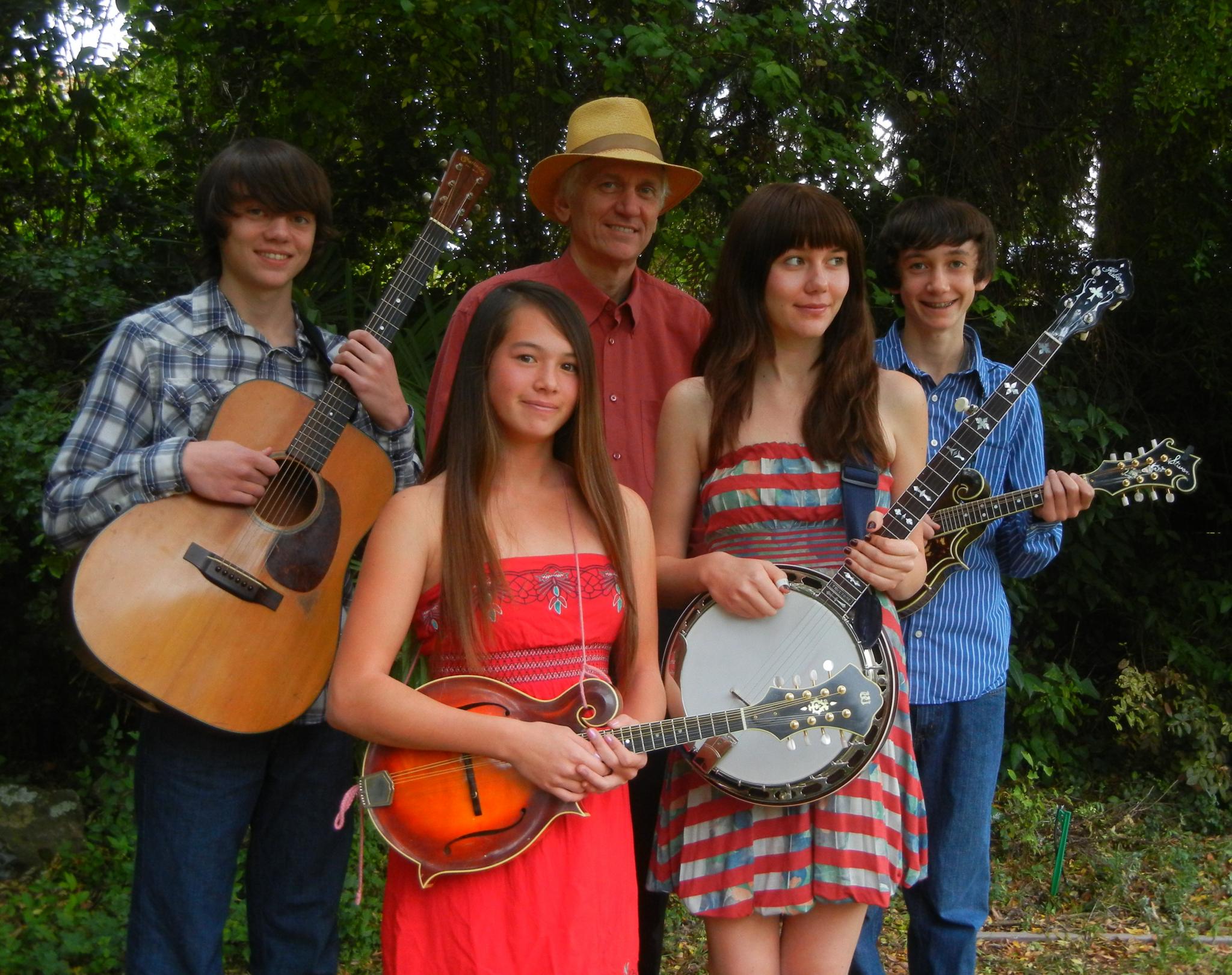 The Tuttles with AJ Lee
Considering that she is only a quarter-century old and just released her first solo album, one might suggest I could be jumping the gun on writing a retrospective of Molly Tuttle's musical career and highlights. And had she not grown up in the era of the magical time machine also known as YouTube, we might have thought she just landed under a Nashville cabbage patch one day and — poof — a star was born. But this young woman began playing guitar at the age of eight, recorded her first album of duets with her dad at 13, and has won more awards than the number of ants on a Tennessee anthill.
Molly, Michael, and Sullivan Tuttle's bluegrass version of "El Cumbanchero" was uploaded in 2006 and has been viewed more than 1,750,000 times. And just to see what four additional years of practice and growing up can do to one's musical skill sets, here is their 2010 version, with Molly moving from guitar to banjo:
Jack Tuttle is a distinguished bluegrass musician, teacher, author, and historian, and he came from a musical family in rural Illinois where he first learned to play guitar at age 5. Migrating to California, he began developing a complete lesson program for fiddle, banjo, mandolin, and guitar and has taught thousands of kids and adults since 1979 from his home base at Gryphon Stringed Instruments in Palo Alto. Known as the "Dean of Bay Area Bluegrass," he taught his own three children how to play and through the years they've been highly active on the festival circuit and at music camps, through the California Bluegrass Association (CBA), Northern California Bluegrass Society (NCBS), and the International Bluegrass Music Association (IBMA).
For those of us guitar players who've been around a while and think we might be pretty proficient, watching Molly Tuttle's right hand technique is a jaw-dropping experience. It seems to be a hybrid of Merle Travis' style combined with clawhammer banjo, and the result is stunning. When you add in her abilities as a cross-picking, lightning-fast flatpicker, it's no surprise that in 2017, Tuttle was named the IBMA's Guitar Player of the Year, an honor that was repeated the following year. She also won this year's Americana Music Association's Instrumentalist of the Year award. In addition to her fretwork virtuosity, she's an exceptional banjo player, singer, and songwriter. Here's one she wrote back in her teens.
The first album Tuttle recorded was in 2006, a duet project with her dad titled The Old Apple Tree. Around that time, the IBMA began a program for pickers between ages 4 and 17 called Kids on Bluegrass. Held during the annual World of Bluegrass festival, the kids get to meet up with others for the chance to play and perform together. Tuttle was one of many talented participants, as were Sierra Hull, Sarah Jarosz, Alex Hargreaves, Molly Cherryholmes, and another Californian, a bit younger than Tuttle, named AJ Lee. Here's Lee, Tuttle, and Angelica Grim with Luke Abbott in 2009 at the Brown Barn Bluegrass Festival in San Martin, California:
Like Tuttle, Lee began studying and performing bluegrass at a very young age. She was about 10 or 11 and attending a CBA event when Jack Tuttle introduced himself to her father, Rodney, and shared that he was working with groups of kids and wondered if Lee might want to join in. That was the genesis of The Tuttles with AJ Lee, featuring Jack on bass and occasional vocals, with the three Tuttle kids and Lee taking the spotlight. Here they are in 2010 at the Strawberry Music Festival at Camp Mather, California. Molly Tuttle is 17 here.
The group released their first self-titled album in 2010, followed by a second release titled Endless Oceans. Lee, whom I've written about before, is now 21, plays in the band Blue Summit that also features Sullivan Tuttle on guitar, and has won the Best Female Vocalist award from the Northern California Bluegrass Society seven times. Her mom, Betsy, has told me that "what AJ learned mostly from her work with the Tuttle family was humility among greatness and the ability to play with intent." While Lee was poised to make the move to Nashville, as Molly Tuttle has done, a year ago, she's backed off for now, telling me not too long ago that her "heart is in California."
In 2012, Molly Tuttle had a huge year when she was awarded merit scholarships to the Berklee College of Music in Boston for music and composition as well as the Foundation for Bluegrass Music's first Hazel Dickens Memorial Scholarship. She won the Chris Austin Songwriting Contest at MerleFest and received both Female Vocalist and Guitar Player awards from the Northern California Bluegrass Society. (The Tuttles with AJ Lee took home the  NCBS's Bluegrass Band award that year.)
In October of that year, she and her father participated in a duet contest on Prairie Home Companion and won second place. In an article for Bluegrass Today, she wrote:
"I have been listening to Prairie Home Companion since I was a kid, so it was a dream come true to play on the show. I loved seeing how it all comes together. Everyone who worked on the show was so professional, but also really friendly and nice. After the show Garrison invited us all to his house for a party, which was wonderful with lots of good food and people. He led a jam around the piano and asked if I would like to sing a Hazel Dickens song with him, so we sang 'Won't You Come and Sing for Me.' All in all it was such an honor to be on the show and one of the best weekends of my life!"
Over on the Tuttles with AJ Lee website, on the front page it says "We don't really play together as a band anymore but most of us still do still play music a lot. Thank you for being so supportive of our music over the years. Please keep in touch with us and we hope to see you some time at a show or festival."
Molly Tuttle is on tour supporting When You're Ready — you can check the dates on her site. This is the link to AJ and Sully's Blue Summit site, and if you'd like to learn more about Jack Tuttle and perhaps want to take some lessons, just click on his name. I'll close this one out with one of Molly's signature concert tunes, the Townes Van Zandt cover she's been doing for years. This video is from the family band's Freight and Salvage gig in Berkeley in 2014 and it's a barn burner. Great music from fine folks.
---
Many of my past columns, articles, and essays can be accessed at my own site, therealeasyed.com. I also aggregate news and videos on both Flipboard and Facebook as The Real Easy Ed: Americana and Roots Music Daily. My Twitter handle is @therealeasyed and my email address is easyed@therealeasyed.com.
---