EASY ED'S BROADSIDE: King Cotton and The Delta Blues
---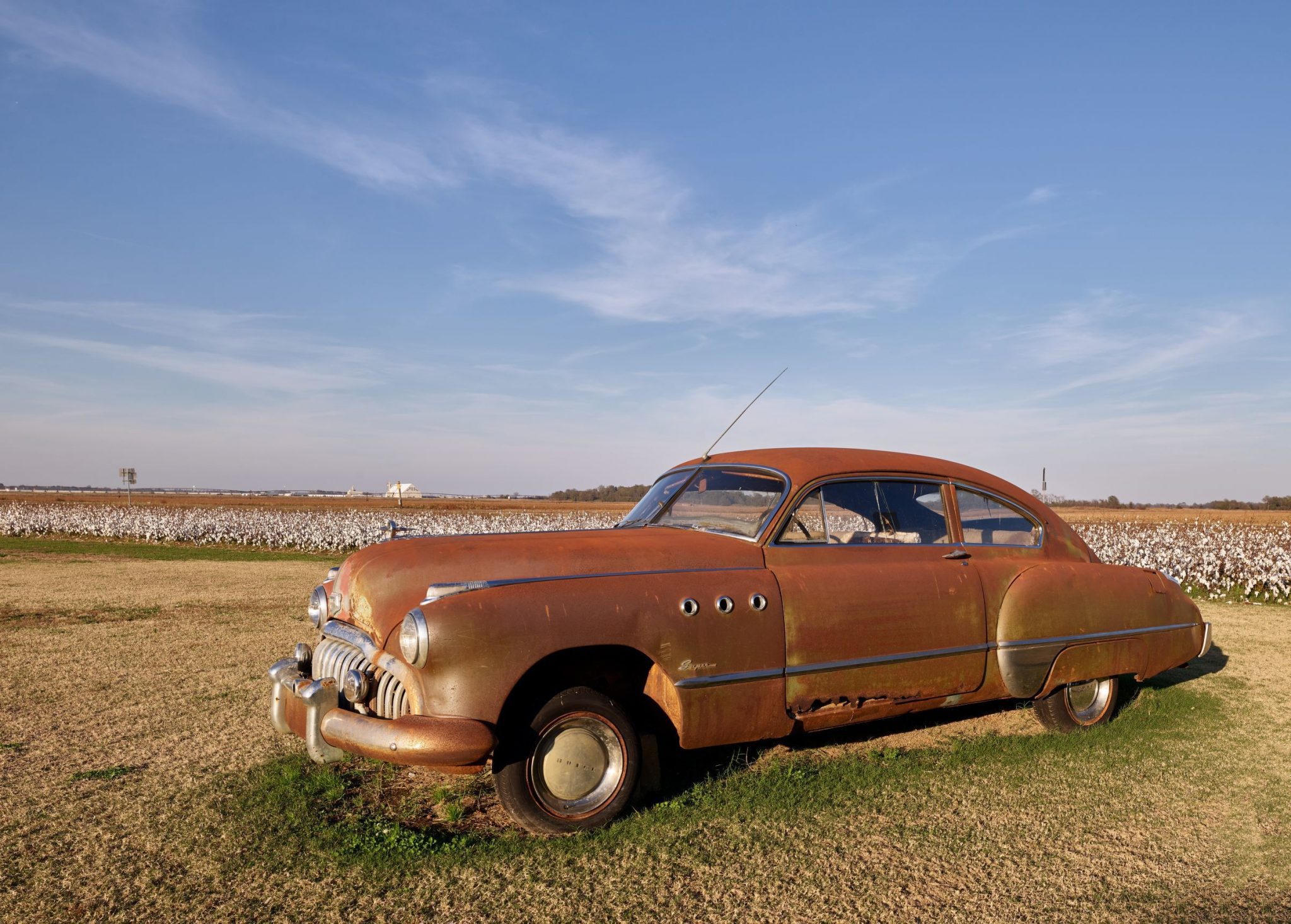 Photo by Carol Highsmith / Library of Congress Prints & Photographs Division
Do you want to know the absolute, honest-to-god truth? I am laying down on my bed, my computer balanced on my thighs, trying to find a topic for this week's column, and I've got no clue about what I'm going to write. All I have is a photograph of an abandoned car sitting on what used to be the Hopson Plantation, outside of Clarksdale in the Mississippi Delta region of America, and a title I made up to go along with it. That's how it goes sometimes.
I found this picture online at the Library of Congress, where I was just poking around for inspiration. Sometimes when you ain't got one thing or another on your mind, it's a good place to ramble and wander. This particular image is one of 100,000 that Carol McKinney Highsmith has donated, the product of a decades-long project photographing all 50 states and the District of Columbia, and her pictures are free for anyone to use.
In a CBS News story about her back in September 2013, she said, "Things are changing for the good and the bad, and so that it's important to catch that. Now, do I know what will be important? No, I don't. I'm clueless." (Note: Like me.) "If people are using my images now, I want them to. But I'm not living for today, I'm really living for 100 years from now."
You can read Carol's description of her photograph on the Library of Congress site where the  image is posted, or I'll give it to you here:
"An old spread on which cotton was picked by black tenant farmers and mules, Hopson became one of the Old South's first mechanized cotton farms in 1935. After the crops petered out and labor became scarce, the operation shut down for many years, but it was revived as a most unusual motel, the Shack Up Inn, in which guests sleep in some of the old farm cabins, gins, and these metal silos. Also on the grounds, the converted farm commissary is now a jazz club and bar, loaded with antique memorabilia from the region."
Something tells me that should you be reading this column around the time I published it (March 2020), you probably ain't all that busy. If you're like me and a few million other people, you're at home experiencing the coronavirus pandemic. Streaming movies on your television, listening to or making music, catching up on a book or two or three, helping the kids with their schoolwork, cleaning out that closet, painting, whistling, cooking, praying, and thinking. So consider this a gift: Carol Highsmith's America is a treat to click on and visit.
Two hundred miles long and about 70 miles wide, the Mississippi Delta is actually an alluvial plain. It's a flat piece of fertile land created by the sediment from the continuous flooding of the Mississippi and Yazoo rivers. For over 200 years it has been an agricultural region, and the first plantations initially grew tobacco, sugar, and rice. After the cotton gin was invented in the late 18th century, short-staple "king cotton" became the premier crop throughout the Deep South, with over a million slaves forced to leave Africa and work the fields. After the Civil War, the area lured both black and white migrants to work the land as sharecroppers and tenants, and they were followed by the recruitment of Italian and Chinese laborers.
The Delta Blues came out of the poverty and discrimination experienced by blacks in the area. When mechanization came to the farms in the 1920s, the Great Migration to the Northeast and Midwest took place and the music went with it. "Milk Cow Blues" by Freddie Spruell, recorded in Chicago in June 1926, may or may not be the first of this style to be documented, and there were a lot of other "race records" released during the decade.
If you're looking for some more information and resources, check out this list of books from Acoustic Guitar magazine as a starting point. A lesson plan for students titled "A Snapshot of Delta Blues" is available from PBS. To wrap this up, I'll leave you with a few live performances. Hope you enjoyed this little ride with me, and together we just made somethin' out of nothin'. I remain forever clueless. Stay safe.
---
Many of my past columns, articles, and essays can be accessed here and at my own site, therealeasyed.com. I also aggregate news and videos on both  Flipboard and Facebook as The Real Easy Ed: Americana and Roots Music Daily. My Twitter handle is @therealeasyed and my email address is easyed@therealeasyed.com.
---