EASY ED'S BROADSIDE: Americana Lost and Found – Soundies and the Panoram
Posted On February 28, 2020
---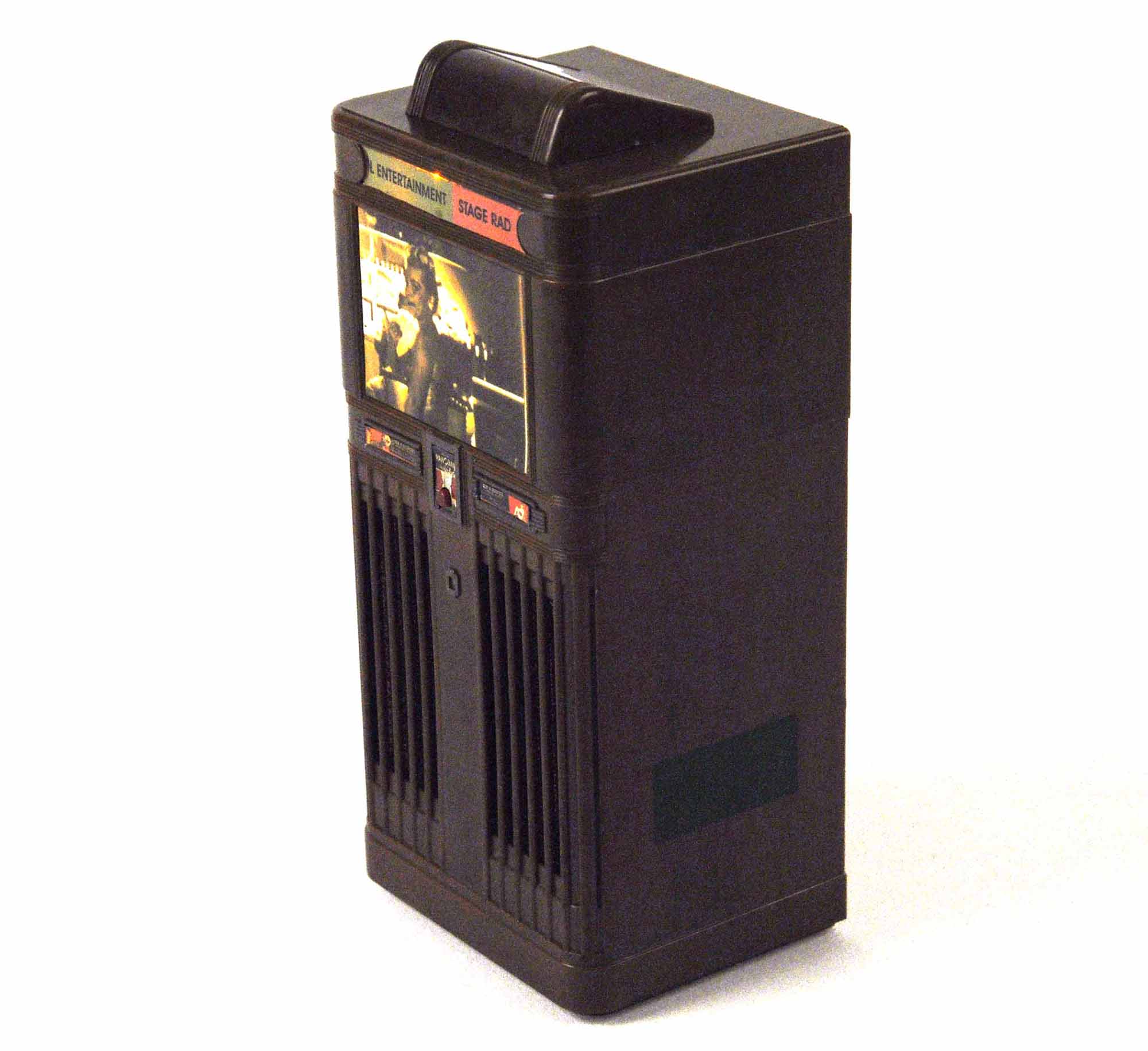 A 1940s-era Panoram
On April 14, 1891, a Chicago businessman named Mortimer Birdsul Mills was granted a patent for a major improvement in what was then called a coin-actuated vending apparatus. It gave consumers of cigars the opportunity to select which one of several brands housed inside of a machine that they wanted to purchase. Mills established the Mills Novelty Company, and over the next several decades manufactured slot machines for gambling and separate devices that dispensed chewing gum, hot coffee, and cooled Coca-Cola bottles. With Mills' son and grandchildren running the business, in 1928 it added coin-operated radios, phonographs, and eventually jukeboxes to its offerings.
One of the coin-operated machines of particular interest delivered to the public a new music configuration called Soundies. These three-minute black-and-white musical films were produced between 1940 through 1947, shot on 35mm film stock, and then transferred to a more affordable 16mm loop that featured eight different performances. For 10 cents you would get to watch one at a time with no ability for selection, but hopefully you'd enjoy whatever clip was next up and keep feeding the dimes.
At least seven production facilities in New York, Hollywood, and Chicago produced Soundies, for which the performers recorded the songs in advance and then lip-synced for the film. The machines that played them were sold and marketed under various brand names — Hi-Boy, Troubadour, Dancemaster, Do-Re-Me, Swing King, Zephyr, Studio, Throne of Music, Empress, Constellation, and The Panoram.
The Panoram, built with high quality wood and designed in an art deco motif, was placed in public areas such as soda shops, cafés, taverns, roadhouses, and bus and train stations. While the first year was a runaway success, bringing the Mills family millions of dollars, World War II quickly interrupted its distribution with a shortage of raw materials to build more cabinets. By 1947, with television in the beginning stage of home entertainment dominance, Mills discontinued the Panoram, leaving an archive of approximately 1,800 Soundies.
Merle Travis – "Old Chisolm Trail"
Covering all genres of music, such as classical, big-band swing, hillbilly novelties, and patriotic songs, Soundies also added comedy sketches in 1941. In American roots music you had Merle Travis, The Hoosier Hot Shots, many jazz bands, and what has become their legacy: a huge catalog of African American artists who would otherwise not have had the opportunity to be filmed. Eventually the Soundies were sold off to several home video companies and distributed in a variety of formats, with many currently available to view on YouTube.
Sister Rosetta Tharpe and The Lucky Millinder Orchestra – "The Lonesome Road"
In the mid-1960s, the Scopitone jukebox made its debut based on a similar technology as The Panoram but now offering color format. They were initially available in Western Europe but soon spread to the United States. Some of the performers included The Exciters, Procol Harum, Neil Sedaka, Jody Miller, Bobby Vee, and Nancy Sinatra's popular "These Boots Are Made for Walkin'." Bypassed by The Beatles and others from the British Invasion, the Scopitone jukebox faded by the late '60s, although its technology continued for several years.
Lani McIntyre – "Imua Ailuni"
The Panoram and Scopitone systems each preceded and predicted the popularity of music videos popularized by MTV. Two recommended sources for more information about Soundies, the Panoram and Scopitone:
The Soundies Book: A Revised and Expanded Guide
The 2007 PBS-produced documentary Soundies: A Musical History, available on Amazon Prime Video
I'll close this out with a cornucopia of clips, and encourage you to go forth and explore these three-minute slices of old-time historical Americana and American roots music.
---
Many of my past columns, articles, and essays can be accessed here and at my own site, therealeasyed.com. I also aggregate news and videos on both Flipboard and Facebook as The Real Easy Ed: Americana and Roots Music Daily. My Twitter handle is @therealeasyed and my email address is easyed@therealeasyed.com.
---