EASY ED'S BROADSIDE: A Reclamation and Reinterpretation of American Music
---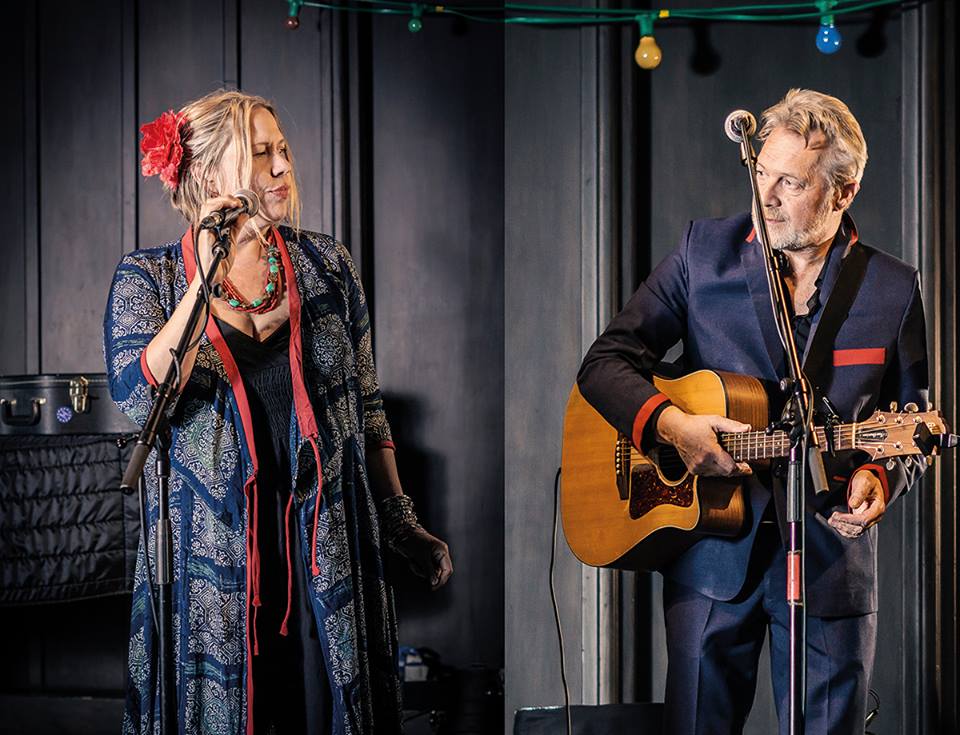 Naomi Bedford and Paul Simmonds
Beginning in the 18th century, immigrants from Britain, Scotland, and Ireland made their way across the ocean and into the backwoods and mountains of America. They brought with them their customs, culture, and music, which included both ballads and reels. The ballads were often just stories, shared by songbooks rather than recordings, and over time the lyrics, melodies, and titles were often changed. A new album by Naomi Bedford and Paul Simmonds titled Singing It All Back Home: Appalachian Songs of English and Scottish Origin takes many of these titles and presents them in a new light that restores the traditional while also adding in current country and Americana flavors. The result is a feast of tastefully executed acoustic instrumentation coupled with Bedford's powerful voice that soars into the stratosphere along with Simmonds' solid instrumentation and vocals.
Fans of folk music are likely familiar with the work of Shirley Collins, considered to be the doyenne of English roots music. From the mid-1950s through the late '70s, she recorded some of the most beautiful albums of classic ballads you'll ever hear. Some of you may also know of her through her relationship with folklorist and field recorder Alan Lomax and their 1959 song-catching trip through America's South. A compilation album titled Sounds of The South was released soon after, and a few decades later the Coen Brothers used some of the songs in their film O Brother, Where Art Thou?
In 1978, after a painful divorce with her second husband Ashley Hutchings of Fairport Convention and Steeleye Span fame, Collins literally lost her voice. She developed a form of dysphonia, a condition often associated with psychological trauma, and for the next 38 years supported herself by taking a number of mostly menial, non-music jobs. In 2004 she documented her time with Lomax as both his assistant and lover in the book America Over the Water, bringing her a new generation of fans and acknowledgement for her contribution to traditional music. Almost four decades after stepping away from music, she released a new album in 2016, and last year a documentary film about her life, The Ballad of Shirley Collins, was released. She was also kind enough to assist Bedford and Simmonds with their project, which elevates this release from simply an album to an event.
Simmonds, vocalist and songwriter for the British folk-punk band The Men They Couldn't Hang, who've been together since 1984, plays guitar, bouzouki, mandolin and keyboards. Bedford grew up learning the music of folksingers such as Collins, Jean Ritchie, and Hedy West from her mother. Her family also lived next door to Andy Summers from The Police, and she was the babysitter for his daughter. In 2001 she co-wrote and sang on electronic dance band Orbital's "Funny Break," a Top 20 hit in the UK. After working with several other groups, she took a break from music to backpack through India and raise a family.
Sometime in 2010, while Bedford was working on Tales from the Weeping Willow, the first of three albums that she and Simmonds worked on together that focus on traditional music, she tried unsuccessfully to take an English folk singing group class taught by Collins but was too late in signing up. She inquired if she could perhaps pay to have a one-on-one session with her, and Collins agreed — in exchange for a jar of honey. A friendship began, and as Bedford shares:
"We were asked to play at one of her birthday parties, invited to join her at one of her large theater shows, and have got to know her a bit better. She has always been encouraging, particularly with regard to my Appalachian material. For Singing It All Back Home I went to her house for lunch and conversation and came away with some wonderful research materials. A songbook she lent me was Dear Companion (from the Cecil Sharp Collection), which we used as a prime source."
The album was produced by Ben Walker, a multi-instrumentalist who is quite well known in England for his six albums with Josienne Clarke, extensive production work, and amazing solo guitar work, which you can hear on the EP The Fox on the Downs. Some of the other players assisting on the album include Lisa Knapp, Rory McCloud, and Justin Currie of Del Amitri fame, whom Bedford befriended years ago through his MySpace page and subsequently toured with as his singing partner.
On the liner notes of Singing It All Back Home, Simmonds speaks about the genesis of the project and some of the liberties they have taken:
"We began this project in January 2018 with a very simple premise: to rediscover, explore and celebrate the ballads that had been such a strong influence in Naomi's childhood and which I felt were somehow intrinsic to the craft of storytelling in song. It was not always easy to find the exact melodies to some of these songs, and where that was the case, we added our own layer of interpretation. We hope and believe that this is acceptably within the folk tradition."
Across the Atlantic, where Bedford and Simmonds are revered and treasured in the folk music community, the reviews on the project have been outstanding. Iain Hazelwood from Spiral Earth wrote that "You can feel what those Appalachian settlers must have held in their hearts, what they hoped for and the memories of home that drifted into their dreams. It's an evocation and a celebration, plus it's just damned good fun." And over at Folk Music UK, Neil McFayden  shares that the album "has all the passion & history of the characters that populate these stories; Naomi Bedford & Paul Simmonds paint them in a fascinating new light, while holding fast to their enduring heritage in an outstanding album."
As we all know the financial challenges of being a musician in these times, I'd encourage y'all to check out their website for upcoming appearances and to explore their entire catalog. Each album, regardless of whether released under just Bedford's name or credited to both her and Simmonds, are folk and roots music treasures, assembled in the handmade tradition of fine craftspeople, that add another foundational stepping stone on the path of what we consider American music. I'll close this out with a favorite song from an older album, A History of Insolence, that I hope will leave you wanting to explore more.
---
Many of my past columns, articles, and essays can be accessed at my own site, therealeasyed.com. I also aggregate news and videos on both Flipboard and Facebook as The Real Easy Ed: Americana and Roots Music Daily. My Twitter handle is @therealeasyed and my email address is easyed@therealeasyed.com
---