Dreams of Patti Smith and Other Memorable Moments from Mountain Stage's 35th Year
Posted On January 21, 2019
---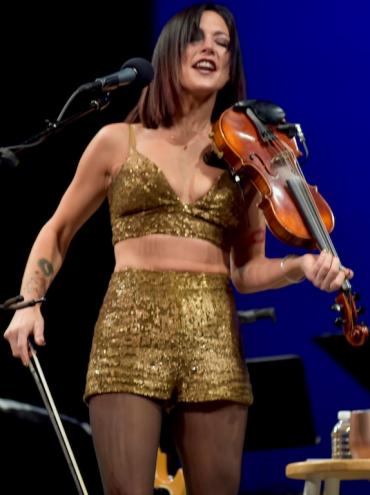 The number 35 is a significant number to West Virginians. It's the 35th state, having entered the Union during the Civil War, in opposition to slavery. It is also generally thought that the state was responsible for the ultimate election of John F. Kennedy, the 35th president.
Now, having just completed its 35th season, radio show Mountain Stage enters that ethos.
While it is impossible to distill all those shows — with sets by some 125 guests, the Mountain Stage Band's backing many of them, Julie Adams' endearing song of the week, and Bob Thomspon's grand piano — here are some memorable moments.
Patti Smith
There are legends, then there are legends. Patti Smith was already a local legend even before her 1975 debut album. In the early '70s I would often see her in St. Mark's Square, the essence of bohemian cool. It was about as far as one could get from the West Virginia hollows that her future husband, Fred "Sonic" Smith, knew. After moving to Detroit he grew to fame in The MC5.
Last February, Mr. Smith was inducted into the West Virginia Music Hall of Fame. Along with her children, Jesse and Jackson, Patti Smith played Mountain Stage the following evening. We learned that she was no stranger to the state, as the family often visited Fred's grandparents, who continued to live where Fred was born. Patti shared stories of those times, the most remarkable being the origins of "People Have the Power." It came to her as she was digging potatoes with Fred's grandmother, and she also noted that she knew where and how to dig without cutting into the them.
The most moving moment of her Mountain Stage visit for me came not in the hanging out, or in the performances, but rather much later. In a dark, chilly rain while walking around the State Capitol grounds I saw the Smiths huddled together under an umbrella doing the same. I noticed a certain grace in Patti's step, an obvious adoration of her children. It was as though she had given herself to the environs of that night.
Dylan and Other Legends
No, Bobby did not make an appearance, but Bettye LaVette and Joan Osborne, both of whom had released albums of Dylan songs, performed on the same show, as did one of his greatest interpreters, Chris Smither.
On another show, West Virginia's Charlie McCoy paid tribute to another state legend, the Grand Ole Opry's Little Jimmy Dickens. To the uninitiated, McCoy is Dylan's most influential sideman, as he was primarily responsible for finding that thin, wild mercury sound Dylan was searching for when he recorded Blonde on Blonde. McCoy also contributed to John Wesley Harding, Nashville Skyline, and "Desolation Row." He is a member of both the Country Music Hall of Fame and the West Virginia Music Hall of Fame.
Dave Alvin and Jimmie Dale Gilmore, guests many times with other groupings, returned together for the first time, and they did not hold anything back.
Personal Favorites
Readers of this column know of my fondness for the duo Richie Stearns and Rosie Newton, who made their first visit. Another first visit that was way overdue was another duo, The Handsome Family. While Brett Sparks was somewhat irascible that night, wife Rennie's nonchalantness tempered him and together they slayed us with their eerie tales of darkness.
Molly Tuttle made her first appearance, wowing not only the audience, but, on a much different level, the superb bluegrass duo Dailey & Vincent (who headlined the show that night) as well. They stood in the wings with looks of simultaneous joy and amazement.
Amanda Shires made a return visit, her fourth. I have seen all of those Mountain Stage performances and have the heard the the development of her music. Grounded, yes, but she approaches it like an impressionist painter. She also had the best comeback line of the year. When someone mused that perhaps her touring would be cut back following the birth of her daughter, Shires unhesitatingly quipped, "Not at all. I have a husband who gives a fuck."
Gurf Morlix guested the week the movie on the life of his best friend, Blaze Foley, was released. He spoke lovingly of Foley, doing one of his songs, "Cold Cold World," calling it the best song ever written. Morlix has a new album out next month, Impossible Blue, a collection of gutsy, bluesy tunes that, with the aid of a B-3, will tear your heart out. If that sounds like a plug, that's because it is.
Anais Mitchell made her first appearnce in 2008, two years before Hadestown was released. Each time she performed "Why We Build the Wall," which has taken on an even greater resonance since. The concept album was made into an off-Broadway play in 2016, and in April it moves to Broadway. Mitchell's talent shines brighter than a thousand suns.
Sets to Die for: Martha Scanlan and Sam Baker
It had been 15 years since Scanlan made her first appearance, and nearly 10 since I had last seen her. Her songs of the interwoven relationships between people and landscapes sink deep into your soul, bewitching, but without the bewilderment. The sound of her voice alone can transport you to a reality where you are one with the world.
While Sam Baker's story of recovery from a near fatal terrorist bomb blast nearly 30 years ago in Argentina would be plenty to grab your attention, what really does it is the way he channels his music in a zen-like manner, with half-spoken vocals in a near jazz cadence that is transfixing. When I mentioned that to him after the show, he said not many people got that, and his next album would be even more so. His 2017 Land of Doubt is one of the most arresting albums of the decade.
Now the photos, artists too numerous to mention. After you look at those, I recommend you do as Mountain Stage's Larry Groce, host and co-founder, says at the end of each show: "Now, go out and hear some live music wherever you are."
---