Doo Wop Skeletons in Clinton's Closet
---
Name two artists who came into music via their love of doo wop, exploded into the popular consciousness in the 70's, operated with a deep contempt of the music business, put together ultra talented bands, presented (still present) legendary live shows, used humor to make much larger points, and always seemed to be just a little bit ahead of their time.
My answer is George Clinton and Frank Zappa. Sure, some of their methods were different, but their career arcs have many similarities, including loyal worldwide fan bases and massive revisionist critical acclaim. The world just needed time to catch up with what they were doing.
 The key similarity, though, is their doo wop roots. Most folks in the 70's would've pegged Funkadelic or the Mothers of Invention as "acid rock", probably because that was the surface look, feel, and sound of their bands and the music they played. But group vocals styles were always a part of their music, from Zappa's tribute/satire to Doo Wop, Crusin' With Rueben and The Jets or P-Funk's constant reinvention of their early doo wop material in songs like, The Goose, I Wanna Testify, or All Your Goodies Are Gone, which became funkier as later versions emerged.
George Clinton and Frank Zappa used "the forms and clichés of their era and perverted them" (The Real Frank Zappa Book). Did one influence the other? If anything, it was probably Zappa that influenced Clinton..although George's genius was the sheer amount of synthesis that went into P-Funk music; nothing short of a primer of rock and roll era music from doo wop to hip hop. In the end both Frank and George used whatever freedom their outsider status conveyed on them to make some timely and timeless records, that repay repeated listens with new revelations. Long lost brothers? Maybe not.
The transitional records made by the Parliaments from their doo wop days to their Funkadelic days have been readily available, and most folks with some knowledge of the history assume the Parliament's 1968 top 20 R&B (Motown inspired, but clearly headed in a new direction) hit , I Wanna Testify, was the beginning of the P-Funk story. Truth is, George and his crew had been paying dues for more than 10 years. So, before the madness of Parliament's Osmium (1970) and Funkadelic's self titled debut (1970), there were these stabs at doo wop stardom, put together by some friends who met at a Plainfield,NJ barbershop.
1958-  Poor Willie /Party Boys -APT 45-25036
A Side:
B Side:
1959-  Lonely Island/(You Made Me Wanna) Cry -Flipp FL-45-100/101
A Side:
B Side:
I pulled these off the (I think) bootleg CD I Wanna Testify , which includes all the prehistoric P-Funk in one place on CD for the first time.
Finally, here's I Wanna Testify, the first paydirt for George Clinton, and probably the only reason the mothership ever had a chance to leave this planet. Testify's success enabled George and his crew, to tour, to get sued for using the name Parliaments (precipitating the need to invent the name Funkadelic), and most importantly, to relocate to Detroit and psychedelicize into a unit capable of funkatizing entire galaxies.
Cheers to George, for 50 years of survival and subversion..and cheers to Frank for his incredible output of sonic genius and unrelenting truth telling.
1967/8-(I Wanna) Testify/I Can Feel The Ice Melting– Revilot-207
A side: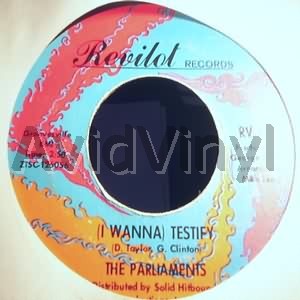 B Side:
P.S.-The first song at my second wedding was I Can Feel The Ice Melting.
P.P.S.- To Explain my title pun check out the title cut from this '86 George Clinton solo record
R&B Skeletons In The Closet
---