Desert Dust and Wanderlust Draw Musicians to California's High Desert
---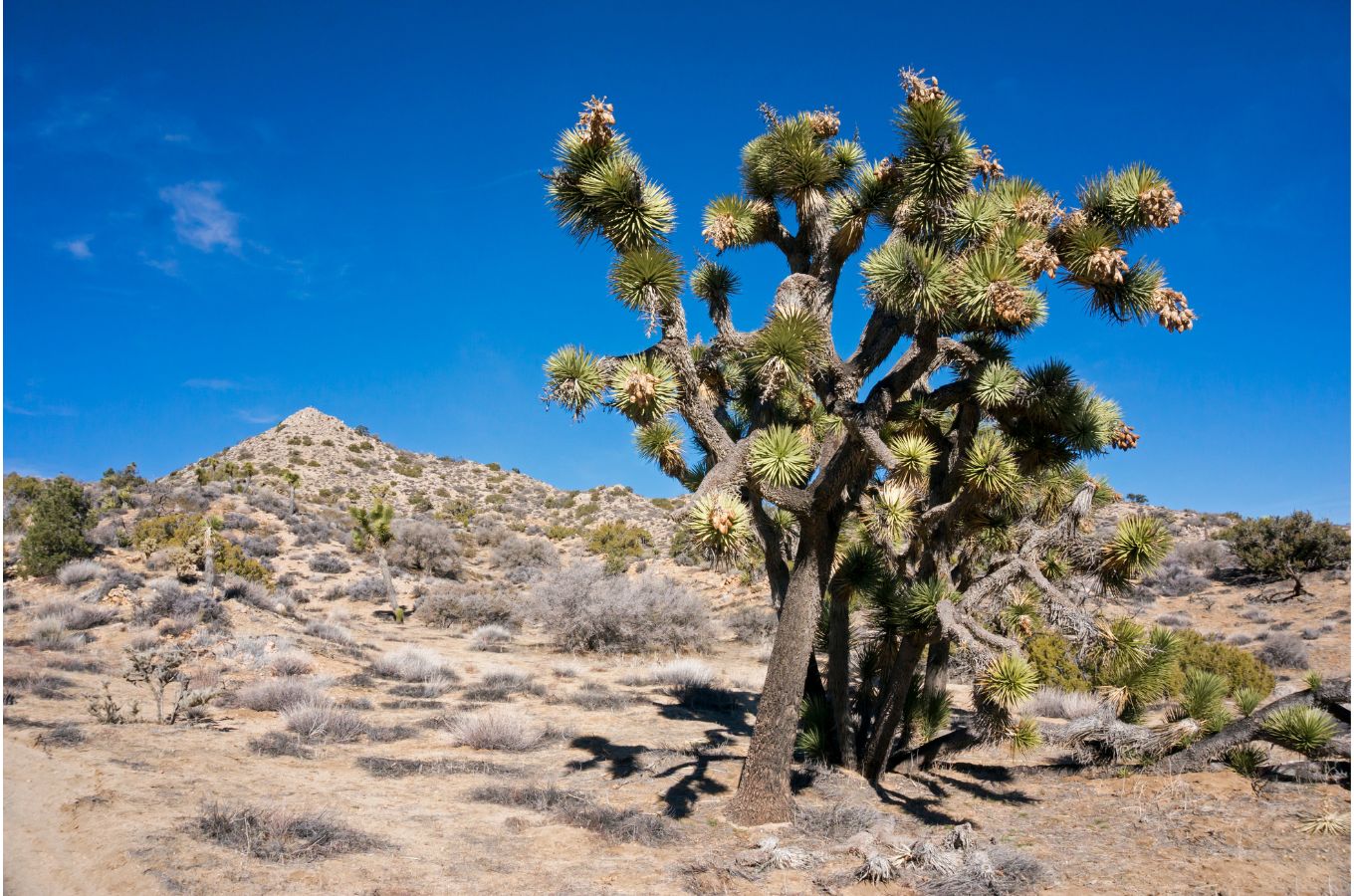 A stand of Joshua trees in the California High Desert. (Photo by Lisay / Getty Images Signature)
Teddy Quinn is referred to these days as "the musical mayor of Joshua Tree." Growing up in Los Angeles, Quinn appeared as a child actor in a Bayer aspirin commercial and in '60s sitcoms like Bewitched, The Courtship of Eddie's Father, and My Favorite Martian. Fed up with the city in '90s, he came to Joshua Tree and has become a catalyst and omnipresence through the area's musical growth.
These days, his monthly open mic nights — originally at a beloved local venue called Pappy & Harriet's, nowadays at the Beatnik — are legendary, often with long lines to get in. Asked at a recent open mic if there was anybody worth paying particular attention to, Quinn points to his fully loaded sign-in clipboard and says, sans irony, "everybody."
But the desert isn't for everybody, Quinn says. "It's a rural destination a couple of hours outside of the big city where artists and musicians have gone to seek their muse and find themselves. It either gets under your skin or it doesn't. If your trips to the desert become more and more frequent, one day you look around and realize you've become a part of the place. You can leave anytime you like, but it keeps calling you back."
California's Mojave Desert comprises the Morongo Valley (Joshua Tree, Yucca Valley, Pioneertown, Landers, Twentynine Palms, and Wonder Valley, collectively referred to as the "high desert" due to its elevation of 2,700 feet above sea level) and the nearby Coachella Valley (called the "low desert" and including towns like Palm Springs, Palm Desert, and Indio, which mostly sit below sea level). Outside their windows, desert dwellers see alluvial fans framed by mountain ranges — a fragile ecosystem alive with indigenous fauna and flora, cobalt blue skies by day, and starry skies by night.
The natural beauty of the area is one reason that musicians from the nearby big city of Los Angeles (a two-hour drive away) and throughout the world have flocked there for decades. Lately it has become a place where creatives go to transform, reclaim, and recharge their inspiration. But honoring the past is not the only reason why people keep coming to the high desert. They are drawn to its community of musicians, artists, writers, and other creatives congregated in a psychedelic-like atmosphere without the often soul-sucking population density of the big city.
Catching Calm 
As detailed in Lauren Beth Eisenberg Davis' 2018 book, Songs of Joshua Tree, the region's musical origins date back to the Indigenous Cahuillas, Serranos, and Chemeheuvis, as well as Spanish missionaries and the pioneers. But in terms of commercial music, the high desert began gaining popularity in the rock era thanks to Gram Parsons and The Flying Burrito Brothers.
Parsons started leaving his LA home for Joshua Tree for inspiration in the '60s, and many consider The Byrds' 1968 album, Sweetheart of the Rodeo, to be the first true country-rock record. His favorite spot was Joshua Tree National Park's Cap Rock, a sculptural rock formation where road manager Phil Kaufman notes in his 1993 memoir, Road Mangler, Parsons had told him he eventually wanted be buried. In 1973 — 50 years ago this September — Parsons overdosed at the Joshua Tree Inn on California Highway 62 (infamously in room No. 8). The lodge remains open and has become a full-fledged shrine to Parsons with photos, posters, and a flower-bedecked guitar-shaped monument.
Polly Parsons, who looks after her father's merchandising as well as preservation of his spirit via the Sound as Ever organization, sums up her dad's attraction to the desert: "The draw to the Joshua Tree area for my father, as well as others, has always throughout the decades seemed to be spiritual in nature.  if you stand back and take an eagle's eye view of the ebb and flow of Joshua Tree, one might be able to note the spiritual significance of the culture at large in any given time frame. You get almost a sense that when things are feeling chaotic or confused in the current zeitgeist, there seems to be a gravitational pull toward the calm of the desert. It's hard to describe, impossible to forget."
Chris Hillman, a former member of the Burrito Brothers and The Byrds and current member of the Desert Rose Band, remembers the region as "a favorite haunt during the Flying Burrito Brothers days — 1968- to '71. Gram introduced me to the beautiful Joshua Tree Monument." It would soon become, he recalls, "a counterculture hippie escape."
In the late '60s and early '70s, Keith Richards of The Rolling Stones was known to visit Parsons, which could explain why the Burritos released the Mick Jagger/Keith Richards-penned ballad "Wild Horses" a year before the Stones did in 1971. Scottish folk-rocker Donovan felt the desert's pull, raising his family there in the 1970s. Jazz singer Nancy Wilson lived in Pioneertown in the years leading up to her 2018 passing. U2 even titled its double-platinum 1987 album The Joshua Tree.
The Scene's Second Act 
By the 1990s, more musical infrastructure began appearing in order to support the influx of musicians venturing from the big city to the desert. In 1993, David Catching (a member of Eagles of Death Metal) and the late musician Fred Drake co-founded the increasingly legendary Rancho de la Luna recording studio. It was there that desert lifer and rocker Josh Homme (Queens of the Stone Age, Eagles of Death Metal, Them Crooked Vultures) conceived his Desert Sessions series ­— a revolving collective of musicians including PJ Harvey and Mark Lanegan who record extemporaneously and sometimes anonymously under the Desert Sessions aegis. Other prominent rock artists, like Arctic Monkeys, Afghan Whigs, Foo Fighters, and Kurt Vile, have recorded there too.
Small local venues like Pappy & Harriet's, which opened in the '80s, became a destination for locals and weekending Angelenos alike. The early aughts saw the rise of Bobby Furst's off-grid Furstwurld Gallery & Performing Arts (temporarily closed for permitting); The Beatnik Lounge, which has become a community art gallery and performance space; and The Palms, a live music destination far off the main artery in unincorporated Wonder Valley. 
But when the world-famous Coachella Valley Music and Arts Festival debuted in 1999 in Indio (about 50 minutes southeast), it marked a vibe shift in the desert, as money and tourists began flooding the region. In 2017, 250,000 people attended Coachella and the festival grossed $114.6 million. It was the biggest edition to date of the event, which now comprises two weekends and this year featured headliners like Blink-182, Frank Ocean, Skrillex, and Bad Bunny.
More and more people have moved to the desert in search of both quietude and community. Singer-songwriter Victoria Williams — a guitarist who has also become adept on the guzheng, a 21-string Chinese instrument resembling a pedal steel — has been in Joshua Tree longer than nearly any recording artist still on the scene. "When I moved here 30 or so years ago," she says, "it was to get out of big-city living and for Mark [Olson of The Jayhawks, her former husband] and me to buy a homestead cabin, adding a roof, walls, water, electricity, and gas. There weren't many people here then. It's grown exponentially, causing traffic jams and lights that steal the stars — an auto dealer had to remove enormous lights after we signified the importance of starlight and quiet here in the desert."
Wide Open Spaces 
Mostly, though, desert dwellers new and old seem to crave the space, identity, and freedom in their musical and creative pursuits that this region offers.
"One of the reasons why artists come to the high desert to create is because of the plenitude of space. This desert is generous with its silence and room for the mind to roam," says Lisa Mednick Powell, who came to Twentynine Palms in 2013 and records with her bass-playing husband Kip Powell in a duo called Arroyo Rogers. "It's natural to rush to fill up a perceived vacuum. But of course, what one finds when one enters the creative process here is that there is inspiration flying around everywhere. It isn't a vacuum at all."
Even 60 years later, the reasons why creative people flock to the California desert are still quite similar to why roots icons like Parsons came in the 1960s. As Michael McCall, senior writer at the Country Music Hall of Fame and Museum in Nashville, explains, "There's a reason [Gram] Parsons named Joshua Tree as the place he wanted to be cremated. He visited often, as did other musicians from the LA scene. It was an escape from the city, and they considered its stark beauty as restorative and spiritual. It was the age of psychedelics, of course, which was popular with the early country-rockers, and Joshua Tree suited those interested in mind-expanding experiences."
McCall co-created the Country Music Hall of Fame and Museum's current exhibit, Western Edge: The Roots and Reverberations of Los Angeles Country-Rock, which debuted in September and runs until May 2025. Much of the focus is on LA's outsize contribution to roots music. Artists like Linda Ronstadt, Buffalo Springfield, The Flying Burrito Brothers, Rick Nelson & the Stone Canyon Band, Poco, The Dillards, Emmylou Harris, and Jackson Browne arrived in the mid '60s, during what country-rock authority Randy Lewis, in the Western Edge program book, calls "a flash point in the emergence of a fertile scene."
But it's impossible to chart the roots and branches of LA country music — and therefore American roots music — without looking to the California desert.
---