JOURNAL EXCERPT: Dan Auerbach Brings It Back to the Blues
---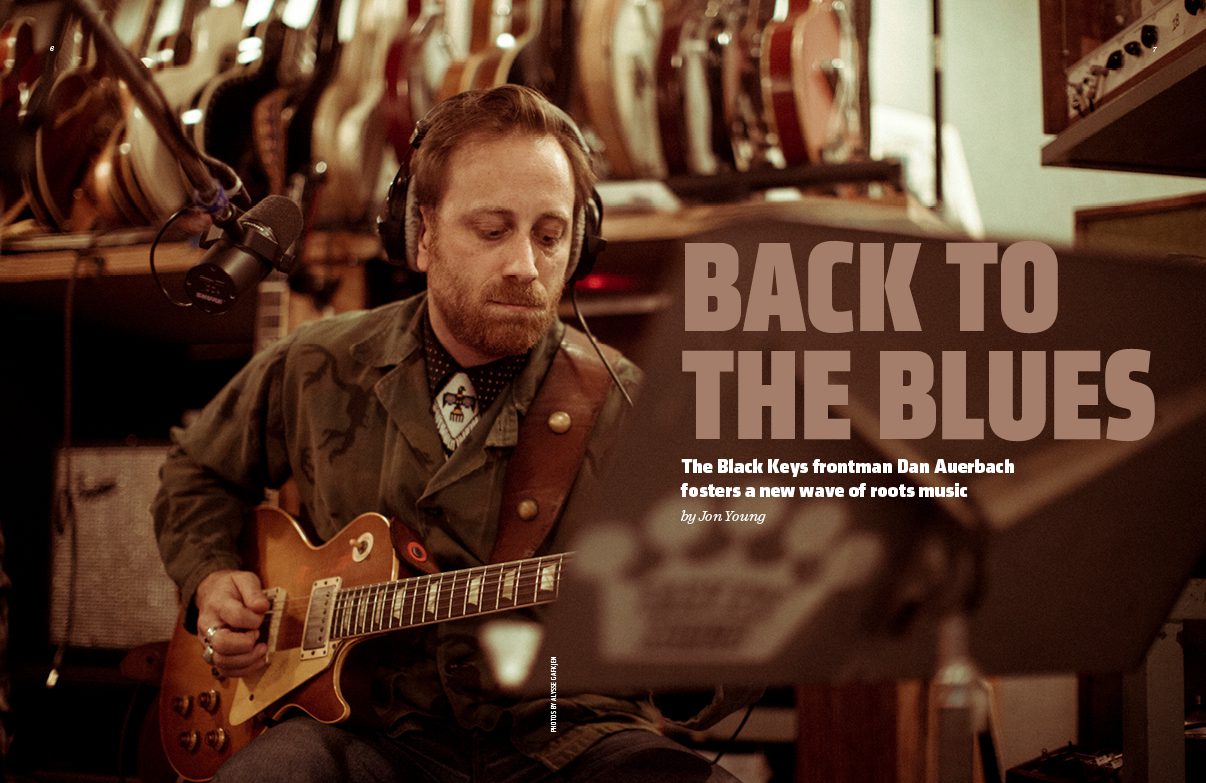 EDITOR'S NOTE: Below is an excerpt from a story in our Summer 2022 journal, "Movers and Shakers." You can read the whole story — and much more — in that issue, here. And please consider supporting No Depression with a subscription for more roots music journalism, in print and online, all year long.
It always comes back to the blues for Dan Auerbach. The singer-guitarist of The Black Keys, along with drummer Patrick Carney, propelled out of Akron, Ohio, to arena-filling stardom with a raw sound grounded in electric blues. Last year, the duo served up Delta Kream, a sizzling album of Hill Country blues covers by the likes of Junior Kimbrough, R.L. Burnside, and other inspirations that were originally released on the Fat Possum label more than two decades ago. [Read No Depression's review here.]
The Keys' sustained popularity gave the Nashville-based Auerbach the financial resources to launch his Easy Eye Sound studio in 2011 and, in 2017, the Easy Eye Sound record label, which has provided a platform for a wide array of roots music — from pop-soul (Grammy nominated Yola) to bluegrass (The Gibson Brothers) to juke-joint blues (Grammy nominated Jimmy "Duck" Holmes). Still, the blues has remained closest to his heart.
In March, Easy Eye Sound reached into the past to present an archival gem: Son House's Forever on My Mind (ND review), which was released in March. Recorded in late 1964, shortly after House's rediscovery and months before the landmark Columbia sessions that put him back on the map, this previously unreleased live set captures the Delta blues legend solo and at his most powerful.
"My dad had the Son House Columbia recordings and would play them all the time," recalls the affable Auerbach, speaking from his home in Nashville. "Even before I played music, I had these Son House songs in my head."
Blues promoter, photographer, and onetime Broadside editor Dick Waterman played a central role Son House's return to public performance, from spearheading the singer's rediscovery to arranging his tours. He and two colleagues went looking for him in June 1964. They went from Mississippi to New York, where they finally found him in Rochester, retired from working on the railroad. As Waterman recalls, "We convinced him he could come back and play again and make some money. That was all right with him, but we had to persuade his wife, who was very church-oriented and didn't like the blues."
Prepping House to perform for audiences again took some time, since the blues great hadn't played his own songs in decades, Waterman says. "Fortunately, I knew Al Wilson — this is before Canned Heat — and Al knew all the records Son House had made for Paramount in the '30s and for Alan Lomax in the '40s. Son would sit knee-to-knee with Al and play the songs along with him, and say, 'I'm getting my recollection back!' Without Al Wilson there would have been no Son House comeback."
Says Auerbach, "Dick came to Nashville with a box of reel-to-reel tapes, and we came to an agreement. I love the sound of Forever on My Mind. It has a warm, intimate feel like no other. When Son House was younger, he had all this youthful energy, but the music from this period seems more lived-in, more personal."
Auerbach sees a direct connection between the electrified Hill Country blues that inspired The Black Keys and the fierce solo performances of Son House.
"Blues was always music for the community, especially the Hill Country stuff. It was based around playing at parties, playing at juke joints, getting people up on their feet. I think that has a lot to do with why those Fat Possum albums were recorded in juke joints, where the performers were most comfortable. Son House was like that too, but from decades earlier."
Collaborative Spirit
Easy Eye Sound has released albums by established performers ranging from soul singer CeeLo Green to controversial country veteran Hank Williams Jr., whose new LP Rich White Honky Blues features covers of blues greats like R.L. Burnside and Lightnin' Hopkins. But mostly, the label tries to spotlight the work of what Auerbach calls "overlooked voices."
He uses his own experiences with The Black Keys — at labels ranging from Fat Possum (where, he reminisces, "[we] watched them grow from two people in a tiny office to a couple of dozen people with a warehouse") to Nonesuch to Warner Records — to create a collaborative environment in which these musicians can thrive.
"When Pat and I started, one of the things that held us back was our inability to open up to other people," Auerbach says, reflecting on their early resistance to collaborating with outsiders. "It was based on insecurity. I would say insecurity is what destroys 90% of all musicians. The first time Pat and I opened ourselves up to someone else in an actual studio, after five records, we quadrupled our fan base!
"So when I meet people for the first time, one of the things I'm asking is: Is this person scared and hiding in a hole, or are they ready to step out and create? Do they think they know it all, or are they confident enough to share their talent with someone else? Once I meet an artist, I can usually make up my mind pretty quickly. I can hear potential in people, and I definitely go to places in my mind thinking about what is possible. But you don't want to overthink it."
One of Auerbach's triumphs has been his collaboration with soul singer Robert Finley, who was already in his 60s when he released his first album, Age Don't Mean a Thing, in 2016 before coming to Easy Eye.
The easygoing Finley recalls the immediate chemistry with Auerbach. "We had four days to do four songs for Murder Ballads, and we finished them in half a day. I didn't know anything about Dan before that, but it was like we'd been together for 40 years. Then we were sitting around the studio and he asked me if I was interested in doing an album. Naturally, I was. He said he hadn't heard anybody sing soul music like that since Ray Charles."
Auerbach's instincts also came into play with Alabama native Early James, a young singer-songwriter who draws on folk, country, and blues. "Dan had seen me in a shitty YouTube video and invited me to Easy Eye," says the soft-spoken James. "I played him a couple of songs and he offered me a record deal." Having only done a little bare-bones recording in Birmingham on his own, James wasn't sure he was ready to step up to the next level — "not at all!" he recalls. "I don't think that's a feeling you inherently have unless you're somewhat delusional. I was intimidated."
But James soon found himself thriving in Auerbach's supportive environment. "We didn't talk about things much. It all happened organically. The whole album [2020's Singing for My Supper] only took two or three days, with no more than five takes a song. It was so easy."
Auerbach shrugs off the suggestion he's doing something altruistic by paying it forward, opening doors to success for others. "I get as much out of it as the other musicians, because when I work on a project, it makes me feel fulfilled, gives me a sense of purpose."
He continues, "I love just getting in a room with a bunch of people, being creative, making stuff up. It's the greatest joy, to be honest."
---