CROWDFUNDING RADAR: Projects That Put Black Roots Music in the Spotlight
---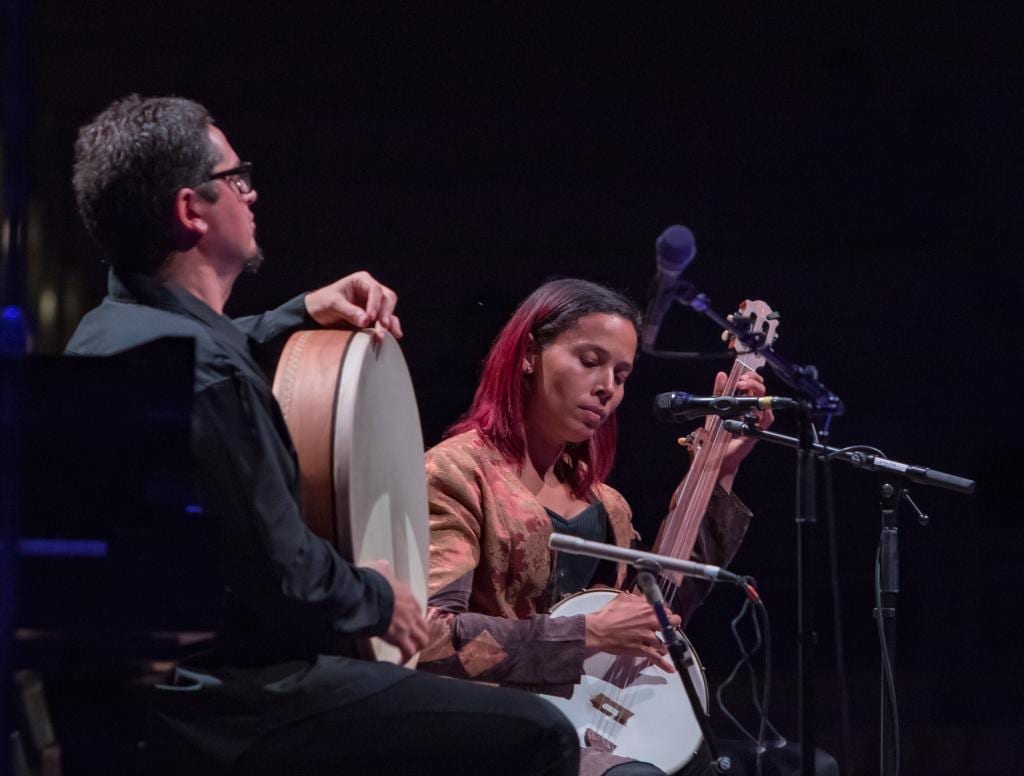 Rhiannon Giddens and Francesco Turrisi (photo by Heather Thorne)
This is a column that almost wasn't. In the wake of the past week of protests and calls for racial justice, it almost felt frivolous to me to write about crowdfunding music projects. But as I spent the week processing my own feelings about current events, through the lens of a heterosexual white male, I found myself turning to black artists to help me understand. I can never know what it feels like to be African American, but I can listen to Stevie Wonder sing "Living for the City" or Amythyst Kiah sing "Black Myself" and get as close as I ever will. While I would have liked to feature three black roots musicians this week, the relatively slow crowdfunding landscape made that impossible. So instead, I'm focusing on minority artists in general, including two of, in my opinion, the best black roots music historians alive, and a band of Malian artists bringing their own traditional music to a rock and roll audience.
Rhiannon Giddens with Francesco Turrisi on Patreon (click here to view page)
Even before recent events, this was going to be the lead project for this column. When one of No Depression's artists of the decade enters the crowdfunding arena, it's news. Especially when that artist is Rhiannon Giddens, arguably the most groundbreaking roots musician of the last decade. Throughout her career, Giddens has displayed a talent for writing songs about historical racism that also draw a bright and straight line to modern events. Her 2019 collaboration with Italian musician Francesco Turrisi, there is no Other, continued that trend. Now Giddens and Turrisi have teamed up on Patreon. Their page launched less than a month ago and already there are six posts, so it looks like they plan to keep it busy. Funding levels go from $3 per month, which comes with a monthly performance, video, or Q&A, as well as access to the pair's book recommendations, to $5, which adds an additional piece of content as well as drawings, recipes, and journals, to $10, which comes with more content, meet and greets, and a physical gift annually.
Tamikrest – Tamotaït  (click here to view project)
A few months ago I did a column devoted to "world music," because world music is just a phrase for someone else's roots music. Enter Tamikrest. The band has been around since 2006 but is new to me, and more's the pity for that because what they're doing is fascinating. The band, from different countries but all sharing a Touareg heritage, formed in Mali and have dedicated their careers to taking traditional Tamisheq poetry and songs and adding elements of rock, pop, and soul to bring it to a fresh audience. Their new album, Tamotaït, has already been recorded but, like most musicians, the band lost their funding stream when COVID-19 wiped out 30 shows in 11 European countries in one fell swoop. So now they've taken to Kickstarter to fund the release. While many of the "in person" backer rewards are only available in Europe (and very tentative until travel returns to normal), there are still plenty of items for American audiences, including the album in digital, CD, and vinyl formats; a tote bag; T-shirts; and two limited field recording albums that are available only through Kickstarter.
Jake Blount ­– Spider Tales on Bandcamp (click here to view page)
Bandcamp is a site I've been meaning to feature here for a while. While not a traditional crowdfunding site, it is a direct-to-fan resource for artists to sell music and merchandise. It has also shown its charitable side during the past few months, picking one day per month to waive its fees so 100% of the purchase goes to the artist and, on June 19, donating 100% of their portion of sales to the NAACP Legal Defense Fund. While there are a lot of great artists using Bandcamp, one I particularly recommend checking out is Jake Blount, whose just released Spider Tales takes up the mission of Giddens (and even moreso her former Carolina Chocolate Drops bandmate Dom Flemons) to unearth old and often long-forgotten black stringband songs and share them with a new generation. You can get the album through Bandcamp in both digital and CD formats.

---