CROWDFUNDING RADAR: New Projects from Jesse Daniel, Shearwater, and John Arthur Martinez
---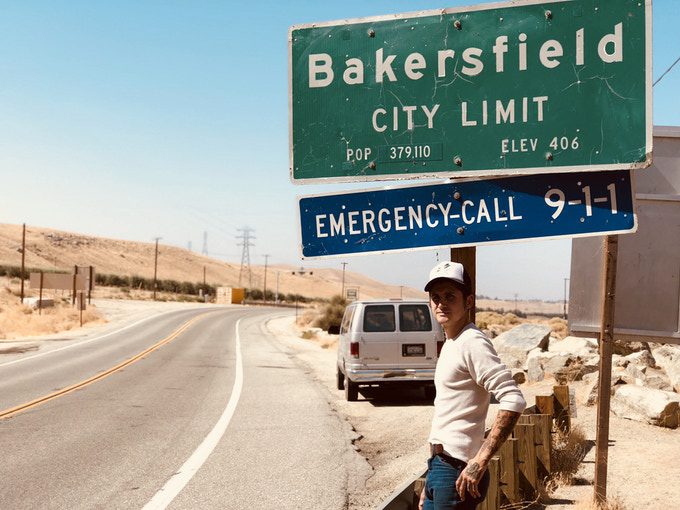 Jesse Daniel (photo by Jodi Lyford)
I normally keep Crowdfunding Radar a forward-looking column. Once an album is funded and released, it's in the hands of No Depression's team of reviewers. But this week, I want to break that trend a bit because, in the same week where our editor Stacy Chandler wrote her excellent, if depressing, story about how PledgeMusic left a number of roots musicians stranded with none of the money they were owed, I also got advances of two upcoming albums from artists I featured in past columns, Che Apalache's Rearrange My Heart and Joanie and Matt's Sterling. It was a nice reminder that, in a dark time for crowdfunding, it still works to let many artists release albums that might never see the light of day without. This week I have three new projects for you, all being recorded in Texas.
Jesse Daniel – New Album (click here to view project)
Fresh off his 2019 Ameripolitan Award for Honky Tonk Male, California's Jesse Daniel is striking while the iron is hot and heading to Floresville, Texas, to record a new album at Cherry Ridge Studios with Grammy-nominated producer Tommy Detamore. From the sound of his campaign, Daniel is serving up more of the honky-tonk goodness that got him critical raves for his 2018 debut album. For this project, Daniel has assembled a who's who of Texas session and touring musicians, including Tom Lewis on drums, Bobby Flores on fiddle, and T Jarrod Bonta on keys, along with his partner Jodi Lyford, who helped write the album's songs, on harmony vocals. Backer rewards for Daniel's Kickstarter campaign include the album in digital, CD, or vinyl format; a test pressing of Daniel's self-titled debut; and a solo or full band house concert.

Shearwater – New Album in 2020 (click here to view project)
Since 2001, Austin rocker Jonathan Meiburg and his band Shearwater have released 11 albums and gained a significant following for their intelligent lyrics and often dream-like instrumentation. They've also found some success as a label band, releasing albums on Sub Pop and Matador Records. But now they've decided to give the independent route a try, because "making an income from streaming royalties requires an audience in the millions, if not tens of millions — a goal I don't expect we'll ever meet. (I'm not sure, to be honest, that it's a good goal in the first place.)," Meiburg explains in the campaign's overview. Crowdfunding an album that lives up to Shearwater's standards doesn't come cheap, and the band's $50,000 goal for their Indiegogo campaign is on the high side of normal, but as of this writing they have raised over $46,000 of it, so it doesn't look like they will need to sacrifice quality for independence. And it doesn't look like they intend to, setting a late 2020 target release for their new album. Backer rewards include access to an exclusive Instagram feed documenting the making of the record, a video diary from Meiburg, and a tote bag from the band's 2018 live performance of David Bowie's Berlin Trilogy, including one of Meiburg's harmonicas and sheet music.
John Arthur Martinez – For the Love of Western Swing
Former Nashville Star runner-up (he beat out Miranda Lambert before losing to Buddy Jewell) John Arthur Martinez has always been too traditional for radio airplay. But that has what has kept him popular over the years since his initial television success. Considering the title of his new album, For the Love of Western Swing, he seems fine with his traditionalist niche. For the album's 14 songs, Martinez has assembled some of Austin's best, including Kurt Baumer from Lonestar, Floyd Domingo, and Western Swing Society Hall of Famer William B.B. Morse. The songs range from original compositions to favorites from Bob Wills and Glen Campbell. Backer rewards for his Indiegogo campaign include a bracelet made from Martinez's recycled guitar strings, an acoustic mix of the new album, a bag of Martinez's own branded coffee beans, and a chance to play doubles tennis with Martinez before catching a show.
---