CROWDFUNDING RADAR: A Niche for Fans and Bands of Every Stripe
---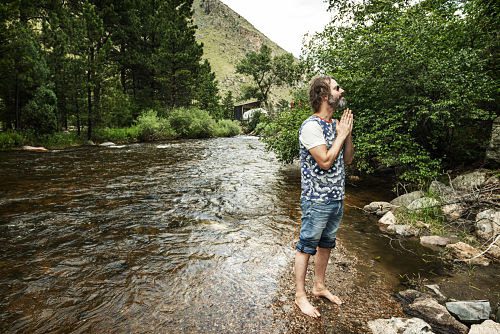 Neal Casal in 2014 (Photo by Jay Blakesberg)
Two things initially drew me to direct-to-fan sites of the early days of the internet and eventually to crowdfunding. The first was the sense of community with the artists I loved. With no label between you and them, artists had to stand out from the crowd by offering the kind of behind-the-scenes peeks into the process that had rarely been seen in the pre-internet days. The second was that such sites were the natural place for "weird" music. Not weird in the Al Yankovic sense (though you can find both parody songs and polka on crowdfunding sites), but weird in the sense that they don't fit neatly into neat genre boxes. Nowadays, if you want to create an EDM/banjo mashup, there's probably group of fellow weird people who are into that and want to give you money for it. This week, I've got campaigns that represent both of my crowdfunding loves. The first is a tribute to a beloved guitarist by a multi-genre music community. The second two are projects that are just far enough off center to catch my eye, including that EDM/banjo mashup.
Neal Casal Music Foundation – Tribute Album and Photography Book (click here to view project)
With credits that include Chris Robinson Brotherhood, Hard Working Americans, Circles Around the Sun, and The Cardinals, Neal Casal was an in-demand guitarist. Judging from the nearly 30 artists lining up to perform his songs on Highway Butterfly: The Songs of Neal Casal, he was as beloved as a person as he was respected as a musician. The Neal Casal Music Foundation, which donates music lessons for children and money to charities focused on mental health services for musicians, decided to use a Kickstarter campaign as the organization's official launch. The campaign has two items it is promoting. The first is the tribute album, produced by Hard Working Americans bandmate Dave Schools and featuring Aaron Lee Tasjan, Dori Freeman and Teddy Thompson, Warren Haynes, Lucinda Williams, and Phil Lesh, among others. The second is a book of photography by Casal called Tomorrow's Sky, which collects photographs from Casal's 20 years on the road. In addition to the album, on CD and vinyl, and book, backer rewards also include a Neal Casal baseball card, postcards Casal made to give to friends, and early access to the Record Store Day re-issue of his first solo album.
Chris Pandolfi aka TRAD PLUS – Trance Banjo (click here to view project)
While artists like Béla Fleck, Abigail Washburn, and Rhiannon Giddens have successfully moved the banjo far beyond its hillbilly stereotype, one place the banjo hasn't gone before is electronic dance nusic, or EDM — until now. Chris Pandolfi is best known as a founding member of The Infamous Stringdusters, but he also records solo under the name TRAD PLUS, where he melds his banjo picking with symphonic vinyl samples, drum loops, and electronic instruments to create something that sounds a bit like the EDM sub-genre known as trance, a bit like jazz, and a lot like something that agilely dodges any attempt to categorize it. Backer rewards for the project include the album in digital, CD, and vinyl formats, all of which include a "backstage pass" of video liner notes; copies of his first three solo albums; and a custom video message.
Moxie – New Album (click here to view project)
An alt-folk band with influences from traditional Irish roots music isn't quite weird enough to fit into this week's theme, and during the early years of Moxie that's what they were. But that changed with the addition of Tunisian vocalist Julia Spanu, which has turned Moxie from an easily identifiable Irish band to one that pulls musical influences from around the world, creating a one-band melting pot that takes whatever cultural music path best fits the song. Backer rewards for the project include the album in digital, CD, and vinyl formats; T-shirts; credit in the album artwork; and a Skype music lesson from one band member.
---