Courage for the Morning, and the Walk Ahead
Posted On November 6, 2018
---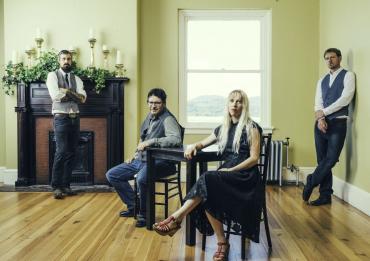 The week after Trump's election I went to Japan. It was just far enough away that the new and strange reality of the unimaginable could sink in a little more gently. Of course the US was in the news, but it was presented through the lens of a vastly different culture in a country far away, and interpreted in a foreign language through the flat, emotionless Japanese news-announcer voices on NHK television. It was the difference between a nightmare and a bad dream.
I was in Japan touring with my good friends in the Japanese band Pirates Canoe and spending time with my Japanese in-laws. American politics weren't much of a topic of conversation, except that the election simply added to the feeling that Japanese people are generally perplexed by Americans. I had no answers — I was equally perplexed.
During that six-week trip, news came that dear friends back home had been in a horrific car accident. It was all too much. Coming home seemed oppressive. Winter. A new year.
I had been talking with our studio engineer David Arnold in Johnson City, Tennessee, about a new record. I was struggling to get on track with my songwriting, with pulling together the threads a new album demands — a producer, a vision, financing. "Jump in with both feet," he told me. So began a productive period of very early morning songwriting that resulted in much of the material on Tellico's upcoming album Woven Waters.
As I woke up on Martin Luther King Jr. Day just before the inauguration, in January 2017, I had been thinking of Selma and John Lewis (who Trump had recently attacked on Twitter) and about the millions of people that faced overwhelming hardship in the face of an impossible political and social system. But I was also just sitting on the floor with my guitar on a dark morning in the dead of winter in a down jacket over my pajamas writing a song.
It proceeded with a list of questions, questions that everyone can answer "yes" to in their own way.
"Did you ever walk when your feet were tired?" "Did you ever walk when the road was gone?" "Did you ever sing when your heart was aching?" "Did you ever sing just cause there's a song?"
And the response came to me, saying, "I will walk, I will sing, I will bring a little courage for the morning."
One funny thing about writing songs is that sometimes their meaning isn't revealed to you until later on. It's as if you are simply a conduit for some creative quark that passes through you if you happen to pause and listen.
You coax it out, you write it down, you noodle around with various chords, melodic lines. You write lyrics, doubt yourself, put down the pen, pick it up again, keep going, edit the lyrics, edit them again. One day it's time to record the song, and that process ends and the song is "finished." Your recollection of writing the song feels like remembering a dream.
This song has gradually revealed its meaning to me since I wrote it. For me, it has become about the courage it takes to wake up every morning and live a meaningful life in this confusing world. Sometimes your will to do so comes from a little thing another person says to you. Sometimes it's the actions of someone you've never met. Or the coming together of a great tide of people that gives you faith in humanity.
Tellico recorded "Courage for the Morning" as part of a collection of eight other original songs later in the year in Arnold's Johnson City studio. We spent long days in the studio under the watchful eye of renowned Irish musician and producer John Doyle, conceiving of and reworking songs with a new level of awareness to texture, chord choices, instrumental melodies, and rhythmic dynamics. Many of the songs incorporate Doyle's unmistakably rhythmic groove on bouzouki as well. It was a leap of faith, a second album, a new direction.
After we had finished up in the studio, I was listening to the final mixes of the album in my car. I realized that if you sang along with "Courage for the Morning" you would literally be singing "I will stand, I will dream, I will bring a little courage for the morning." It is something very simple and straightforward, and I wondered if the audience will take it upon themselves to do those things.
We need inspiration, and we need faith. We need compassion for each other and we need hope for the future. To find these things also takes a deep commitment to engaging with others without fear. That takes courage.
It's such a painful time of division now. I've been so moved by the courageous words and actions of others this year, in fighting issues like guns, sexual assault, racism, and xenophobia, battles that have been so raw and ugly and in plain sight. A few people find themselves on a national stage to address this stuff, but most of us must contribute to the cause of bringing more love to the world at the most intimate level of our families and communities.
That is where our efforts make ripples.
So let's walk, sing, laugh, weep, stand, and dream and bring a little courage for the morning in every way we can think to do so. Let's go.
---