Commitment – Glen Hansard at Sydney Opera House
Posted On October 24, 2016
---
Glen Hansard's music is not readily pigeon-holed, mixing and fusing rock, folk, and soul. He's pop enough for Broadway, roots enough for FreshGrass and HSB. Nor is Hansard's music easily forgotten, such is his flair for melody, way with words, and instinct for passion. On stage he gives as much, physically and emotionally, as anyone I've seen, Springsteen and James Brown included. Back in 2003, Anders Smith Lindall wrote (ND#43) about Hansard playing an impromptu, unpaid gig at The Hideout in Chicago, for a couple of dozen friends and regulars, and giving it his all. It's that desire to play, the sheer joy of making and sharing music, no matter the setting – that makes him so special.
A little over a month ago, like countless fathers before me, I walked my daughter down the aisle to "Falling Slowly", the achingly gorgeous song from Once, a low budget Irish film (2006) starring Hansard and the young Czech singer, Marketa Irglova. "Falling Slowly" earned Hansard and Irglova an Oscar for Best Original Song, before the film was adapted for Broadway and won eight Tony Awards, including Best Musical of 2012.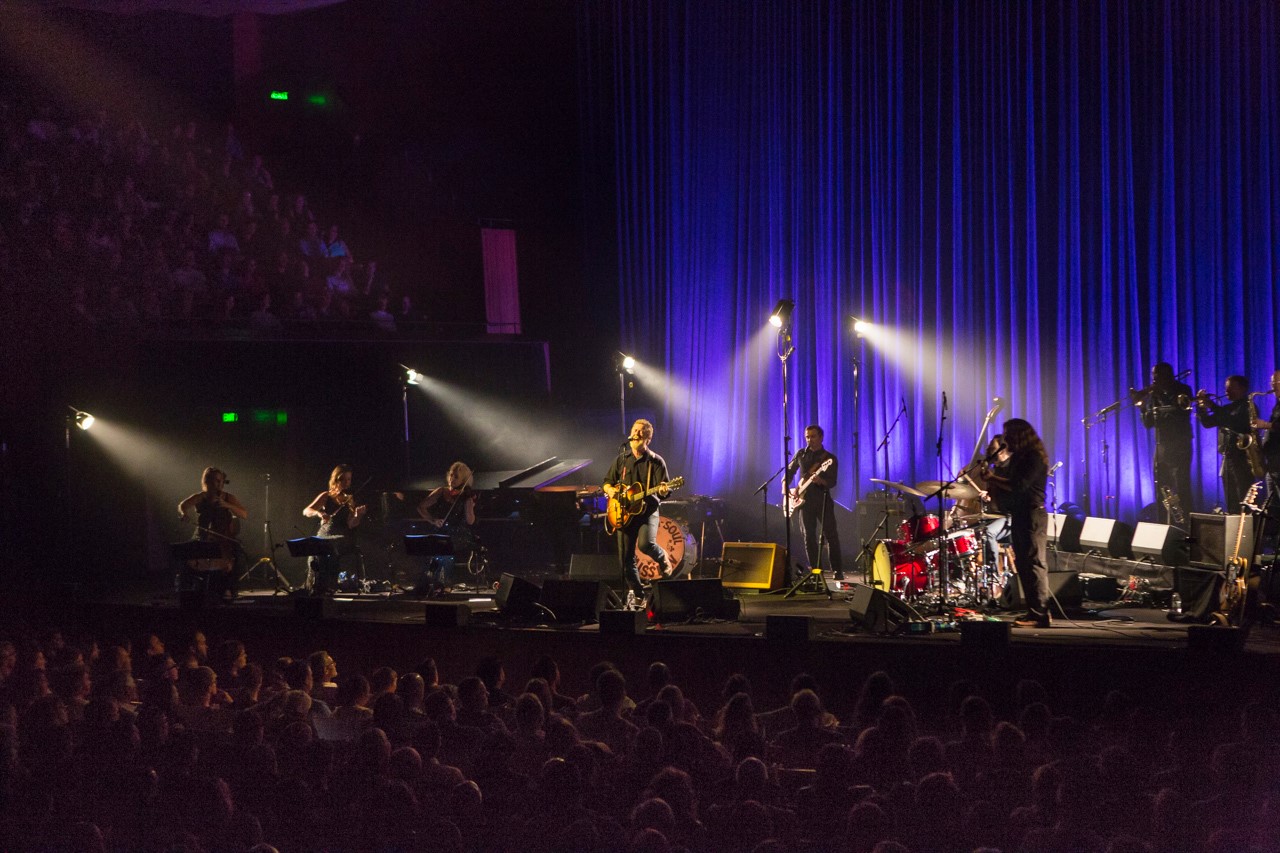 Hansard was just 21 when he appeared in the surprise hit film The Commitments (1991), as part of a ensemble cast of Irish unknowns. (He wasn't the lead vocalist. That was the teenaged Andrew Strong.) By that time he already formed The Frames who, albeit with many lineup changes, have since recorded six albums, most recently in 2015. With Irglova, he made two albums as The Swell Season, and there have been two solo records, Rhythm and Repose and the Didn't He Ramble, for which this tour is named.
The metaphorical aisle of my daughter's wedding was, in truth, an unmarked path through a cow paddock, to the top of a high hill overlooking the picture-perfect coastline at Byron Bay. By coincidence, much of Didn't He Ramble was written in Byron. "I stopped there for about ten days and basically wrote most of the lyrics for the record," Hansard told Radio National's Michael Mackenzie. "I didn't go out. I didn't hang out with anyone. I went to the same little sushi place … my journal was the centre of my day." The album is among his best.
Hansard first played at Sydney's Circular Quay as a busker many years ago, the gleaming sails of the Sydney Opera House in full view, his ambition to play there. This was his fourth turn as headliner, the first of two sold-out nights in the iconic venue's Concert Hall. 
From the moment Hansard and his ten-piece band stepped on stage, it was a special evening. The Frames' rhythm section of Graham Hopkins (drums) and Joe Doyle (bass) were front and centre with Hansard. Add guitar, keyboards, three horns to Hansard's left, three strings to his right.
The acoustics of the Concert Hall can be tricky for amplified music, but from where I sat, the sound was near perfect from the opening bars of "Just To Be the One" (Didn't He Ramble), sung with a little more gusto than the album version and immediately bringing both brass and strings into focus. Two more songs from the new album – "Winning Streak" and "My Little Ruin" followed, both sounding great, and benefiting from the wide sonic palet. Each song got the arrangement it deserved, without compromise.
The lighting was sympathetic, dimmed to just the right level, allowing the horn players to quietly drift on and off stage without distracting. Hansard told Michael Mackenzie that he doesn't like to rehearse the band to the point of rote playing, but it seemed to me the arrangements were very well worked, rehearsed enough for the many lighting cues to work a treat. There was spontaneity enough, but few extended solos.
The set list pulled together all the threads of Hansard's career. "Say It To Me Now" (The Frames, Fitzcarraldo, 1996) remains one of Hansard's strongest songs, as do "When Your Mind's Made Up" and (of course) "Falling Slowly" from The Swell Season. All three songs were included on the Once soundtrack and are staples of Hansard's live shows. 
"Gold" is also from Once, although written by Fergus O'Farrell for Irish band Interference, whose version is the one on the motion picture soundtrack.
Six of the ten songs on Didn't He Ramble made it onto the setlist, and none sounded like filler. I suspect three or four will be part of Glen Hansard's shows for years to come. Trombonist Curtis Fowlkes took over the vocals on "Wedding Ring", giving it a light but thoroughly delightful cabaret air. Hansard took us to church briefly, singing "Stay the Road" solo, from the edge of the stage, no microphone.
He played his frenetic version of Van Morrison's "Astral Weeks" at The Hideout all those years ago, and he still plays it. (Too late to stop now?) This time it was just Glen and Joe on double bass, both testing the limits of the PA.
Another welcome cover was Woody Guthrie's "Vigilante Man", the intro an excuse to verbally skewer the GOP nominee for the US presidency.
Hansard's music is rarely overtly Irish, although his stage patter – rambling, often hilarious monologues, mostly about love and alcohol – is quintessentially so. An unexpected highlight of this concert was the appearance of Peadar O'Rioda, the son of Sean O'Rioda, regarded as the principal figure in the renaissance of Irish music. O'Rioda had flown in just for the Opera House shows. He accompanied Hansard on the beautiful "Leave a Light" before getting the stage – and the Concert Hall's magnificent piano – to himself for two exquisite solo pieces; one of his father's arrangements and an original composition in the Irish style.
I would not place Glen Hansard among my favorite singers, songwriters or guitarists, although he's very good at all those things. He is greater than the sum of those parts – a supreme entertainer, one of the very best live acts on the circuit. For me, this night went beyond special into moments of magic. Hansard and band played for two and a half hours, and it passed far too quickly.
---