---
For the past few years, Billy Bragg has been working on a book about the birth of guitar-driven British pop. He says the moment can be pinpointed to January 1956, when Lonnie Donegan's version of "Rock Island Line" became a hit and sparked the skiffle craze, which pushed blues and folk-influenced rock bands to the fore. Suddenly, jazz-based acts were overtaken by guitar-based bands — a pop culture sea change with global repercussions.
"Every sentient male teenager learns to play guitar in that period," Bragg says, "and it all ends up with the Beatles and with everybody. David Bowie. Everybody picks up a guitar in that period."
Guitar is Bragg's instrument of choice, so the outspoken folksinger has ultimately been plumbing his own history too. In writing and in listening to these old pop songs, though, his attention drifted not to Glasgow, where Donegan was born, but to the American railroads, where Donegan's songbook originated.
"Basically … [Skiffle] is English schoolboys playing Lead Belly's repertoire," says Bragg. "I became aware of the huge number of railroad songs out there."
In 2016, Bragg decided to engage these songs on their home turf. Along with American folksinger Joe Henry, a friend he had wanted to collaborate with for some time, Bragg traveled the American rails. Between Chicago and Los Angeles, the two singers recorded train songs in stations, on platforms, and in train cars. the ensuing album, Shine a Light: Field Recordings from the Great American Railroad, came out last November.
In the summer issue of No Depression, Bragg talks about his experiences on the American railroad — what it was like to record and travel on the rails, and includes some comments about what America means to him, as a non-American. My hope in writing the article was to get perspectives on America from international artists. Bragg talked trains, politics, and activism, while Ladysmith Black Mambazo's Albert Mazibuko noted the small but telling changes he and his South African choir experienced at the border on their 2017 US tour. I also talked with Tinariwen, a Tuareg band from Mali whose guitarist and vocalist Abdallah Ag Alhousseyni said he loves the comfort and ease of American tour buses but isn't impressed by the food. Huw Williams, manager of fiery Welsh traditional act Calan, explained why that band continues to tour the United States, even after they were humiliated and turned away at the border several tours ago.
In researching for the article and hearing about what some artists have been through at the border, I couldn't help but wonder why international artists keep coming back. What is it about America, especially to those coming from overseas, that makes it worth the potential for a hard time?In 2015, Calan members Patrick Rimes and Sam Humphreys were denied entry into the US. They'd paid for their visas, but a computer system glitch kept them from printing. ("We paid for a visa that didn't turn up," Williams explains.) Several hassles later, they were in the US with stamps that they were told would behave just like the visas they should have had in their passports. Using these stamps, they entered the US twice with no issue. The third time, however, they were singled out, patted down, put in a cell, and eventually trucked back to the airport in a caged van. Soon they were on a plane, headed back to the UK.
"The US embassy [had] no idea what's happened, because it's all computer-generated," says Williams, who is still exasperated about the whole thing. The issues arising from the fact that Calan's visas were unprintable will follow Rimes and Humphreys on future travels. Any time a computer at the border asks whether they've been denied entry into a country, they'll have to say yes.
"I understand the United States is trying to protect their country. I haven't got a problem with that," Williams says. "When I go to the United States, search me as much as you want. I don't care. We're all in it together and you have my full cooperation."
But what Calan experienced is different from a simple pat down from the TSA. Perhaps the most frustrating thing was that, at the root of the denial-of-entry that ultimately cost the band thousands in extra flights, not to mention the indignity of detention, it all came down to a computer glitch.
Bragg didn't have any issues getting into the States earlier this year for the Folk Alliance International Conference, where he was the keynote speaker. He found the process more streamlined than on previous visits, in fact. But there's one change he can't wrap his head around: the Trump presidency.
"It still baffles me when I see him on TV and he's standing there with the presidential seal," Bragg says.
He adds that the new administration has made life as a political songwriter interesting, to say the least. Between the Brexit vote last June, in which the United Kingdom elected to leave the European Union, and the Trump presidency, which Bragg notes has politicized large swaths of people and been answered by protests worldwide, the protest song's moment has come again.
"Every six months I have to do an interview about 'Whatever happened to protest music,' as if it's something that just exists all the time and should always be there," Bragg says. "It doesn't really work like that. [Political music] needs the context."
Bob Dylan's "The Times They Are A-Changin'" didn't cause Martin Luther King Jr. to march on Selma, Alabama, Bragg points out, but the other way around. "I think everyone will respond to [political art], simply because Trump is a challenge to reality," he adds. "He's kind of bending reality out of shape."
Yet this British folksinger is optimistic. He knows the US; he's regularly toured the country since the '80s. Second to Britain, it's the other main place he works. It breaks his heart to see a country of immigrants founded on liberty, justice, and a host of lofty ideals led by someone Bragg feels threatens them all, yet he believes this is exactly the kind of threat the US Constitution was drafted to deal with in the first place.
Mazibuko, meanwhile, believes that hope and optimism are most powerful. With Ladysmith Black Mambazo, he has been touring the US as long as Bragg has, and with the choir's formation in Apartheid-era South Africa, he knows what it's like when one's hope and pacifism are ruthlessly challenged. Members of Ladysmith Black Mambazo have been murdered, yet the choir continues.
"The best way to live in this lifetime is to be in peace," he says with serene warmth, speaking from a Florida hotel room during his group's 2017 US tour. Positivity is Mazibuko's way of life, and he feels it has the widest impact on the most people — especially in hard times.
"My advice is that people who write music, they have to make sure in this time that they write peaceful music, the music of peace," Mazibuko says. "If we bring peace to the people, so the peace will remain in our country."
In a different conversation and a continent away, Bragg shares a similar thought, more directly. "We all get cynical," he says. "I get cynical, trust me. You've got to curb it, mate. You've really got to curb your cynicism, because it's a fucking cop-out.
"Woody Guthrie never wrote a cynical song in his life," he adds, "and we have to try and live up to that kind of standard."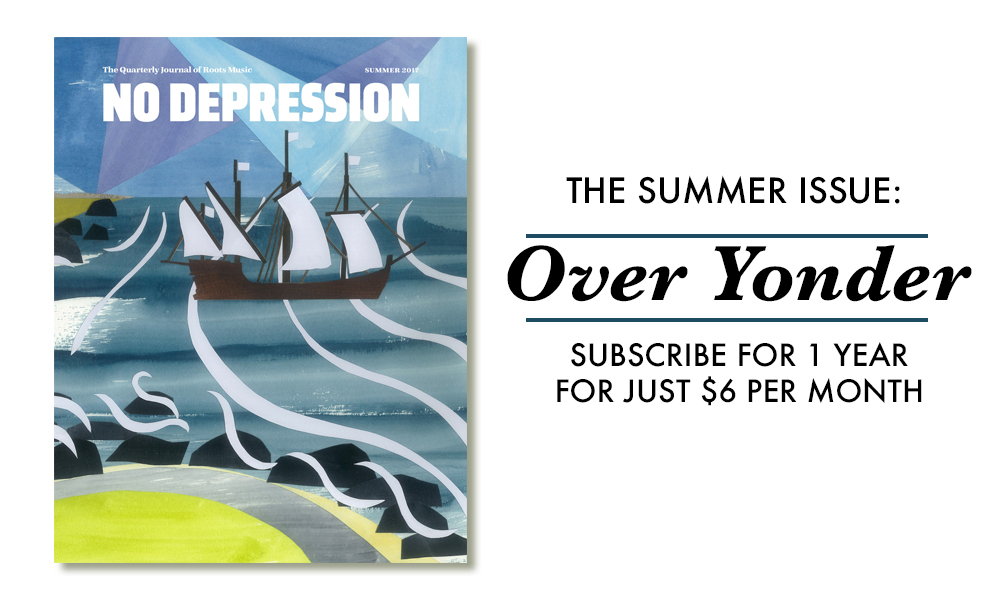 Bragg's train stories, more of Mazibuko's reflections on the power of peace and hope, and the reason Calan continues to tour the US can be found only in the Summer issue of No Depression in print. Subscribe today.
---