COME ON IN MY KITCHEN: Roots Musicians Share their Favorite Foods
Posted On November 27, 2019
---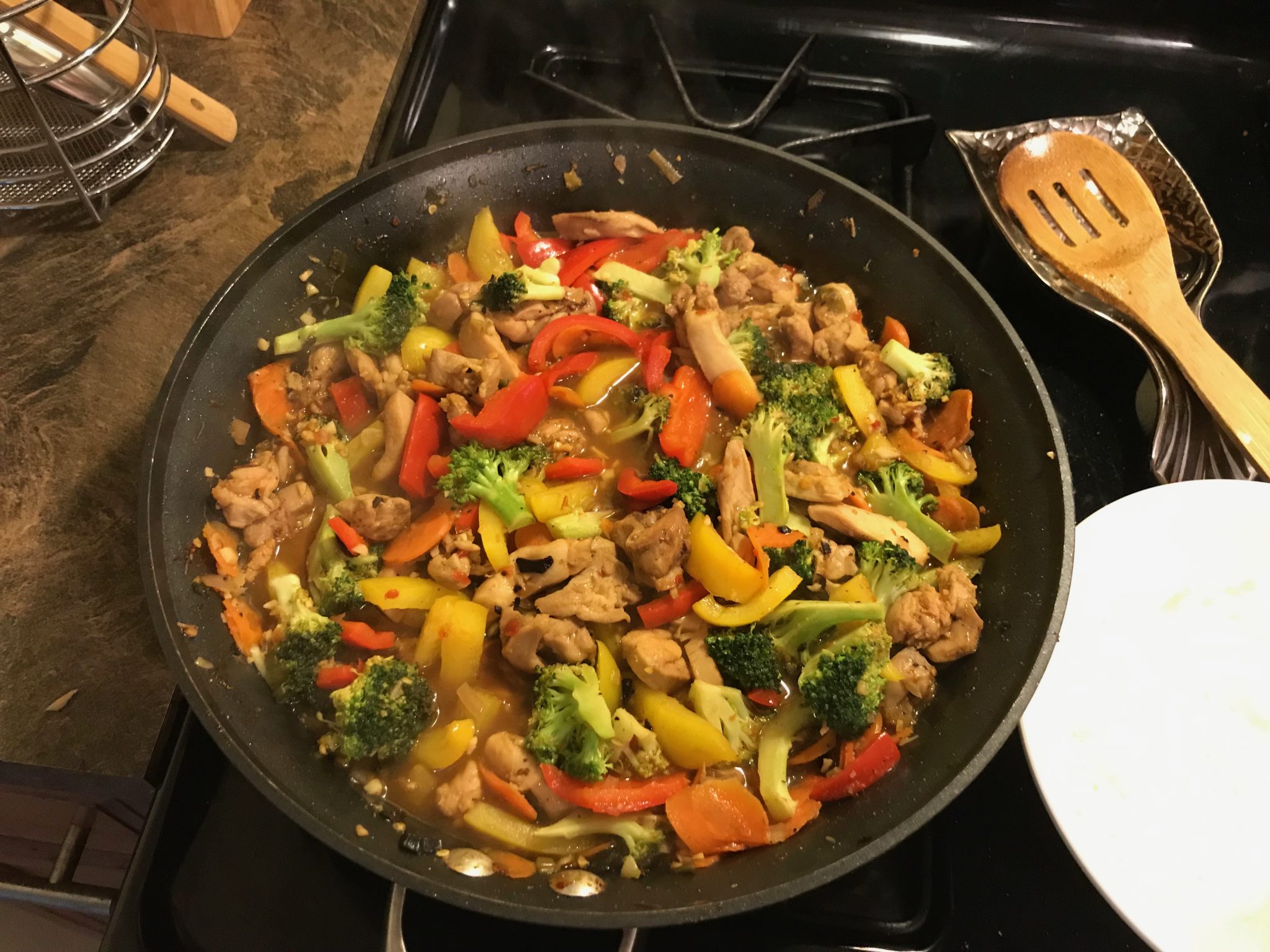 Old Salt Union's John Brighton's signature stir fry
EDITOR'S NOTE: For our Fall 2019 / Wellness issue, we asked several roots musicians for their favorite foods — the dishes with meaning in the making, strong memories, or just road-tested deliciousness. We got more responses than we could fit in that issue (which is now sold out!), so we wanted to share some more with No Depression readers in this season of good eats.
Kelly Willis
My Granny Willis would take me out to her garden and show me how to pick okra without getting it on my hands (which would cause them to itch terribly). Then I would watch as she fried them up, sliced and dusted in corn meal. Well done to suit my taste. All the while, a pot of black-eyed peas would be slowly cooking on the stove top. The joy and love she conveyed as she cooked these foods, knowing they were my favorites, are some of my most cherished memories. My family did not consider her to be a great cook. That was reserved for my other grandmother. But as an Army brat and child of a single parent, I grew up separated from family. And so the time spent together, the shared knowledge, like secrets, the gift of knowing what foods I liked, were about so much more to me than food. It was connection. To each other, to her parents, to my future children. It was belonging. It was belovedness.
Jesse Dayton
About five years ago I went in for my yearly check-up. My doctor said my blood results showed dangerously high cholesterol and high blood pressure numbers, and he wanted to put me on daily meds for the rest of my life. So I left the office and started a juice cleanse for two weeks that day. Then I started trail running and pulled way back on drinking alcohol. After rebooting my organs with the cleanse, I started eating clean exclusively. I've been off meat, sugar, and junk food for five years now, but six months ago my inner Cajun relapsed on tour in Spain and now I do eat fish when my body craves it. Today my bloodwork is like an 18-year-old kid's. We don't have to succumb to Monsanto, Big Pharma, and a corrupt health care system. Buy local food from your farmers' market and you'll look better and live longer.
One of my go-to dishes is a bowl with sautéed kale, baked sweet potatoes, zucchini pasta, and tofu that I coat with cornstarch, then flash fry. I put a little olive oil and Sriracha hot sauce on it, and it's the nectar of the gods. Plenty of carbs in this so I have gas in my tank at the gym, but its good carbs that I can burn off and are not too heavy. If you're frowning about the tofu, take one day off from barbecue and Mexican food … your colon will thank me!
The Brother Brothers
If you know anything about The Brother Brothers, you'll know that food is one of the great benefits of life on the road. Going to different regions is like visiting old friends. "Boy, I'm so excited to go to New Orleans! I haven't seen my friend muffuletta in a while!" Well, for three generations our family has been going to Manny's Delicatessen in Chicago. We almost never miss an opportunity to go whenever we're in the area. Gino, the delightfully mustachioed, Chicago-accented gem of a man who cuts the corned beef, is always there, and is always breaking everybody's balls. We love him, and that corned beef sandwich, with matzo ball soup, a potato pancake, and a pickle.
 John Brighton (Old Salt Union)
Cooking on the road is one of my favorite ways to pass the time when I find myself with a day off. My mom used to cook stir fry when I was younger, and I would always clean my plate at dinnertime. I enjoy sharing my love of cooking and good eats with the rest of the Old Salt Union crew, and one of the easiest ways to feed everyone is with a big batch of "JB Stir Fry." I almost always use different fresh ingredients based upon availability, but I stick to some core flavors and adjust as needed. I'll leave you the recipe for the foundation and how it was prepared as pictured.
JB STIR FRY
Feeds 5 starving 'grassers
Core Flavors:  
1 medium shallot, minced
Garlic, minced (I used 6 cloves. Go crazy!)
Ginger root, minced
2 tbsp. soy sauce
2-3 tbsp. chili garlic paste
2 tbsp. olive or coconut oil
1-2 pounds of protein
1-2 pounds of fresh veggies
The rest is up to you! As pictured, I used …
1.5 lbs. chicken, cut into pieces (you can substitute beef, pork, tofu, or extra veggies)
1 lb. broccoli, chopped
1 each red and yellow bell pepper, chopped into 1-inch pieces
1 carrot, thinly sliced
2 green onions, thinly sliced
2 cups jasmine rice, cooked
Basil, for garnish
Heat the garlic, shallot, and ginger in the oil in a large skillet on medium high. Stir frequently until fragrant. Add protein, reduce heat to medium, and cook until nearly done. Stir in soy sauce, chili garlic paste, and 1/2 cup water. Add remaining veggies. Cover and steam on medium heat, stirring occasionally until meat is fully cooked and veggies are properly steamed. I like mine to still have a little crunch.
---