THE READING ROOM: 'Citizen Cash' Book Zooms In on the Man in Black's Politics
Posted On December 9, 2021
---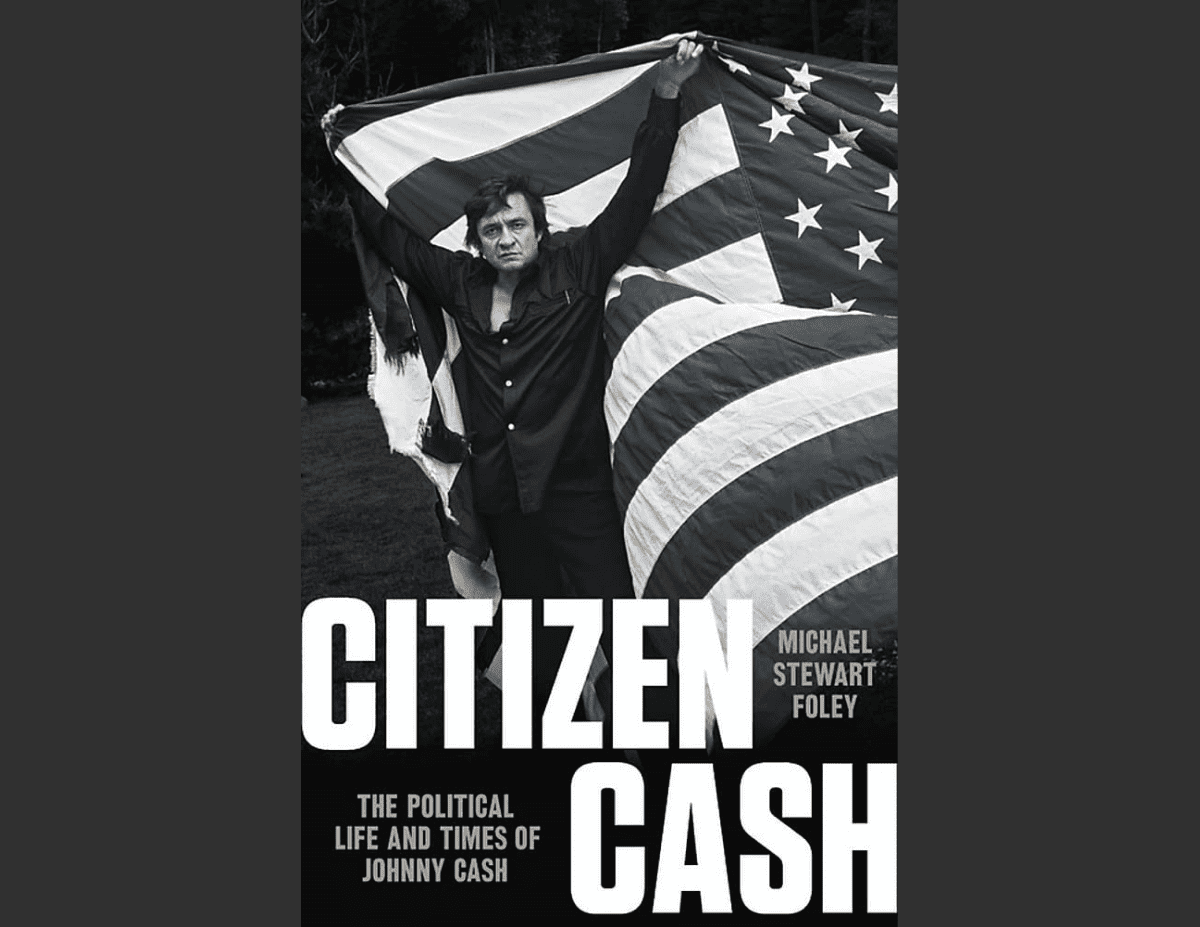 Well, I suppose this book had to be published. Two years ago, we got the lowdown on the religious life and times, so to speak, of Johnny Cash when Richard Beck examined 15 of Cash's songs in Trains, Jesus, and Murder: The Gospel According to Johnny Cash for the ways they reveal Cash's theological sensibilities. For Beck, Cash's lyrics are the keys that unlock the mysteries of sin and salvation, despair and love. Cash's own struggles with doubt and faith provide the foundations not only for the songs that Beck explores but also for a broader understanding of the Man in Black.
Now, in Citizen Cash: The Political Life and Times of Johnny Cash (Basic Books), Michael Stewart Foley turns a spotlight on Cash as an artist whose music was political to the core without being confined to a narrow partisan political message. Drawing on Cash's concept albums, his live performances, and The Johnny Cash Show — which ran from 1969 to 1971 on ABC — Foley observes that Cash "practiced a politics of empathy. He came to his political positions based on his personal experience, often guided by his own emotional and visceral responses to the issues." Since the phrase "politics of empathy" begs for more clarity, Foley writes: "Cash's politics of empathy… was fundamentally democratic and inclusive. He never trafficked in grievance and rarely expressed bitterness when he related to others. Since he based his politics primarily on his experiences, his empathy could take different forms — at times, deeply personal and intimate, at others, more like a kind of solidarity; on still other occasions, it came from a determined effort to understand the lives of others with whom he had no shared experiences."
On his early albums, Cash expresses his admiration for hard work and his empathy with the working poor, such as the individuals in Dyess, Arkansas, where he grew up. As Foley points out, Cash's version of Merle Travis' "Loading Coal" derives its power from the song's narrator being the kind of "rank-and-file" worker that Cash knew well from his own work in the cotton fields growing up. Cash's 1963 album Blood, Sweat and Tears is comprised of songs that are "tributes to manual laborers … that presented an alternative version of America in the midst of the glitz, glamour, and prosperity of the Kennedy years."
The Johnny Cash Show, Foley observes, illustrates Cash's developing understanding of and focus on the horrors of American history, both regarding the displacement and mistreatment of Native Americans and the abuses of Blacks. As opposed to the folk songs or roots ballads of The Band, "Cash pursued the old, cruel America … Cash filled his records with tales of chain gangs and lynchings, the betrayals and massacres of Native Americans, and the severity of American justice for the country's outlaws and prisoners … Cash's empathy was not so much rooted in solidarity as it was based on witnessing: documenting sorrows and struggle, making it possible for those normally kept out of view — the subjugated, the exploited, the marginalized — to be seen."
Yet, on the one hand, Foley's take on Cash is thin gruel. Even Cash himself admitted, "I have a feeling for human nature in difficult situations … Don't know why, but I always have." Moreover, as Foley points out, he taught his children they could "choose love or hate," and that he chose love and empathy. For most Cash fans — and for anyone who ever met Cash or saw him perform — the singer's deep-seated feelings for the plight of others and his advocacy for the marginalized ride on the surface of his songs. In his performances he insistently reaches out in love and compassion for those society has tossed away. Thus, Cash's devoted fans may discover little new here in.
On the other hand, Foley's energetic and consistent examination of how Cash's music and life express a politics of empathy offers a fresh reading of an iconic artist about whom it seems that everything has already been written. Listening to Cash's albums while reading Foley's often captivating book might reveal new facets of Cash's songwriting and music.
---