Celebrating 110 Years of Maybelle Carter
---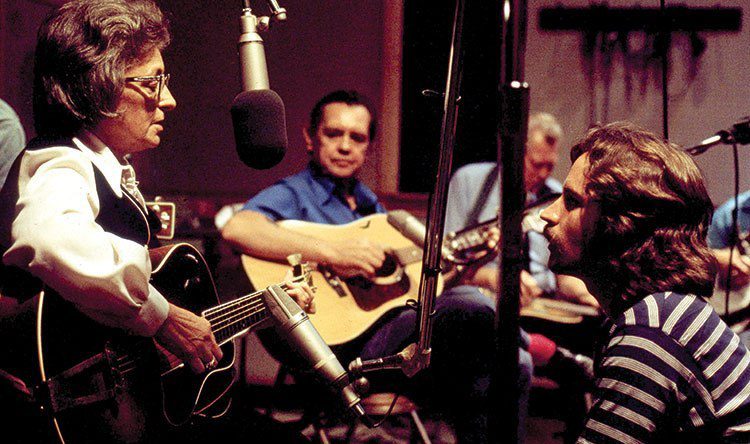 Maybelle Carter with Nitty Gritty Dirt Band during the recording of "Will the Circle Be Unbroken." (Photo by William E. McCuen)
Maybelle Carter was born 110 years ago today, and though she died in 1978, her legacy is alive and strong among guitar players, songwriters, and music lovers. Cathy Fink falls into all three of those categories and recently wrote a song in tribute to Maybelle Carter. Here's the song, performed by Fink, Marcy Marxer, and Sam Gleaves, and the story behind it in Fink's own words:
I am amazed that Maybelle Carter recorded one of our most iconic lead guitar breaks on "Wildwood Flower" at the age of 19 in 1928. As my song says:
Everyone who plays guitar has to learn the Wildwood Flower
That she recorded at nineteen on a beat up old guitar 
She played "Wildwood Flower" on a top-of-the-line Gibson L-5, designed by Lloyd Loar, that she and her husband Eck had spent $275 on that year. She played that guitar until her death in 1978. It's now on display at the Country Music Hall of Fame and Museum in Nashville. Somewhere I read that they got this money from sales of Carter recordings, and at some point, Maybelle was deciding between spending it on a better guitar or on a diamond ring. Eck was in favor of the guitar. I can't find where I read that, so maybe I dreamt it, or maybe someone will read this and find it for me again (I hope so).
Chorus:
A Gibson or a diamond ring
Only one can help you sing
She earned her place among the stars
Maybelle played guitar.
Her main style was the "Carter Scratch," where she played bass notes and led with her thumb and strummed other strings with a pick on her index finger. She learned this style from Lesley Riddle. Maybelle also played a mean swing guitar and slide guitar. There isn't a folk, country, or bluegrass musician alive that hasn't somehow been influenced by Maybelle's playing, though for many, it's been handed down and around so many times, they may not even know where it came from. So I simply wanted to take a few minutes and recognize one of the great heroines of the guitar with this song. Thank you, Maybelle, on your 110th birthday!
---
EDITOR'S NOTE: Maybelle Carter, along with other women from The Carter Family, was the subject of an article titled "Always on the Sunny Side: A short history of American music through the women of The Carter Family" by Kim Ruehl in the Fall 2017 "Foremothers" print edition of No Depression. Here's an excerpt: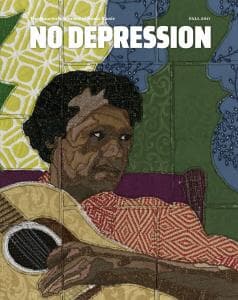 About a half-hour northeast of Johnson City, Tennessee, US Highway 23 intersects with AP Carter Highway. Turn left and follow the curves through the mountains, past houses and churches, double-wide trailers and small family businesses, to where AP Carter Highway meets Wildwood Flower Lane. On your left is a large bare-wood structure that unfolds up the hill behind it: the Carter Family Fold.
The Fold is part venue, part museum, part living history exhibit, and a visitor wouldn't be mistaken in feeling like they're exploring somewhat of a monument. Placards tell the story of the Carters in brief, through the lens of AP's singular accomplishments as a song collector and patriarch. Quotes from family members (and one from country legend Marty Stuart) adorn the informational postings. Plaques commemorate the space as a state and national historical place. But as I wandered there one summer morning, accompanied by a sweet old dog who seemed to come out of nowhere, I couldn't shake the feeling that the Fold was much more about AP than Maybelle and Sara. That it was there to preserve something AP, specifically, had handed down.
Indeed, the story of the Carters that's so often told is that through the lens of AP — a country man who collected some 300 songs in his life, no doubt a feat. Yet, in the scope of American folk and country music history, "Man walks into hills to collect songs" is not an unfamiliar story. Pete Seeger's father Charles collected songs, as did John and Alan Lomax and several others before. The impulse to explore America's nooks and crannies to find music worth recording pervaded a generation of a certain kind of man — and at least a couple women.) But wandering the grounds of the Carter Family Fold, what intrigued me more were the stories of Maybelle and Sara — a couple of cousins who were strong, country women, who raised eight children between them, canned fruit and pickled vegetables, sewed all their own clothes ("Maybelle even sewed her own bowling jacket," her grandson John Carter Cash told me), and somehow, above and beyond all that, also managed to turn the country music establishment on its head forever.
No monument has been erected in Maybelle and Sara's names, unless one considers the innumerable guitarists inspired by the Carter Scratch, or the countless singers unashamed to sing out in their huskiest altos. And, in many ways, that's the story of women in American music — of women in America, in general: that preserving their legacy is more about maintaining oral history, celebrating what we've learned from them, while the men leave behind tangible structures to wander around. Neither of these things is more valid than the other, but the tangible structures give us a clear start to a story, whereas the legacies of women, so woven into the fabric of our culture, are more challenging to unravel from our own.
It's logical to wonder if, all things being equal, Sara and Maybelle would have entered the story of American music if not for AP's tireless collecting and pushing on the business side of their band. Singer-songwriter Rosanne Cash, who is not exactly a Carter — though she learned guitar under the tutelage of Maybelle's daughter Helen and spent a good deal of time with June, Maybelle, and others — struggles with that question as well. "It's really hard to pull those threads apart and know what would happen separately," she says. "It's like the Beatles: What would George and Ringo have done on their own without John and Paul? I don't know. But you do get the sense that Maybelle and Sara were more genuinely musical."
Cash's stepsister Carlene takes it a little further: "Had Grandma not left the valley with her little girls, [had she] and Aunt Sara not gone down to go to Del Rio, Texas, to try to keep the Carter Family going — and then Grandma bringing the girls to be on the Opry and stuff — that might not have carried on the way it did. That had a lot to do with the love my grandma had for playing the music.
"I think my Aunt Sara didn't really have the drive for it," she adds. "I think she definitely was a strong woman and strong-willed, and went about her way the way she wanted to, and [she] had that breathtakingly beautiful alto voice. But I think Grandma loved the music and loved the fans and loved making people forget about their worries for a few minutes by playing live. Then so did Helen, Anita, and mom. They were really driven by being these young, thirsty-for-more girls who loved this music with all their hearts and were so proud to be out there representing it. Had they not done that, I don't know where we'd have been, honestly."
You can read more of this story, and many more stories about the foremothers of roots music, in our Fall 2017 print issue, available for sale here until we run out. (HINT: Very few copies of this issue are left!)
---