CD Review – DONNA DEAN – WHAT AM I GONNA DO? – Distributed by Ode Records
Posted On February 7, 2011
---
 Donna Dean wins both New Zealand Country Music Awards: Best Album with "What Am I Gonna Do" and Best Song with the album's title track. Donna is pictured below receiving her Best Country Song award.
I've been listening to many artists recently and found that just like decades before many artists seem to have one or two good ideas, brilliant ideas, but then the balance of the material falls into mediocrity to fill out an album. I have always felt aspiring artists should not start with the commitment of an entire album's worth of material. They should just focus on their best and see where that leads.
Not many artists have the imaginations of a Bob Dylan, Joni Mitchell and Leonard Cohen. Or the creative lunacy of a John Prine, Randy Newman or Tom Waits. This is why many good musicians have short careers. After their initial album there's nothing left to say. It is not as easy to be consistent and creative as you may think. Not many great authors write as many stories as Hemingway.
I do marvel at how some artists of some fame, limited fame, no fame – can rise to the top and produce material that a veteran performer could only hope to achieve. I seldom find this consistently. But recently, I came across a New Zealand singer who easily reaches into a listener's heart and stirs up the emotional coals or gets your ass to shimmy on a barstool.
No Depression gives many artists a forum to promote and provide a sampling of their finest work and some are quite deserving — even if for selected tastes — and that's fine.  What I have found is a diamond among coal. Singer, songwriter Donna Dean is deserving of gaining that momentum that's needed to take center stage. She is that artist that the famous, accomplished artists in attendance would stop and listen to. Her friendly and polished manner is professional  and attractive. 
Donna Dean's 2010 released CD "What Am I Gonna Do?" – recorded with her crack band of musicians from New Zealand — sculptured a fresh face of Americana-folk-country that amazes.  How can someone in a country far from Austin, Texas, Nashville and Oklahoma – absorb those traditions and be so convincingly good — if not better — than some American contemporaries? I think I may know.
They put in all the American ingredients they learned and then they sprinkled in some New Zealand seasoning. You see, every country has a folk tradition — even Bulgaria. In music – a universal language for sure – it's easy to understand what people in our South have developed and how it can be applied to a culture as far as New Zealand. Recently, Italian rock singer Eugenio Finardi released an all blues English sung CD "Anima Blues" that got airplay on some blues stations in Texas and Chicago and was favorably reviewed in the United States. But he's Italian! How can an Italian sing the blues? You have to hear it to believe it.
Donna Dean succeeds thoroughly and convincingly with her brand of Americana-Folk-Country. Succeeds so thoroughly my eyes widened a few times as I listened.  
Her earlier album "Money" is an equally extraordinary and highly listenable collection. Partially produced in Nashville with help from The Amazing Rhythm Aces, this is an assurance that Donna Dean is no flash in the pan. The LP contains a wealth of great songs. But for now, our focus is on her new album and why Donna Dean is one of those artists that can provide an entire album's worth of interesting tales, sing along melodies and memorable music. She has something to say. 
 
Ms. Dean's opening track is one of the best "country" songs I have heard in years. Alison Krauss take note.
http://www.youtube.com/watch?v=QyZ4FZTp8Sg
The title track "What Am I Gonna Do?" is so smooth and sincere Donna must have lived it. It's just full of truth. Her band is tight. They never crowd Donna's vocals. Steel guitar is not one of my favorite instruments but in this song – Janek "Buck" Croydon plays an essential role to that truth and his sound is a pleasure. It weeps quietly like many lonely people do late at night. But Donna's vocals have a sense of optimism in her tone. I absolutely love the way the steel guitar virtually "duets" with Donna's singing. I am primarily a lyricist and after reading Donna's words – she is excellent. "Been walkin' on egg shells round you lately…." Oh yeah, who doesn't relate to that? The song moves along nicely and deserves to be set multiple times into replay.  A song for those who must make a decision, to make an escape. Very brave statement.
Update: June 2011 – Donna Dean wins both New Zealand Country Music Awards: Best Album with "What Am I Gonna Do" and Best Song with the album's title track. Donna is pictured receiving her Best Country Song award.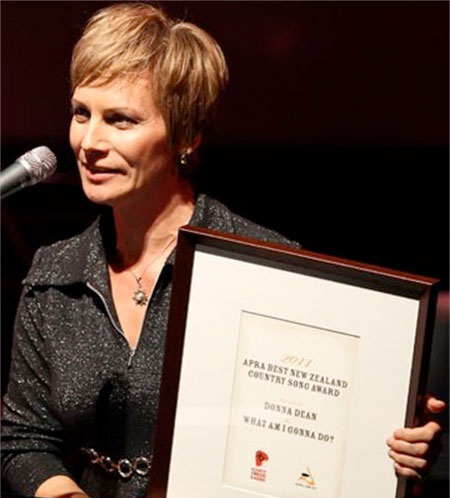 "Baby Doesn't Love Me,"   Donna's ability to hold notes on all the right words and places makes the track quite musical even if just listening to what she is saying. A beautifully captured word painting. Can almost see the characters she is talking about.
"Empty Big Blue Sky," – if Patsy Cline were alive today….what a cover she would have with this Donna Dean jewel. But Ms. Dean's voice — different here – is assured and solid.  Again, her band is there supporting — not overbearing. A perfect selection for a single release right behind "What Am I Gonna Do?" Excellent.
"Rain Fall On Me," – this is what makes an artist great, great, great. Donna shows her teeth here. Tough, tight, with just a little echo. From an angel in the other songs to a tight blue-jeaned tattooed leather jacketed "you're not gonna push me around anymore" strong feminine stance. Don't mess around with this lady. This is rock and roll with a sneering lead guitar and driving beat. A nice surprise. Ms. Dean knows how to mix her material to keep the interest level sharp. One of my favorites. Down and dirty. Bluesy. More more more of this please. Real hot track.
Donna succeeds where some fail. How many country influenced artists can roll around in the dirt of the blues? Jerry Lee Lewis, yeah. Elvis — definitely. Maybe the late Timi Yuro. But not many. This is an incredible song – highly endorsed by me. If you don't hear anything by Donna Dean….listen to this. The hairs on my neck were standing up. Hit that replay button. 
From the aggressive "Rain Fall On Me," the selection positioning was chosen wisely. Now we drift into a religiously beautiful and haunting ballad "Pray." This is Donna Dean not showing her teeth but showing her intensity in a poignant well-performed and memorable song.
If I plugged songs in the 70's I would have sent this to either Elvis Presley or Johnny Cash. The song pulls you in and you're compelled to listen. Yet, the song continues to ripple through your ears long after it has stopped.
An audience who enjoys the music of Carrie Newcomer, Cindy Bullens and Mary Chapin Carpenter – would embrace the voice of Donna Dean.
"Some Sweet Day," – so far every track — in my opinion –is superior to many songs produced in Nashville today. Maybe it's because Ms. Dean has lived a different life, has different insight, yet is capable to apply that southern American musical style to her own happiness and sadness equally.
This track suggests to me what Annie Lennox would sound like doing country and it's real good. Now I am not saying Donna is imitating but this is an excellent showcase for Donna to give a taste of who can cover her material effectively. Thanks to Ms. Dean I am now convinced Annie Lennox should tackle country next. This track with its many oh oh oh's and hey hey hey's is seductive and the mandolin — like a feather touching your skin. Well thought out arrangement. Good closing number for a concert because the entire audience can and will sing along.
"Fireflies," returns the listener to a serious deeper contemplative voice. Very well recorded. Every instrument clear, crisp and pensive.
"We crawled in and out of a crumpled bed, tattoo of Lucy cushioning my head.." Wonderful lyrical imagery. I wish more of Nashville would tap into the freshness of New Zealand artists like Donna Dean. Get away from the clichés. In order for country-Americana to maintain freshness they must start producing work that goes to the next level.
Suggestion: Steve Earle….T Bone Burnett — produce Donna's next CD.
Earle recently did well with Joan Baez.  Burnett: Jeff Bridges.
"A Silent Life," – amazing. Great lyrics. Nothing like any of the other tracks. Donna's high octane band splashes bluesy takes over her spirited aching vocals. Donna's voice is up close, sincere, and she convinces me she could sing the blues. Think: Bonnie Raitt. Strong stuff. The CD is worth the price just for this song alone. Play often.
"Too High" – this one is for the commercial ear. Catchy. This is the kind of song radio loves. Me? This one goes on my new "driving with the top down" CD compilation. This spring, 70 mph and cranked up to 10. Is it a revenge song? Hard to say, Donna sings it with such gusto that the message gets hidden. Oh yeah…"what goes around comes around." Nashville – you must be all deaf. This lady is kicking ass.  
This track segued beautifully and almost unnoticeable from the fast "Too High."
I can't express how effective and complimentary Donna's band is on the majority of these tunes.
"Tumble" — even though it sounds like country-Americana, I doubt someone in Nashville or Austin would write something like this. It's as if, she has taken some light pop lyrics and applied liberally a beautiful folk inspired melody over it and magically — created a very likeable short tale. There is no gloss, sugary sweet approach to Donna Dean's music. It's polished but it has equal amounts of vinegar and spices to keep it all interesting.  
The entire CD was produced by Donna and musician Warren Mendonsa. I must compliment the quality of the production and engineering. It was a wonderful 37 minutes. Anyone who does enjoy this new CD will find her 2003 album "Money," partially recorded in Nashville a great listen. I couldn't find a weak track among 19. Musician friends who stopped over — Emmylou Harris and Roseanne Cash devotees — played the CD twice in an afternoon.
Donna is accompanied by The Amazing Rhythm Aces and Russell Smith on "Money." An album of ingenious melodies and subject. Nothing about it makes you grow bored. Every track — a jewel.
All songs on the new CD were written Donna Dean.
Ok — I admit I admire Donna's work on these cds. But, I have heard enough music to recognize someone who has something to say. With so little time to dedicate to finding new music — these collections of music will redeem your faith in song. There is good music out there. At least, there is some in New Zealand.
I am looking forward to more. Video samples are available on No Depression: the beautifully photographed live performance of "What Am I Gonna Do?" and the walk through a paradise filming of "Pray."
Don't miss that 19-track "Money" CD. One of the treats about this CD is that toward the end Donna sings several tracks acoustically — stripped down and proving she does not need tons of support. Refreshing. She is capable of getting attention with just an acoustic guitar and voice. This is Americana music of the highest quality.
Thanks No Depression for delivering great music to everyone's ears and helping many to discover artists like Donna. I hope others will listen and take my word. Kudos to all the musicians on this cd.  This is a beautiful lady and talented artist.
John Apice – February 2011 / USA / Revised March 2013
---