Cary Morin Carves a New Trail with When I Rise
Posted On January 15, 2019
---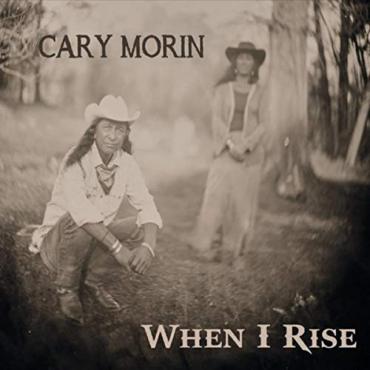 It is mid-November and Cary Morin is relaxed and smiling, sitting outside The Daily, a restaurant located in a section of Richmond, Virginia known as Carytown. Decked out in his cowboy boots and trademark white Stetson, he's watching the afternoon sun waltz across the sky through a pair of dark shades. He is confident and satisfied with the results of his newest effort, When I Rise. Seated next to him is a radiant Celeste Di lorio Morin, his manager and bride.
Morin is in town supporting Native Americana artist Pura Fe at the second annual Pocahontas Reframed Storytellers Festival. The two go way back. "I met her more than twenty-five years ago, when she hired me to play in her band. It was my first stab at playing acoustic blues. My career had stalled at the time and she pulled me out of that."

When I Rise represents an expansion of his artistic vision, while retaining all the elements that made his previous records engaging.
​
"I think of my first three albums as a kind of trilogy. The emphasis was on my guitar style. For this one I wanted to add some full band tracks." This time out Morin plays his trademark Bashkin guitar and also pedal steel. For the band tracks Morin enlisted the services of producer Kim Stone, known for his jazz background with groups like the Rippingtons.


---
Celeste
"I have a lot on my 'to do list.' I want to take some of my solo stuff and do it with a band, take it out there for the audience. My father was a huge Willie Nelson fan, so I want to do an album of Willie's tunes. And I have this other thing I want to do… I want to go to Dockside Studios in Lafayette, Louisiana, with regional players. I will show up with a dozen songs, pre-produced, and turn these guys loose on them."
When I Rise consists of ten Morin compositions and two covers, the Grateful Dead number "Dire Wolf," and the Allman Brothers classic "Little Martha." The original songs fit well with his choice of covers.
"I chose 'Dire Wolf' because I like Jerry Garcia's pedal steel. Kim Stone is not a Dead fan, and wasn't fond of the song. I did some research on it and listened to several covers. I wanted a different take on it. We recorded it in three. I couldn't find any versions of it in three."
When I Rise follows 2017's Cradle to the Grave, which garnered much critical acclaim and multiple awards. The new release starts off with the title track, a dark tale of murder. The song features an edgy, psychotic fiddle break courtesy of Lionel Young. Splayed across Morin's simple acoustic fretwork, the fiddle amps the suspense, lending a skewed perspective to the narrator's story. It seems like the perfect theme for a Netflix film or a Coen Brother's production.
"I'm glad you picked up on that. We shot a video for it. It is almost finished. For budget's sake we didn't peg it to a specific era or year. It's shot in black and white, and exists in its own space. We recorded the song in a circle around a single mic. The fiddle part just happened, it was magical. "
​
"Let Me Hear the Music" is graced by the clarinet of jazz artist Dexter Payne. "I felt like I had wandered back in time, to the twenties," Morin says. Morin is aided on the album by some fine talent, including Steve Amedee, of the subdudes. Amedee also performs with Morin and John Magnie in a trio known as the Young Ancients.
"Jug in the Water" is a fine bluesy stomp with a sinewy guitar line. In the song the main character is trying to feed his people, all the while being watched by a hungry alligator. "Devoted One" is a ballad with a positive take on purpose and mortality. The mood of the piece seems to match Morin's outlook, he doesn't seem worried about anything at present.
Throughout the entire album, on solo tunes and band numbers, Morin's trademark pristine string work shines like a new penny. He likes to brag on the guitar he had made especially for him. "One thing that has been an inspiration to me is this guitar built by luthier Michael Bashkin. It grew out of discussions about what I like from a guitar in the studio and in live situations. I specifically asked that he not put a sound hole in it. It is everything I wanted and more."
The new album covers romantic frontiers as well as the story songs Morin is so good at crafting. "Carmela Marie" is a playful song reflecting the point of view of a man who is seeking some reciprocity in his relationship

You always get what you ask for
Now I've got it coming to me
Come on down to my place
Carmella Marie

"We Used to Be" features some beautiful pedal steel playing. "It's about a relationship to a town, not a person. I was revisiting some areas I used to play when I started out, and thinking how much those places had changed over the years. The place I remember now exists only in my memory. I'm fortunate to have that memory." Morin's emotive pedal steel conjures a longing for a time past, a place in the heart.
'Lay Baby Lay" invokes memories of a different sort, made beneath a sycamore tree. Set over a shuffle beat Morin clearly relishes the time spent. Backed by a full band, Morin recalls a moment of joy that still resonates years later. The sweetness of that moment is reflected in the buoyant interaction of the band, their playing inspired and care free.
Morin occupies an interesting space in Americana. He has a voice that shifts from ballads to blues rather effortlessly. As a member of the Crow Nation, his blues voice carries with it the wisdom and authority of history, channeling the suffering of Native peoples. One part moan, one part howl, his vocals call to mind a groaning too deep for words. These blues are as authentic, coming from the Rockies or the Great Plains, as any coming out of the cotton fields of the Delta. It is a voice that reminds us that we all have access to the blues, no matter the color of our skin or the land through which we journey. His blues do not ask for special consideration, rather they ask for simple respect and inclusion.
​
At the end of it all, Morin returns to an acoustic take on "Jug in the Water," the arrangement and the lyrics working together to remind us that Morin hasn't forgotten where he came from or what got him here. It is a perfect foundation from which to expand his palette and explore new avenues. He invites us to join him on his journey. Me? I'm on board. www.theflamestillburns.com
---