Carl Jackson: A Boy and His Banjo, Reunited
Posted On October 25, 2017
---
This is the story of a boy, a banjo, and a career. Carl Jackson, singer-songwriter, Grammy winner, entrepreneur, producer, and musical polymath. It traces its roots to Louisville, Mississippi, where Jackson was born in 1953, through a stint with classic bluegrass greats Jim & Jesse McReynolds beginning when he was only 16, into a 12 year commitment with country great Glen Campbell, into writing iconic bluegrass and country songs, mentoring countless young and upcoming musicians, and still more. It culminates, for the moment, in Jackson's love of tradition, personified in his acquisition only a few weeks ago his first top-grade banjo, a Gibson bowtie, that he had bought when he was 12 years old, traded to Jesse McReynolds, and found again after having seen it only once in the past 50 years.
Very early Jackson became fascinated with the banjo. "I was ten years old, but I actually spent my own money on the banjo," he recalls. "Daddy worked a milk route when I was growing up and he used to get quite a few silver dollars in his change at the end of the day. He would save those and give them to me and my sister as our allowance. I remember I had around 60-70 silver dollars stockpiled along with other money I had saved from doing little gigs around home with Daddy and my uncles, Sock and Pete … I loved 5-string banjo so much that I had actually used all those silver dollars, along with my Dad's help, to purchase my very first banjo, which was a Gibson RB-100. We had made a trip to Nashville when I first saw the brand new bowtie Mastertone displayed in Hewgley's Music Shop. I traded my RB-100 and agreed to pay the difference myself."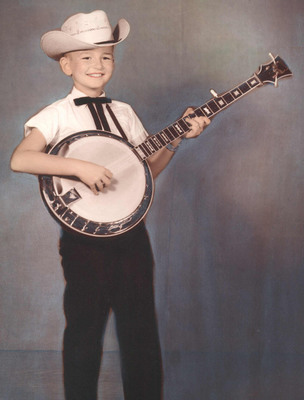 Jackson, like so many young people eaten up by their instrument, couldn't get enough of picking, and progressed quickly. On a trip to the Grand Ole Opry when he was ten, he recalls, "The very night of the day I purchased the banjo, Daddy somehow managed to get me backstage at the old Ryman for the Grand Ole Opry. I sat on one of the "shelves" that were in those old dressing rooms and played for pretty much everybody appearing that night. Every single one of them tried to persuade Ott Devine, who was the manager of the Opry at the time, to let me play on the show. Joe Stuart, who was working with Bill Monroe in those days, even went and physically made Mr. Devine come listen to me. However, he still claimed that I was 'too young' and was 'not a member of the union.' These excuses made George Morgan furious, and he was hosting the Ernest Tubb Record Shop show that very evening. It immediately followed the Opry on WSM, so he took me over and featured me in what still remains one of the sweetest memories of my childhood."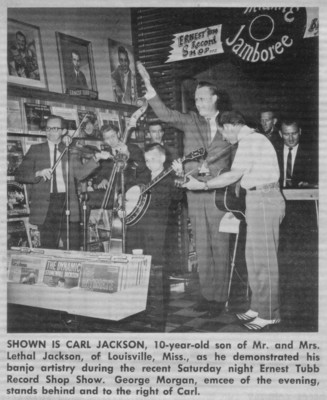 At age 14, Jackson went on the road with Jim & Jesse McReynolds and the Virginia Boys. While with them, he traded his "bowtie" banjo to Jesse McReynolds for an upgrade, which he used for years. Here, at age 16, he's introduced by McReynolds before playing "Dixie Hoedown":
After three years, with Jim & Jesse McReynolds – one of bluegrass music's all-time great bands, a brother duo mentioned in the same breath as the Louvin Brothers and Ralph & Carter Stanley – Jackson was asked by Glen Campbell to join his band, where he stayed for 12 years of touring. During that time, he matured as an artist and as a songwriter and producer. Here he is, with Campbell, playing "Dueling Banjos," the key song from the film Deliverance.
Meanwhile, Jackson was writing songs, establishing himself as a top songwriter, charting singles with an A-list of country and bluegrass artists. In 1993, "No Future in the Past," performed and co-written with Vince Gill, reached #3 on the country charts while Gill was named Entertainer of the Year and Male Vocalist of the Year.
Great country and bluegrass composers seem to revel in writing road songs, perhaps because of the amount of time they spend away from loved ones, home and family. "Erase the Miles," recorded by IIIrd Tyme Out, has become an iconic road song frequently sung at festivals and in jams. It's a classic of bluegrass road songs as well as one of Jackson's signature pieces, requested everywhere. One of Jackson's great strengths remains his ability to communicate genuine emotion through his songwriting.
https://youtu.be/V7cCipjIHFY?list=PL50D19E1647762796
A few weeks ago in the Exhibition Hall at IBMA , Robin Arnold, Jackson's fiance, invited me to come to the Virginia booth, where Jackson was about to pick up a banjo to add to his collection of over 50 instruments that are meaningful to him. It turns out that the "bowtie" banjo had been found! Jackson had only seen it once since he had traded it to Jesse McReynolds over 50 years ago. "When Frank (Harrison) heard that it was originally my banjo and that I had bought it brand new in 1963, he offered it back to me for just what he had in it. I honestly didn't "need" the banjo, and I'm sure that's why Jesse didn't think about it before he got rid of it, but it just seemed like the right thing to do, when I was able to bring it back "home."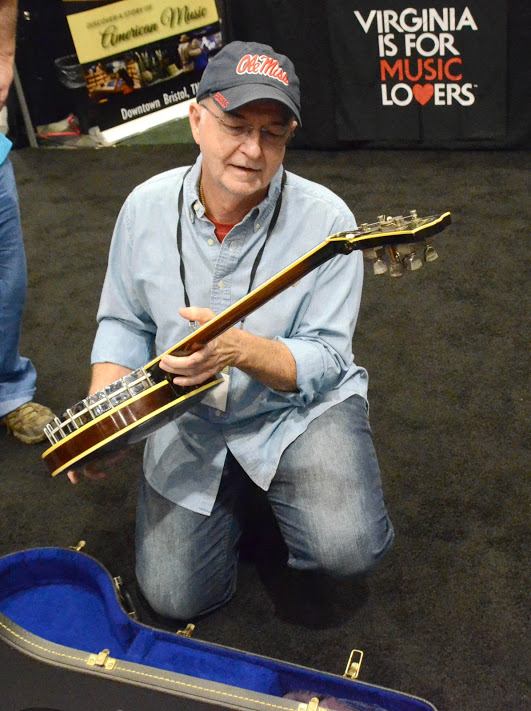 Carl Jackson is a conservative man who treasures both the simple pleasures and the sense of community he finds in his past. Recent recordings he has produced celebrate the life of Mark Twain on the Mississippi and, in Orthophonic Joy, the "big bang of country music" that occurred when, in 1920, Ralph Peer recorded great early country singers in Bristol, TN. He works hard to keep traditional country music and bluegrass music alive. Here's Jackson with Glen Campbell's daughter Ashley playing John Hartford's classic song "Gentle on My Mind" at the Larry's Country Diner TV show.
---