'Born in Chicago' Documentary Explores Blues History at a Crossroads
---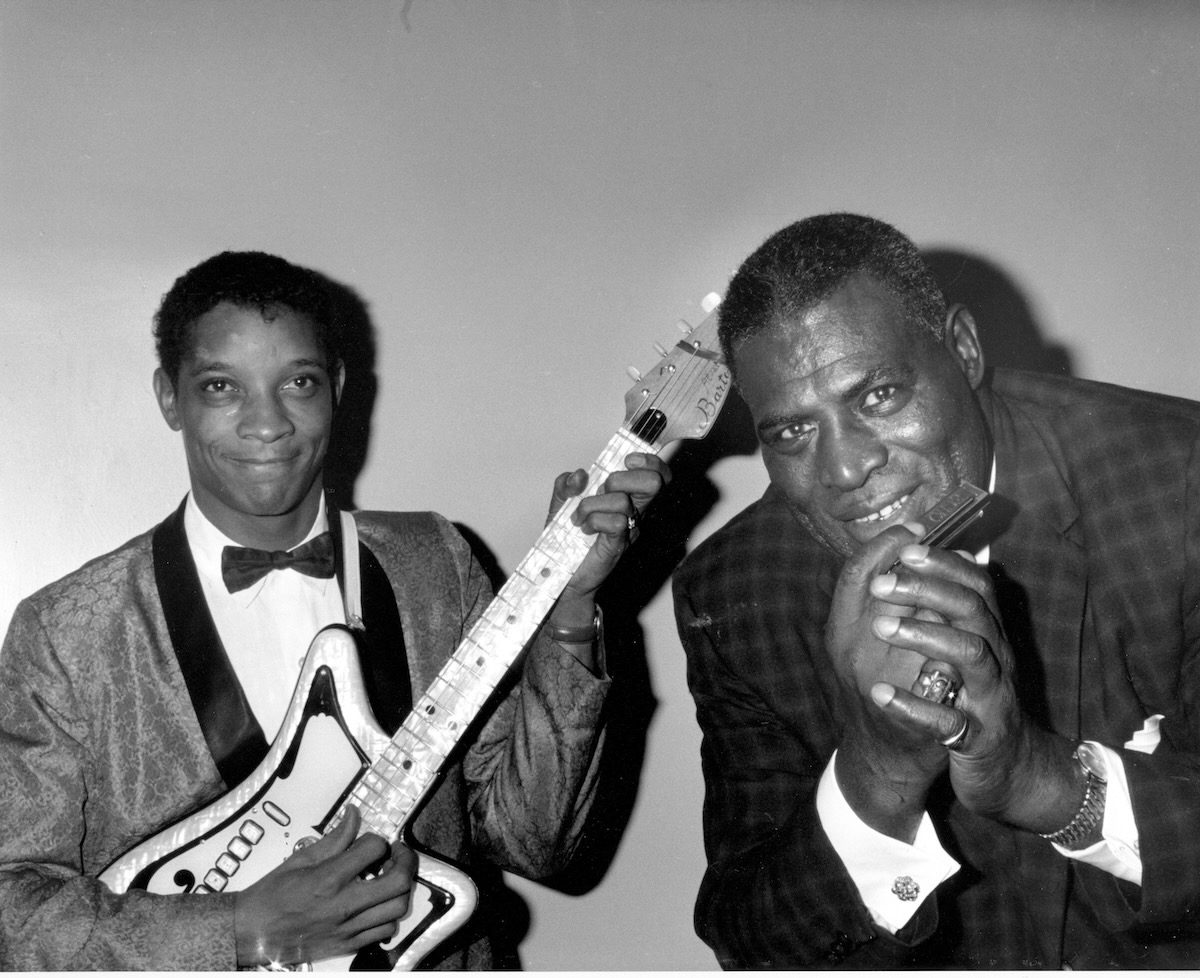 Howlin' Wolf poses backstage with his guitarist, Hubert Sumlin, in England in 1964. (Photo by Brian Smith / Cache Agency)
Having the blues is a universal situation. But expressing it seems to require a regional hub. Although it didn't originate there, Chicago was the place to be for serious blues practitioners in the early 1950s. The music came from the deep South, then emigrated north when Black residents left to pursue better-paying jobs. The blues accompanied them, finding a ready market in local clubs on the south and west sides of Chicago and on Maxwell Street, a former Jewish neighborhood inhabited by the newly relocated workers.
Muddy Waters was the big dog on the scene. "Muddy did more for blues than anybody, because he lit up Chicago," B.B. King says in an interview from Shout Factory's new documentary, Born in Chicago.
Narrated by Dan Aykroyd, one of the executive producers along with fellow Blues Brother Jim Belushi, the documentary covers the downturn of blues in the late 1960s when young Black artists turned to soul music, and the blues revival shortly afterward when the music was discovered by a white audience.
Co-producer Barry Goldberg, who helped back Bob Dylan on his electrified 1965 Newport Jazz Fest appearance, is featured prominently throughout the film discussing key figures in bringing the blues to a young, white generation, including The Paul Butterfield Blues Band.
The doc is jam-packed with guest stars offering their opinions on the scene and great clips of classic blues performances. Howlin' Wolf looks absolutely terrifying in some of the clips, exhibiting some of the rawest, most soul-baring blues exhibitions ever recorded. Waters looks regal, slick, and clean, with a pompadour higher than Elvis'. Wolf and Waters were the kings of the scene, but they did not get along. Asked if they were friends by an off-camera interviewer, Paul Butterfield drummer Sam Lay replies with a curt "No."
"Enemies?" the interviewer asks.
"Yeah," says Lay with a chuckle.
In addition to their own larger-than-life talents, both Wolf and Waters had formidable arsenals at their disposal. Waters had Little Walter and Otis Spann, but Wolf had Hubert Sumlin. "When I hit a note, I  mean bidness," Sumlin says succinctly.
Despite all the bombast and raw emotional presentations in clubs all over the city from Willie Dixon, Junior Wells, Magic Sam, and Buddy Guy, young Black audiences crossed over to soul men like Sam Cooke and James Brown. But at the same time, a few young white musicians had discovered the music and were worshiping at the feet of the masters, asking to be mentored. Too young to be allowed in clubs, Bloomfield often stood outside clubs and watched. "I'd be trembling like a dog in heat," he says. But once he showed the masters he could play, and that he had the proper reverence and respect for the music, they let him into their music and their lives.
Keith Richards got a chance to sit in with Waters and Wolf when he first came to America in 1964. "They just wanted to share ideas," Richards says in the film. "Wanted to see how we were doing it and why we wanted to do it. Didn't take long for all of us to become friends."
His comments are followed by an electrifying clip of Wolf's only national TV appearance, on Shindig in 1965, with the Rolling Stones when they insisted that he accompany them. "We wanted to spin it back around, be the conduit," Richards says. "It was our job to pay back."
Born in Chicago ends with Elvin Bishop's 2015 Rock and Roll Hall of Fame induction speech. "We helped blues cross over to the regular public," Bishop says, adding that the musicians got a chance to demonstrate something that was badly needed in those days: "That people of different races can work together to do good."
Born in Chicago is available on major digital platforms starting Aug. 1.
---