BONUS TRACKS: Willie Nelson in the Rock Hall of Fame, RIP Gordon Lightfoot, and More
---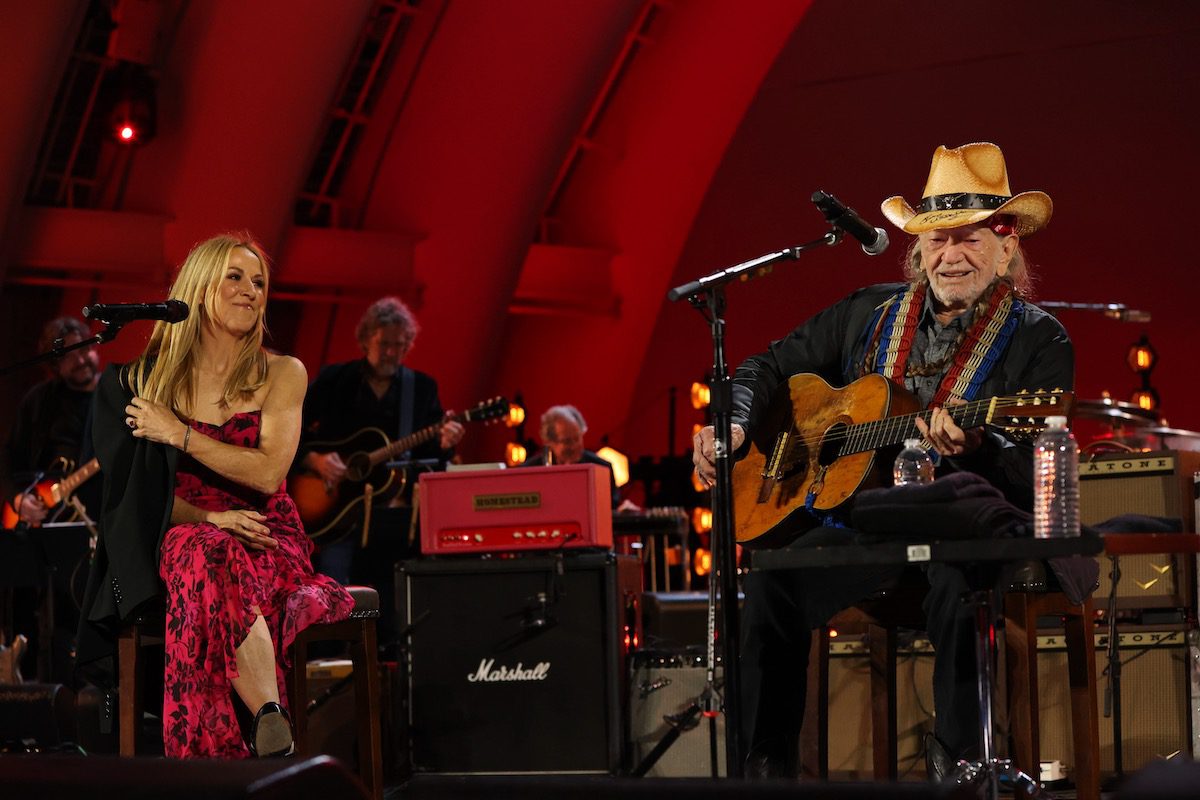 Sheryl Crow and Willie Nelson share the stage at Long Story Short: Willie Nelson 90, a concert celebrating Nelson's 90th birthday at the Hollywood Bowl on Sunday. Both are among the 2023 inductees into the Rock and Roll Hall of Fame. (Photo by Randall Michelson)
The ballots have been counted for the Rock and Roll Hall of Fame, and the Class of 2023 is set. Most notable among the names for roots music fans is Willie Nelson, who just celebrated his 90th birthday. The other inductees in the general category are Sheryl Crow, Kate Bush, Rage Against the Machine, Missy Elliott, George Michael, and The Spinners. Joining the Hall of Fame in the specialized categories are Chaka Khan, Al Kooper, and Bernie Taupin in the "musical excellence" group; Link Wray and DJ Kool Herc in "musical influence"; and Soul Train host Don Cornelius with the Ahmet Ertegun Award. These folks will be inducted in a ceremony and concert on Nov. 3 in New York. Read more about the inductees (and the folks on the ballot who didn't make the cut this time) in this story from Variety.
If you want to celebrate Willie Nelson's Rock Hall of Fame nomination, his 90th birthday, or just his essence, Oxford Pennant has launched a line of felt pennants and camp flags in honor of Willie, which you can view here. They even have customizable flags and pennants so you can commemorate the year and city where you saw him on the road (again). Oxford Pennant also recently released a line of items for The Rolling Stones, and has previously partnered up with Wilco, The Tragically Hip, and Elton John.
Canadian folk troubadour Gordon Lightfoot died this week, and artists from Canada and far beyond have been talking about his tremendous talent and influence. Writer of "If You Could Read My Mind," "Sundown," and "The Wreck of the Edmund Fitzgerald," he sharpened his skills in the same Toronto folk scene that shaped Joni Mitchell, Neil Young, and Leonard Cohen. His songs were widely covered by folk artists and those in other genres too — Tony Rice recorded an entire album of Lightfoot's songs, 1996's Tony Rice Sings Gordon Lightfoot, and Bob Dylan called Lightfoot one of his favorite songwriters, covering "Early Morning Rain" on his 1970 album Self Portrait. No cause of death for the 84-year-old has been given, though last month he cited health reasons for canceling all his scheduled concerts. Read more about Lightfoot's life and contributions in this obituary from The New York Times, and check out remembrances from Neil Young, Rush, Robbie Robertson, and even Canadian Prime Minister Justin Trudeau in this piece from the CBC.
The 2023 Tony Award nominations came out this week, and while theater is cool, it's not something we'd normally cover here in our roots music corner of the culture. But who do we spy among the Original Score nominations but Brandy Clark, along with her frequent collaborator and famed country songwriter Shane McAnally, who has worked with Kacey Musgraves, Kelly Clarkson, Reba McEntire, and many more. They're nominated for the music and lyrics for "Shucked," the title song of their Broadway musical comedy that opened in April. Shucked itself is nominated for a whopping nine Tonys, including Best Musical. Shucked, set in fictional Cobb County (get it?), follows the story of a community insulated by a wall of corn that finds itself in need of outside help. You can see all the Tony nominations in this story from CNN; the awards ceremony is June 11.
WHAT WE'RE LISTENING TO
Here's a sampling of the songs, albums, bands, and sounds No Depression staffers have been into this week:
Shinyribs – "Dark Cloud," from their new album, Transit Damage, coming in July
Jana Mougin ­– "If I Didn't Love You"
Early James – "One Trip Pony," from the deluxe version of Strange Time to Be Alive, coming May 19
SUSTO – "My Entire Life," the title track from their new album, coming in July
Fenne Lily – Big Picture
Chris Shiflett – "Dead and Gone"
Dave Hause – Drive It Like It's Stolen
Nico Paulo – Nico Paulo
Rissi Palmer featuring Miko Marks – "Still Here" (read our recent interview with Palmer and Marks here)
Bella White – Among Other Things
Sophie Lukacs – Bamako
Yusuf/Cat Stevens – "King of a Land," the title track from his new album, coming in June (you can also read his "Manifesto for a Good King," addressed to King Charles III as he is crowned this weekend, here.)
---