BONUS TRACKS: Why Music Venues Matter, FreshGrass Contest Finalists, and Bandcamp's Juneteenth Fundraiser
---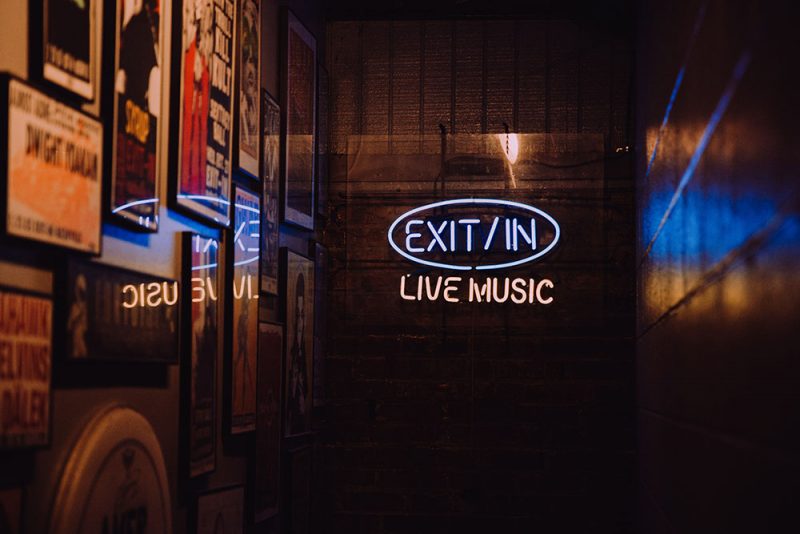 The fate of Nashville music venue Exit/In is uncertain after its building was purchased by a development first last year. (Photo via Exit/In)
Several small independent music venues in Nashville are fighting for their lives, or, in the case of Mercy Lounge, have recently lost the battle. And it's probably happening in your town, too. Venues often don't own the building they're in, and when property managers or land owners decide to use the space for condos or something more lucrative, the whole town's culture takes a hit. Public radio economics show Marketplace looks into why that matters, and some efforts to fight back in Nashville.
Some of my favorite festivals include a contest component that showcases up-and-coming artists and puts up prize money that can help winners record an album that takes them to the next level. Among those festivals is FreshGrass | North Adams, presented by the FreshGrass Foundation, No Depression's publisher. This week FreshGrass announced the finalists in its band, banjo, fiddle, and guitar contests. Learn more about the finalists, including bands The Muddy Souls, The Wildmans, and The Max Schwartz Band, via the FreshGrass Festival. And while you're there take a look at the lineup and learn more about the festival itself, coming up Sept. 23-25 in North Adams, Massachusetts.
You've probably heard of the Global Seed Vault in Svalbard, Norway, that stores millions of seed varieties in order to preserve them far into the future. A music vault with the same idea is in the works — The Global Music Vault — and Microsoft is working on a new technology to store music in it for 10,000 years. Project Silica etches data onto a quartz glass square that can withstand high temperatures and pressure, keeping the music intact far longer than vinyl, CDs, or computer hard drives. Read more about the project and see photos in this article from Fast Company.
Bandcamp has been mighty good to artists, designating monthly Bandcamp Fridays through the worst of the pandemic to maximize money going to artists at a time when they couldn't tour. But the platform tries to spread good in other ways as well, including annual Juneteenth fundraisers that support national racial justice organizations. This year's Juneteenth fundraiser is today (June 17) and gives 100% of Bandcamp's share of sales to the NAACP Legal Defense Fund. Read more about the Juneteenth fundraiser here, and stock up on some great music today!
WHAT WE'RE LISTENING TO
Here's a sampling of the songs, albums, bands, and sounds No Depression staffers have been into this week:
Watkins Family Hour ­– "Hypnotized," from their new album, Vol. II, coming in August
We Banjo 3 – "Gift of Life," from their new album, Open the Road, coming in July
Michaela Anne – Oh to Be That Free
Madison Cunningham – "Hospital," from her new album, Revealer, coming in September
Katie Moulton – Dead Dad Club: On Grief and Tom Petty, a memoir on Audible.com
SmallTown Strings – "Ramblin'"
Kate Bush – "Running Up That Hill (A Deal With God)"
Kassi Valazza – Dear Dead Days
Orville Peck – "Mona Lisas and Mad Hatters"
Jake La Botz – "Hair on Fire," the title track from his new album, coming in September
---