BONUS TRACKS: Venues and the Vaccine, and Thad Cockrell Gets a Dose of Encouragement
Posted On January 29, 2021
---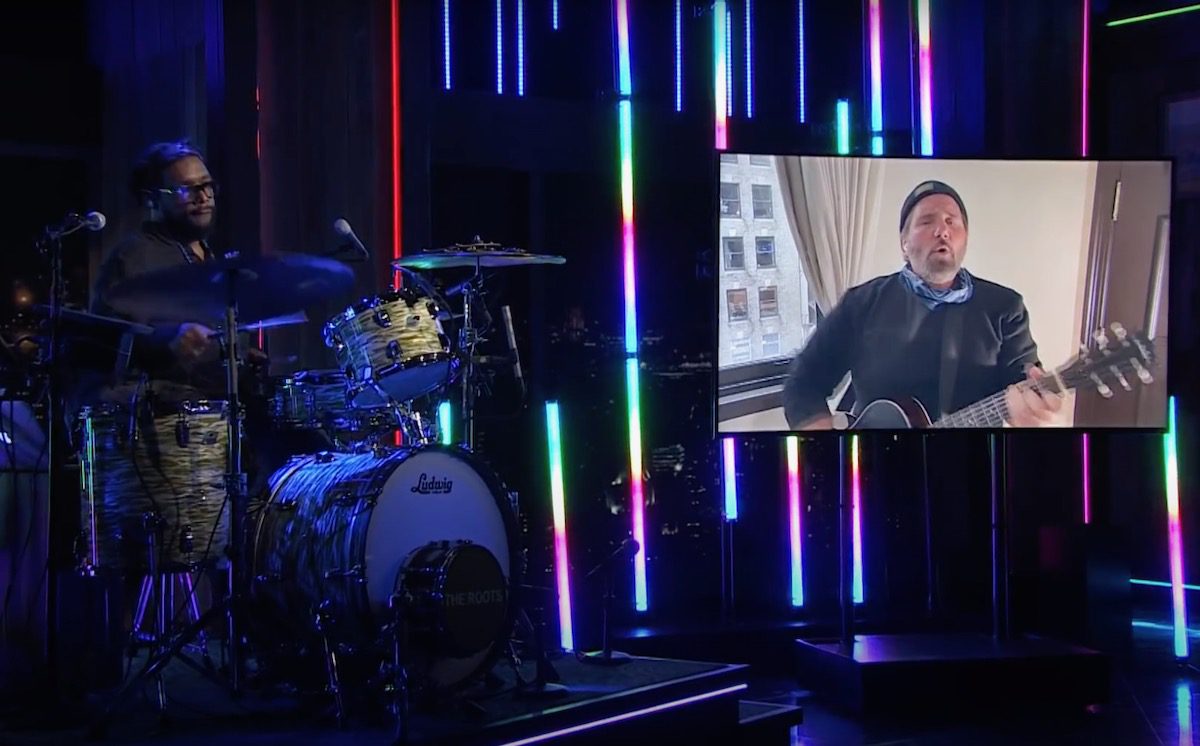 Thad Cockrell (on screen) plays "Swingin'" along with The Roots on "The Tonight Show Starring Jimmy Fallon" on Tuesday night.
It's a bleak time for a lot of musicians, and several have considered giving up. Thad Cockrell was in that boat; he wrote his managers early in the new year to say he was making plans for a different career. But just in the nick of time, the universe — in the form of Jimmy Fallon — intervened. In this video from the set of The Tonight Show, Fallon explains how he was in a hardware store shopping for a light switch when he heard a song on the PA that really resonated during these stay-at-home times, prompting him to pull out his phone and consult song-identifying app Shazam. The song was "Swingin'," from Cockrell's latest album, If In Case You Feel the Same (which, ahem, we reviewed last summer). And a few phone calls later, Cockrell was booked to play Fallon's show, backed by The Roots. "It just goes to show," Fallon says in the video, "don't give up — because you never know, some moron's gonna walk into a hardware store and Shazam your song." Here's the video of Cockrell's performance, and we'll keep you posted on his future endeavors, which we have a good feeling will now involve music after all.
Here's the best idea I've heard in a while. Concert promotion giants LiveNation and AEG, along with the National Independent Venue Association (NIVA) and other organizations that support live music, sent an open letter to President Biden this week saying they're ready, willing, and very able to help get Americans immunized against COVID-19 in their venues. "Because we are shuttered, we are able to offer the full weight of our industry to support vaccine distribution beginning immediately," the letter says in its offer to help the administration reach its goal of vaccinating 100 million Americans in 100 days. No word yet if Biden will accept the offer, but it makes so much sense. It'd be good for public health and, in turn, good for getting live music moving again. And gosh it'd be good to be inside a music venue again, even if the fridges hold vaccine vials instead of beer and the shot in the arm is literal instead of figurative.
No Depression has covered a lot of the music that Northampton, Massachusetts-based record label Signature Sounds has put out over the years, including albums from Josh Ritter, Eilen Jewell, Birds of Chicago, Lake Street Dive, Twisted Pine, and many more. We wish we could give them big hugs for their 25th birthday this year, but instead we'll celebrate with a new double CD out today celebrating the milestone. Golden Age: 25 Years of Signature Sounds, out today, is a 37-song compilation featuring the label's former and current artists (check out the impressive track list here). The label has also been hosting a series of livestreams called the Parlor Room Home Sessions since November, with future shows featuring Parsonsfield, Peter Mulvey, Mark Erelli, Kris Delmhorst, and more.
There may not be an in-person Folk Alliance conference this year, but Folk Alliance International is hardly taking the year off. Earlier this month the nonprofit launched its Village Fund, a grant program coming this spring for folk artists experiencing financial hardship. Donors to that fund will receive access to an online festival titled Folk Unlocked taking place Feb. 22-26, with performances from Jim Lauderdale, Keb'Mo', Flor de Toloache, Cedric Burnside, and a whole bunch more. Part of that event will be the International Folk Music Awards. You can see the list of nominees for Artist of the Year, Album of the Year, Lifetime Achievement, and more here.
WHAT WE'RE LISTENING TO
Here's a sampling of the songs, albums, bands, and sounds No Depression staffers have been into this week:
Shovels & Rope featuring Sharon Van Etten – The Beach Boys' "In My Room," from the third installment in Shovels & Rope's Busted Jukebox cover albums series, coming next Friday
Miley Cyrus' cover of Mazzy Star's "Fade Into You" from her Tiny Desk (Home) Concert for NPR
Yasmin Williams – Urban Driftwood (ND review)
Mdou Moctar ­­– Ilana: The Creator
Christelle Bofale – Swim Team [EP]
The Cocaine & Rhinestones country music history podcast
Caitlin Cary and Thad Cockrell – Begonias
Sara Watkins – "Pure Imagination," from her new album, Under the Pepper Tree, coming in March
---