BONUS TRACKS: Turnpike Returns, The Beatles 'Get Back,' and Songs for Hanukkah
Posted On December 3, 2021
---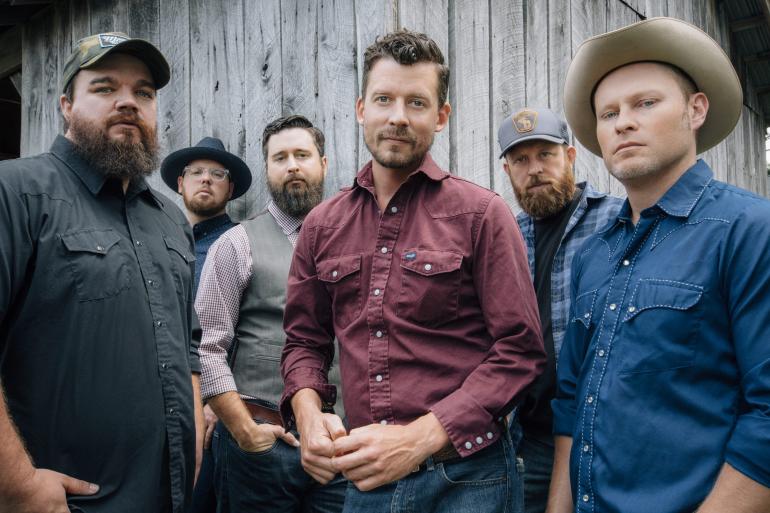 Turnpike Troubadours circa 2018 (photo by David McClister)
Red Dirt music fans and the larger alt country world rejoiced this week to see a fresh band photo pop up on social media accounts for Turnpike Troubadours. Sure enough, Rolling Stone grabbed an exclusive interview with the band that also announced a headline show at Red Rocks in May, with more shows and album news promised soon. The story goes deep into what the band has been up to during its 2 1/2-year hiatus — most notably frontman Evan Felker's shift to sobriety. "For nearly a year" before the hiatus, Josh Crutchmer writes in the Rolling Stone piece, "the band played into a headwind of tabloid headlines and social media chaos focused on Felker's personal life and a series of abrupt, high-profile concert cancellations that left fans and venues alike seeking answers. In the time since that 2019 pause, each member found opportunities to move on to something new, but not one gave up on Turnpike." Read the whole interview here.
Fans of The Avett Brothers likely know there's more music in the family besides Seth and Scott Avett's band — namely from their dad, Jim Avett, who leans toward traditional-tinged gospel. Sadly, a fire at Jim Avett's home in Concord, North Carolina, destroyed 60 guitars and 100 paintings, according to the Charlotte Observer. Thankfully, no one was hurt, but Jim Avett posted on Facebook that "half the house is totally beyond repair." Read more and see some scary footage of the Nov. 26 fire in the Charlotte Observer. The fire appears to have destroyed some of Avett's physical albums as well, according to a note on his website that asks fans to consider buying his albums digitally instead.
There's a new Beatles documentary, did you hear? Yeah, you definitely did. Probably often and at great length. I'm going to be honest: As someone who edits for a living, I am not a fan of Peter Jackson, who is clearly NOT a fan of editing. And there isn't a single band (or a single band's low point) I can think of that I want to watch eight hours of TV about. But, you know, people seem to like Get Back, so here is a nice summary and analysis of the whole thing from Rolling Stone's Rob Sheffield that you can consume in about 5 minutes, either as a preview or Cliff's Notes. Or, if you're like me and a little tired of the whole thing already, I highly recommend this piece from The Onion titled "New Beatles Doc Gives Man Greater Appreciation for How Long 8 Hours Feels."
Bluegrass and Americana duo Nefesh Mountain are continuing their holiday tradition of sharing a song each night of Hanukkah, which started last Sunday. The eight songs are videos from the duo's new album, Live From Levon Helm Studios: A Hanukkah/Holiday Concert. You can catch the videos, which each feature a song and a story, at 6 p.m. ET each night of Hanukkah on the band's YouTube channel and social media accounts. Dave Grohl is also celebrating a musical Hanukkah tradition dubbed "The Hanukkah Sessions" by covering songs by Jewish artists. So far, Grohl and Foo Fighters producer Greg Kurstin have very colorfully covered Lisa Loeb, Amy Winehouse, and Van Halen, and, well, you've just gotta see the videos.
In this, the season of gift-giving, don't sleep on the last Bandcamp Friday of the year, which is today. (Maybe the last Bandcamp Friday ever? No word yet on whether the platform will continue this pandemic-era tradition into 2022.) Bandcamp will waive its take of sales today in order to maximize the money going to artists.
WHAT WE'RE LISTENING TO
Here's a sampling of the songs, albums, bands, and sounds No Depression staffers have been into this week:
Steve Poltz – "Conveyor Belt," from his new album, Stardust and Satellites, coming in February
Leyla McCalla ­– Fort Dimanche
Karen Dalton – "Something On Your Mind" (Alternate Take) from the 50th anniversary edition of In My Own Time, coming in March
Kishi Bashi – "This Must Be the Place" (Talking Heads cover) from the 2021 New York Public Radio Gala
St. Paul and the Broken Bones – "Love Letter from a Red Roof Inn," from their new album, The Alien Coast, coming in January
Donovan Woods – "I Hope You Change Your Mind"
The Linda Lindas – "Nino"
Hurray for the Riff Raff – "Jupiter's Dance," from their new album, Life on Earth, coming in February
Jackson + Sellers – "The Devil Is an Angel" + "The World Is Black"
Yonder Mountain String Band – "Into the Fire," from their new album, Get Yourself Outside, coming in February
Paul Cauthen – "Country As Fuck," from his new album, Country Coming Down, coming in April
---