BONUS TRACKS: The War and Treaty: The Movie, New Grammy Categories, RIP Kelly Joe Phelps
---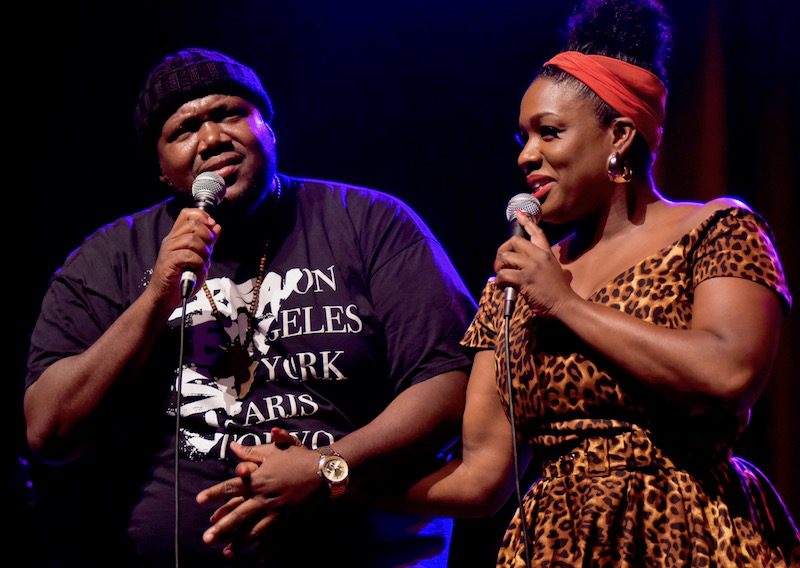 The War and Treaty (Photo by Amos Perrine)
The War and Treaty was one of No Depression's very first Spotlight artists, back when we started that feature in 2018. We loved their debut album, Healing Tide, but we also loved their story — two musicians struggling for different reasons who found each other and truly have made magic together ever since. The wider world has now taken notice of their powerful sound, and their story will soon take center stage in a new movie about their lives. Numa Perrier will direct, and the project is backed by Gary Gilbert, Harvey Mason Jr., Mike Jackson, and musician John Legend. The War and Treaty's Michael Trotter Jr. and Tanya Trotter are among the executive producers. Learn more in this story from Deadline.
Blues guitarist and singer Kelly Joe Phelps was covered in the pages of No Depression since dang near the beginning, starting with a review of his second album, Roll Away the Stone, in 1997. He popped up over and over again over the years, both on the strength of his own songwriting and performance and because he influenced so many in the roots music world, including Jason Isbell. Phelps died "quietly at home in Iowa" last week at the age of 62, according to a Facebook post from a family friend. Learn more about Phelps and his music in this remembrance from The Guardian.
The Recording Academy is always tweaking its list of categories for the Grammy Awards as tastes and markets change — and the categories matter. They can help spotlight genres that aren't as massive as pop, hip-hop, and country and help audiences discover new artists and art forms. In big news for No Depression readers, the Academy has added a Best Americana Performance category, which recognizes "artistic excellence in an Americana performance by a solo artist, collaborating artists, established duo, or established group." That category joins Best Americana Album and Best American Roots Song in recognizing music in the "Americana" genre and presumably will likewise be awarded during the Grammy Awards' daytime show a few hours before the annual prime-time event. Other new categories that will debut for the 2023 awards cycle are Songwriter of the Year, Non-Classical; Best Alternative Music Performance, Best Score Soundtrack for Video Games and Other Interactive Media, and Best Spoken Word Poetry Album. The Academy also is adding a Special Merit Award recognizing the year's best song for social change. Learn more about the new categories in this post from the Recording Academy. Want to refresh your memory on the roots music Grammy winners from this year? Revisit our coverage here.
We've all known music collectors who take their passion to some extremes, but Joe Bussard might be the king. Starting in the early 1950s (he's 85 now), Bussard traveled the American backroads to collect 78s of early and rare roots music recordings, including blues, bluegrass, jazz, country, and gospel, with more than 15,000 records now in his basement in Maryland. Read about a visit with Bussard — who's quite a character —in this feature from The Washington Post, which also features photos and videos showcasing the collection. That collection, by the way, has no outward labeling; it's organized only within Bussard's own brain.
It's maddening to buy tickets online (I could just stop this sentence here …) and get to the end of the process only to see the price jump because of a pile of vaguely worded and non-optional fees. A bill passed last week by the New York state senate and assembly wouldn't end those fees, but it would require ticket sales for events in New York to show all fees at the beginning of the process, including resale markups. Learn more about the bill, which is pending Gov. Kathy Hochul's signature, in this report from Brooklyn Vegan.
As part of a 600-page interim report released last week, the California Reparations Task Force details how Black American artists have been systemically cheated out of compensation for their cultural and artistic contributions. "Throughout American history, the federal government historically deprived Black American artists and innovators of intellectual property rights, copyright protections, and patent protections resulting in intellectual and cultural theft and exploitation," the report says. Among the report's preliminary recommendations is for California to create an Office of Freedmen Cultural Affairs that would "compensate individuals who have been deprived of rightful profits" for creative work and seek policies and legislation aimed at ensuring equity in arts and entertainment. Learn more about the report and its recommendations in this article from Rolling Stone.
WHAT WE'RE LISTENING TO
Here's a sampling of the songs, albums, bands, and sounds No Depression staffers have been into this week:
Steep Canyon Rangers – "Sweet Spot"
Tift Merritt – Bramble Rose (the album turns 20 this year)
Dead Horses – "Brady Street," the title track from the duo's new album, coming in August
T Bone Burnett – "Realities.com," from his upcoming album, The Invisible Light: Spells, coming in August
Andrew Duhon – "Castle on Irish Bayou"
Cass McCombs – "Unproud Warrior"
Nicolle Galyon – "Winner"
Florence + the Machine – "King"
The A's (Amelia Meath and Alexandra Sauser-Monnig) – "He Needs Me," from their new album, Fruit, coming in July
---