BONUS TRACKS: The Opry's Apology to DeFord Bailey, Eli Winter on Touring, and More
Posted On February 24, 2023
---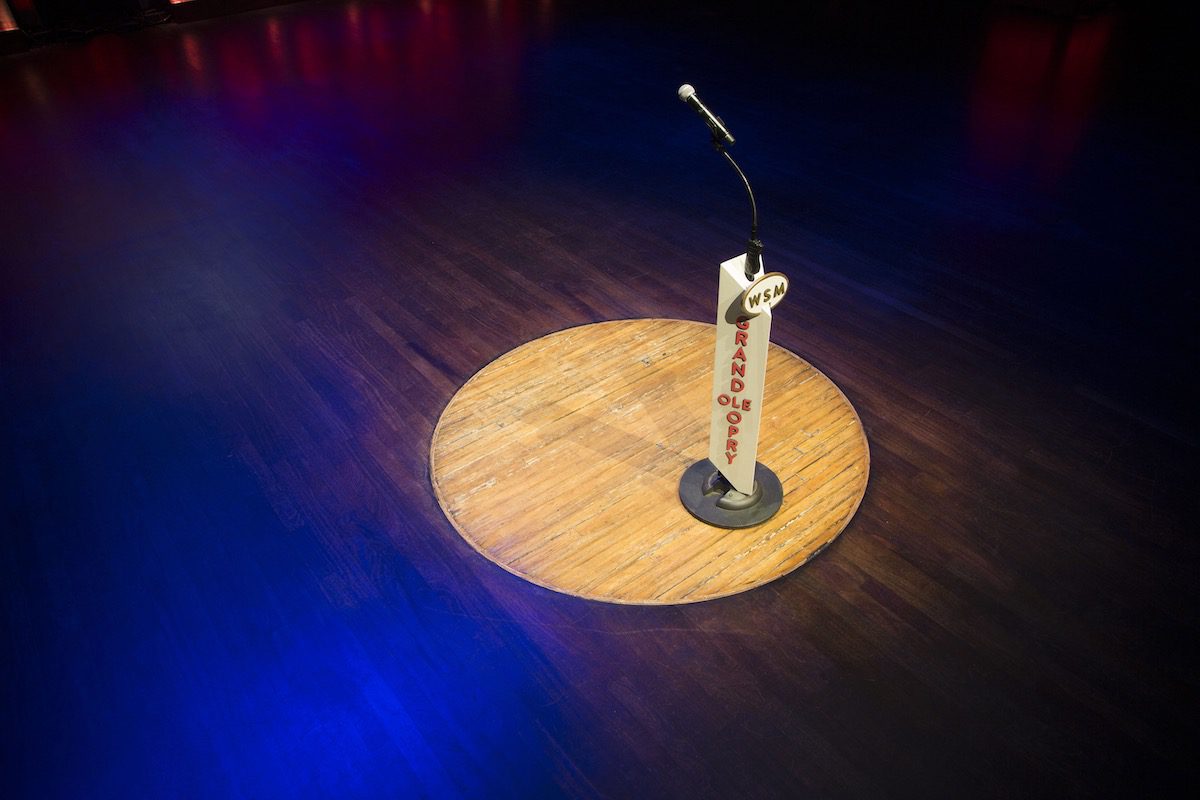 The Grand Ole Opry stage (photo by Chris Hollo via the Grand Ole Opry)
As part of its live programming marking Black History Month, the Grand Ole Opry aired video last weekend of an apology it formally issued last August to harmonica player and early Opry performer DeFord Bailey for dismissing him in 1941. Old Crow Medicine Show and its frontman, Ketch Secor, were among the people pushing for the apology, calling DeFord's dismissal "an act of racism" and praising the Opry for finally acting to put it right. Read the band's statement about the moment here. The apology was part of a tribute to Bailey that included his grandson, Carlos DeFord Bailey. Old Crow Medicine Show was there, too, and performed their song, "DeFord Rides Again," from their latest album, Paint This Town (ND review). Read more about the moment and its meaning in this coverage from Nashville TV station WSMV4.
Instrumental acoustic guitar musician Eli Winter wrote a fascinating essay for the Los Angeles Review of Books recently explaining in detail the "how" of his touring life (mostly solo, and almost exclusively via train and bus rather than car or van) but also the "why." It can be hard, when reading about the hardships of touring — the enormous cost, the constant work it takes to book shows — to understand why a musician would even bother. And Winter doesn't offer an answer, exactly. "I don't know how to reconcile my love for touring, the mountains of growth it has brought my life, with the knowledge that it could lead to my undoing — if not by illness, then by design," he writes. But when you read in the essay about him getting lost in the music onstage, and the connection with people at his shows, it becomes a lot more clear. Read Winter's whole essay in the Los Angeles Review of Books.
The right-wing spotlight of outrage has swung toward drag shows lately, and if you don't perform in drag or attend the shows, you might think it doesn't affect you. But if you're a fan of country music or related genres centered in Nashville, it does. Tennessee's SB 3, passed by the state Senate and now in the hands of House, calls for a vague ban on "male and female impersonators" on public property or anywhere a performer "could be viewed by someone who is not an adult." Trans and nonbinary musicians — not just those who work in drag — are understandably wary of what such a law would mean for their performances in the state and for their potential for doing business and growing their careers in an industry based in Music City. (Tennessee, of course, isn't alone in attempting laws aimed at restricting and intimidating LGBTQ residents — the American Civil Liberties Union is tracking bills in over 30 US states.) Read more about how Tennessee's bill threatens the lives and livelihood of musicians in this piece from The Boot.
WHAT WE'RE LISTENING TO
Here's a sampling of the songs, albums, bands, and sounds No Depression staffers have been into this week:
Jason Isbell – "Death Wish," from his new album, Weathervanes, coming in June (ND story)
S.G. Goodman – "Take It Away"
Tattletale Saints – "Wayfaring Stranger," from their new album of covers, In the Summertime, coming in March
Natalie Merchant (featuring Abena Koomson-Davis) ­– "Come On, Aphrodite," from her new album, Keep Your Courage, coming in April
Bella White – "Break My Heart," from her new album, Among Other Things, coming in April
Red McAdam – "Sunday"
Why Bonnie – "Apple Tree"
Joy Oladokun – "Changes," from her new album, Proof of Life, coming in April
David Wax Museum – "Luanne," from the duo's new album, You Must Change Your Life, coming in May
Taylor Ashton featuring Rachael Price – "Time After Time" (Cyndi Lauper cover), from Ashton's new EP, Pizza Tickets, coming in March
Durand Jones – "Lord Have Mercy," from his new solo album, Wait Til I Get Cover, coming in May
Rick Faris – "The Power of Love" (Huey Lewis & The News cover), from his new album, Uncommon Sky, coming in June
Libby Rodenbough – "Easier to Run," from her new album, Between the Blades, coming in May
Andrew Bird – "Never Fall Apart"
---