BONUS TRACKS: Remembering David Crosby, A New Country Competition Show, and More
Posted On January 20, 2023
---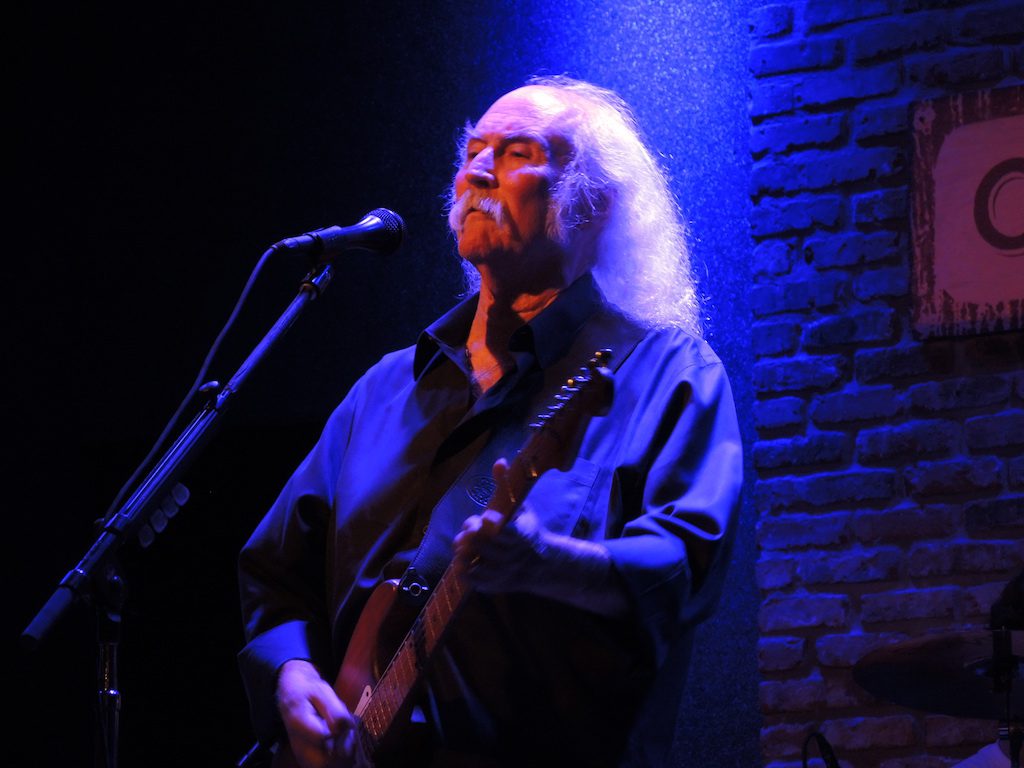 David Crosby in 2021 (photo by Kim Reed)
Maybe a star-studded reality show is what it's going to take to finally get mainstream country music to let someone other than white dudes onto the radio. Kacey Musgraves and actress Reese Witherspoon are producing an eight-episode series titled My Kind of Country for Apple TV+. The judges for the talent competition, who are tasked with selecting rising country artists for a musical showcase in Nashville, are Jimmie Allen, Mickey Guyton, and Orville Peck. The show, which starts March 24, is aimed at "breaking down barriers in country music by providing an extraordinary opportunity to diverse and innovative artists from around the world," according to Apple TV+. Read more about the show in this article from American Songwriter.
The IBMA Foundation is taking applications for its Arnold Shultz Fund grants through Jan. 31. The fund is aimed at supporting participation in bluegrass music by people of color, and grants are open to individuals, groups, organizations, and other entities with a demonstrated commitment to inclusivity. Shultz was a Black string musician from Kentucky who mentored and influenced Bill Monroe, even giving him one of his first paying gigs. Learn more about the grant program and fill out the application on the IBMA Foundation's website, where you can also see the seven grant recipients from 2022. One of them was North Carolina's PineCone roots music organization, which used the money to fund Dom Flemons' "Shultz's Dream" set at last year's International Bluegrass Music Association Bluegrass Live! festival, which will also be made into a documentary. Read our interview with Flemons about that project here.
Remakes have been in the headlines recently: Taylor Swift is famously reclaiming her music by re-recording it, and U2 just announced a new "re-imagining" of 40 of its past songs, tying in with Bono's new memoir. But as this Rolling Stone article points out, remakes have been around about as long as recorded music has, and the reasons range from strictly business, as in the case of Def Leppard's admitted grab for more licensing money, to purely creative, as with Lucinda Williams' 2017 update of 1992's Sweet Old World for a better sound and some tweaks to the lyrics. Read more about the wild world of remakes in the Rolling Stone piece.
If you'd like a glimpse into the near future of country music, Nashville Scene has got you covered. This week they published their 2023 Country Music Almanac, a collection of stories that includes an interview with Chapel Hart, a look at queer artists gaining ground in the industry, and a lively survey of country music journalists, including our own Through the Lens columnist Amos Perrine and frequent contributor Rachel Cholst.
As I was wrapping up writing this column Thursday evening, the news came of David Crosby's passing at age 81. His is a complicated legacy, but the music he created, and the way it influenced so many artists over so many decades, is simply something to be celebrated. Among the remembrances I've enjoyed reading so far are this one from The New York Times, which traces the jazz sounds he brought to The Byrds and Crosby Stills Nash & Young and his alternate tunings that inspired the freak folk movement, and the Los Angeles Times' collection of reactions and remembrances from fellow musicians and friends, including Graham Nash and Jason Isbell. (Crosby's last public performance, as it turns out, was alongside Isbell.) I was also struck by the quote at the end of this Rolling Stone obituary (Crosby was briefly a columnist there, giving people advice — sometimes dubious — in an occasional feature called "Ask Croz"): "I don't know if I have two weeks left of life or 10 years, but it doesn't matter," he told an interviewer from the magazine in 2021. "What matters is what you do with the time. If you sit there on your butt and worry about dying, then you fucking wasted it. I haven't been wasting it. I'm having a really good time, and feeling wonderfully about it."
WHAT WE'RE LISTENING TO
Here's a sampling of the songs, albums, bands, and sounds No Depression staffers have been into this week:
Willie Nelson – "Busted," from his new album in tribute to Harlan Howard, I Don't Know a Thing About Love, coming in March
Dolly Parton – "Don't Make Me Have to Come Down There"
La Reyna Y La Real – Mírame
Jabe Beyer – "Further On," the title track of Further On: The Songs of Billy Conway, out today
Damien Jurado – "Florence-Jean"
Kathleen Edwards – Failer
Meg McRee – "A Lot to Say"
Upstate – "Befriend"
Trapper Schoepp – "Cliffs of Dover"
Dave Hause – "Hazard Lights," from his new album, Drive It Like It's Stolen, coming in April
Fruit Bats – "Rushin' River Valley," from the new album, A River Running to Your Heart, coming in April
boygenius – "Emily I'm Sorry," from the trio's new album, the record, coming in March
---