BONUS TRACKS: Online Fests Take Shape, A WTF Wedding, and More
Posted On September 4, 2020
---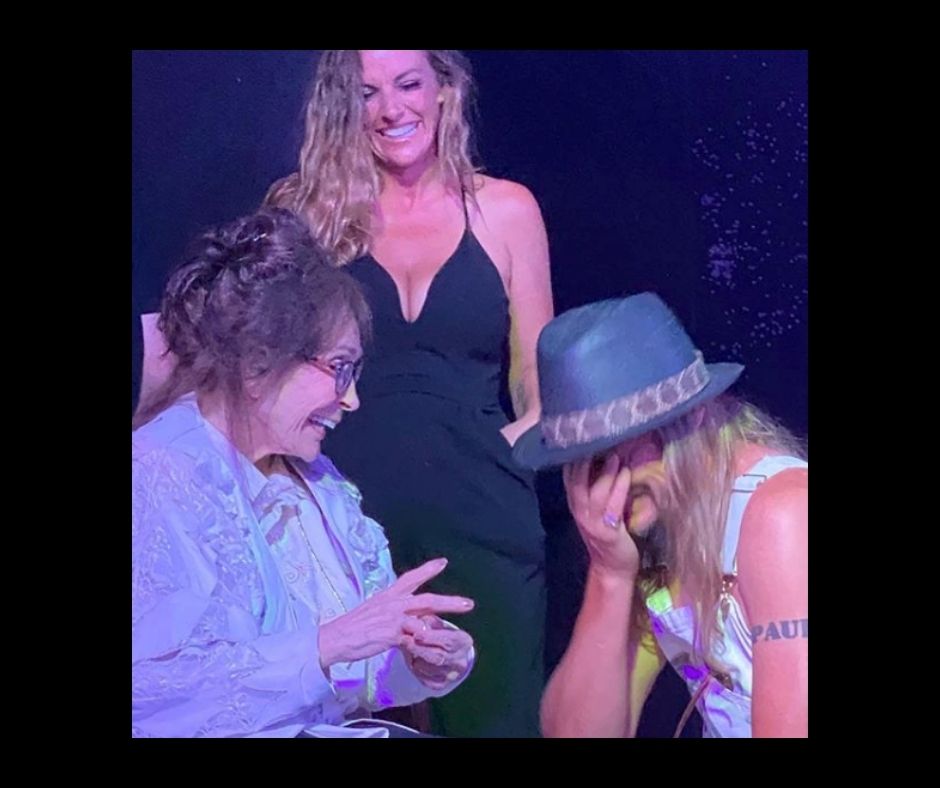 Loretta Lynn and Kid Rock, from @lorettalynnofficial on Instagram
Were it normal times, we'd be gearing up for a busy month of music festivals in September. Instead, we're in anything-but-normal times, and all our plans for music under the stars with a few thousand of our friends are crossed off the calendar. But in many cases, the show is going on virtually. It's not the same, but it's a lot better than nothing!
The International Bluegrass Music Association announced much of the lineup for its free IBMA Bluegrass Live! event Oct. 2-3 — virtual this year instead of all along the main drag and amphitheater in downtown Raleigh, North Carolina. Headliners include The Travelin' McCourys with Del McCoury, Steep Canyon Rangers, Jerry Douglas and Odessa Settles, and, in a set together, Sierra Hull and Molly Tuttle. For the business conference side of things earlier that week, Sarah Jarosz will deliver the keynote address. Go here for more info.
That same weekend, Hardly Strictly Bluegrass in San Francisco is celebrating its 20th anniversary with "Let the Music Play On …," what it calls "a broadcast bringing the Hardly Strictly Bluegrass experience to backyards and living rooms everywhere." Participants announced so far include plenty of HSB stalwarts, like Emmylou Harris, Buddy Miller, and Steve Earle. Dig deeper into the lineup here, and learn more about the festival's newly launched Hardly Strictly Music Relief Fund serving artists, venues, and workers.
And Farm Aid isn't sitting 2020 out either. Farm Aid 2020 On the Road is a three-hour online event (and fundraiser, as always) on Sept. 26 featuring usual suspects Willie Nelson, John Mellencamp, and Neil Young as well as Black Pumas, Brandi Carlile, Chris Stapleton, Margo Price, The War & Treaty, and more. More info here.
Sometime during this long weekend, you've got to sit down and read Rolling Stone's fascinating story of "Country's Lost Pioneer," Linda Martell. She was the first Black woman to play solo at the Grand Ole Opry, but her career fell off a cliff, for some reasons you might expect and others you might not. Read it here.
Wilco announced a deluxe edition of their 1999 album Summerteeth this week, to be released Nov. 6. You can read up on the details of what's on the 5-LP/4-CD set here, but here's what I'm really here to talk about: Did you know the cover art is a photo of a girl blowing a bubble? The band confirmed it on Instagram, blowing a lot of minds in the process.
In a more painful sort of mind-blowing, there's this matter of the "wedding" (note the scare quotes) of Loretta Lynn and Kid Rock last weekend. None of that is a typo. Believe me, I wish it were. The groom wore overalls. Read it here if you dare, but I will not be held responsible for any upset stomachs or eyeroll injuries.
But to cleanse your spirit after reading that, I leave you with something purely good: a reminder that today is Bandcamp Friday, when the platform waives its revenue share to ensure artists get the most from their sales. If you've been thinking of buying one of the killer new releases that have come out recently (check our Reviews page to refresh your memory), it's a very good day to do that!
What We're Listening To
Here's a sampling of the songs, albums, bands, and soundbites No Depression staffers have been into this week:
Dirk Powell – "I Ain't Playing Pretty Polly"
The Mavericks – En Español
Bettye LaVette – Blackbirds
Molly Tuttle – … but i'd rather be with you
ND's Best of the Month Spotify playlist (August was amazing, you guys!)
---