BONUS TRACKS: Mick Jagger's Instagram, NYE Concert Cancellations, and More
Posted On December 31, 2021
---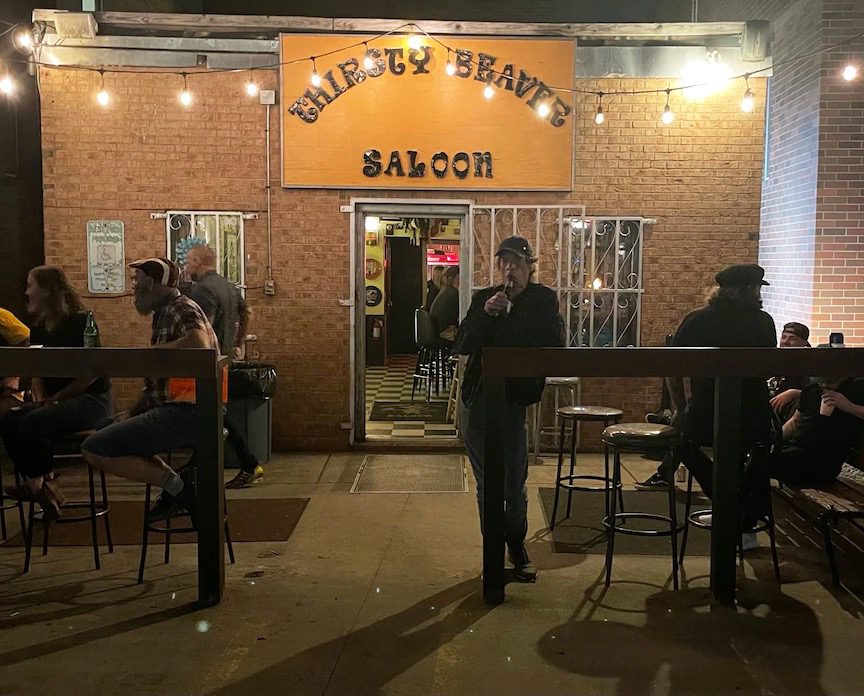 As The Rolling Stones toured America this fall, Mick Jagger delightfully documented his off-hours activities on Instagram: hikes in the woods, trips to local dive bars, a visit to the Gateway Arch in St. Louis — all seeming to attract no attention from the people in the background. Just a regular guy doing regular stuff on his day off. The Washington Post checked in with Jagger about what he does when he's not on stage and how he chooses some of the lower-profile sights to see along the way. (And, in the COVID era, how he stays safe on his excursions.) Come along with Mick as he recounts some of his favorite (and most documented) visits, and look for him in your favorite local haunts next time the tour comes through!
If you've been watching The Wheel of Time TV series, you know the music very much sets the mood for the fantasy tale. What you might not know is that some of it was performed by Our Native Daughters — the folk music supergroup of Rhiannon Giddens, Amythyst Kiah, Allison Russell, and Leyla McCalla. Amazon Prime recently posted a short video featuring the group recording songs for the series, including the opening theme, in Old Tongue, the language of the show's fictional fantasy world. The soundtrack from The Wheel of Time's first season, composed by Lorne Balfe, is available for purchase or streaming now. Read more about it in this article from Collider.
Brace for some déjà vu here: Cancellations because of (well-founded) COVID-19 concerns are rolling in, affecting how we celebrate the new year and how we gather to move music forward. Folk Alliance International announced earlier this month that it will be moving its annual conference, slated for February, to May 18-22. It is still hoped to be a hybrid event, with virtual participation as well as in-person showcases and panels in Kansas City, Missouri. You can learn more about the decision in this press statement or in this video from FAI Executive Director Aengus Finnan. In just the past few days, several New Year's Eve concerts have been crossed off the calendar. ACL Live's planned event in Austin, headlined by Spoon, was called off due to a sharp rise in COVID cases in the city, Phish moved a run of shows planned around New Year's Eve at Madison Square Garden to April, Billy Strings canceled a three-night hometown series in Michigan, and the Avett Brothers cited concerns about the health and safety of their audience, venue staff, and band members in calling off their New Year's Eve show at Greensboro Coliseum in their native North Carolina. Whatever you do to ring in the new year, I hope you'll be smart about it and safe. If we all look out for each other, which includes getting vaccinated, we can make live music a large part of our 2022.
COVID-19 vaccines are safe, effective, and our best bet for ensuring live music survives and thrives. In the US, vaccines are free and widely available. Visit vaccines.gov to find out where you can get a vaccine.
I don't want to end the year without stopping to acknowledge and honor the lives of those who died in 2021. On Christmas Eve we lost J.D. Crowe, a pioneering banjo player who helped steer bluegrass into bold new territory in the 1960s and '70s. You can read more about him in this obituary from The New York Times. Wide Open Country recently published a list of country and bluegrass folks who passed away, including Nanci Griffith, Tom T. Hall, Sonny Osborne, The Station Inn's J.T. Gray, and Don Everly. And Consequence offers a list of deaths from the wider music world, including Charlie Watts, DMX, Biz Markie, Chick Corea, and Stephen Sondheim.
Instead of ending this column with the usual "What We're Listening To" list from ND's staff (you can get an idea of that by reading the results of our 2021 Critics Poll!), we thought we'd welcome the new year by sharing a few of our musical resolutions:
Listen to more music (it's never enough!)
Play my instruments more
Keep up with my banjo lessons
Make more of a dent in the music-related books on my overflowing bookshelf
Procure a fuzz pedal and an electric bass
---