BONUS TRACKS: Lydia Jacoby's Gold Medal Bluegrass and a New Woody Guthrie Tribute
---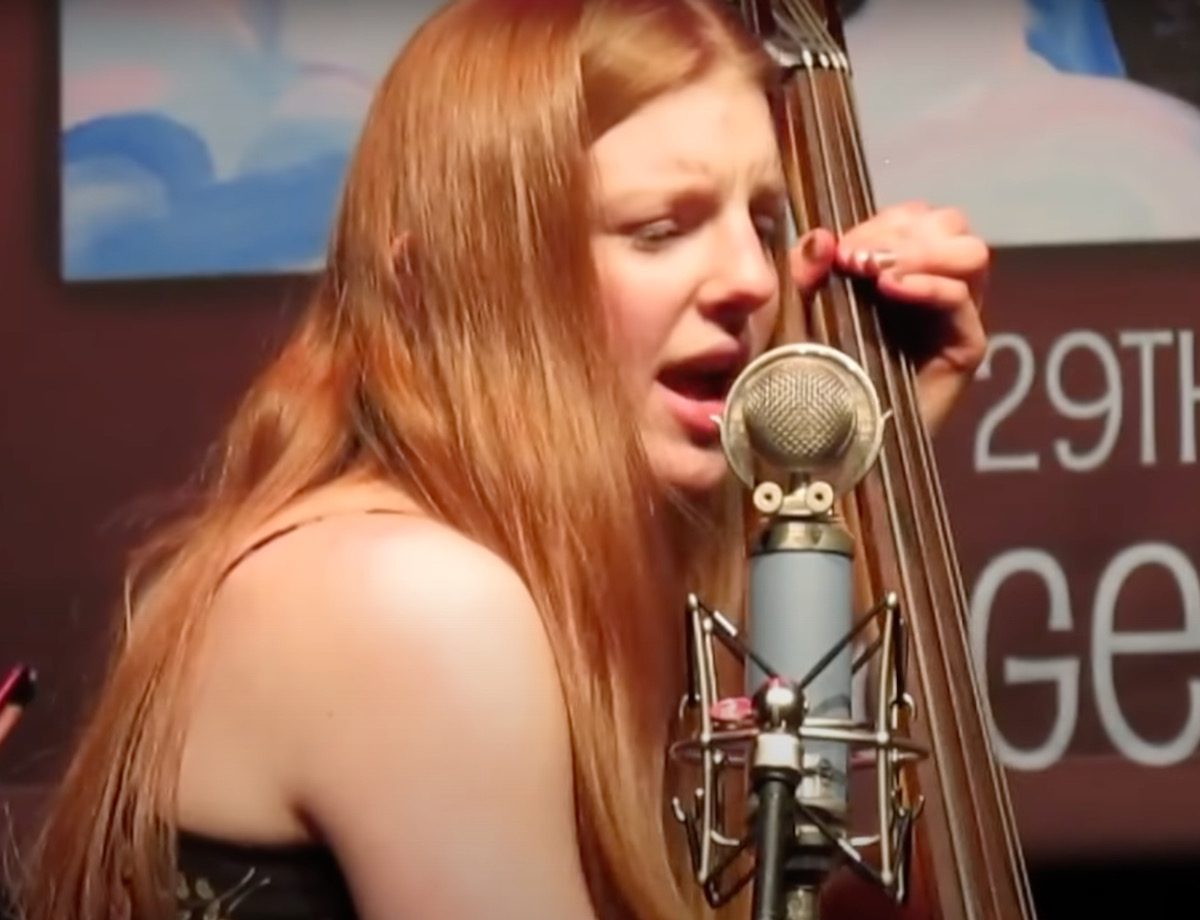 Gold-medal Olympic swimmer Lydia Jacoby fronting the Snow River String Band at the Anchorage Bluegrass Festival in 2018. (YouTube)
Lydia Jacoby has been one of the headline names to emerge from the Summer Olympics in Tokyo. The 17-year-old from Seward, Alaska, won a gold medal in swimming this week after a thrilling upset in the women's 100-meter breaststroke event. But swimming is only one of her considerable talents! As The Washington Post reports, she's also a bluegrass musician who plays bass and guitar and has appeared with her band, the Snow River String Band, at the Anchorage Bluegrass Festival. You can watch her taking the lead and bringing honor to her team, musically speaking, in this video from 2018.
This week has felt like somewhat of a tipping point as we come to terms with the fact that COVID-19 is nowhere near gone. Case numbers are ticking upward in many parts of the US, and people (unvaccinated, mostly) are still dying. As that sobering reality sets in, music venues — many of which are just starting to be able to present shows again — are considering requiring proof of vaccination for people wanting to come through the door. Austin is just one place where that action is being considered, with Shinyribs frontman Kevin Russell (who recently tested positive for COVID-19 despite being vaccinated) conducting a poll via Twitter and a local nonprofit circulating a petition to gauge interest among musicians. Read more about how COVID-19 is affecting Austin's vibrant music scene in this story from the Austin American-Statesman.
A fine group of roots/independent musicians has come together to record a tribute to Woody Guthrie's 1940 Dust Bowl Ballads album, which included songs such as "I Ain't Got No Home in This World Anymore" (here performed by Lost Dog Street Band), "Do Re Mi" (Colter Wall), and "Dust Bowl Blues" (Shovels & Rope). Also appearing on Home in This World: Woody Guthrie's Dust Bowl Ballads, out Sept. 10, are Watkins Family Hour, John Paul White, Chris Thile, Waxahatchee, Parker Millsap, and Swamp Dogg. The project benefits Kiss the Ground, an organization that advocates for regenerative agriculture. Read more about the project and hear The Secret Sisters' rendition of "Dust Cain't Kill Me," at Stereogum.
WHAT WE'RE LISTENING TO
Here's a sampling of the songs, albums, bands, and sounds No Depression staffers have been into this week:
Béla Fleck – "Charm School," featuring Billy Strings and Chris Thile, from his new album, Bluegrass Heart, coming in September
Hayes Carll – "You Get It All," from his new album of the same name, coming in October
Joshua Radin – The Ghost and the Wall
Maggie Rogers – "New Song" featuring Del Water Gap
Spencer Cullum – "Seaside" featuring Erin Rae
John Prine – Crooked Piece of Time: The Atlantic & Asylum Albums (1971-1980)
Buffalo Nichols – "Lost & Lonesome," from his self-titled debut album, coming in October
Miko Marks & the Resurrectors – "Long Journey Home"
---