BONUS TRACKS: Joni Mitchell to Join Brandi Carlile for 2023 Concert
Posted On October 21, 2022
---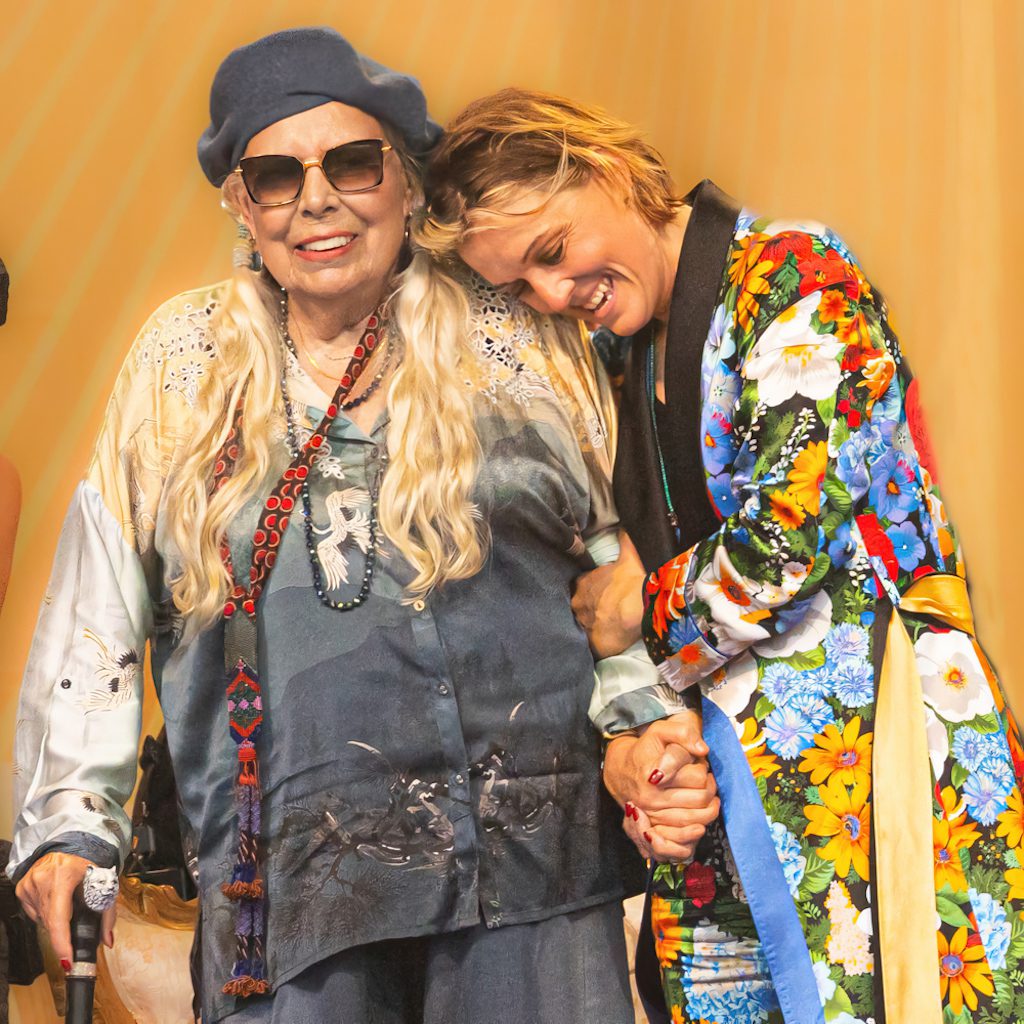 Joni Mitchell & Brandi Carlile - Newport Folk Festival 2022 - Photo by Anthony Mulcahy
After her triumphant surprise return to the stage after many years away at Newport Folk Festival this summer, Joni Mitchell has decided to book a show for 2023. She'll join Brandi Carlile at the Gorge Amphitheatre in Washington state next June for one of Carlile's "Echoes Through the Canyon" concerts. Carlile told The Daily Show's Trevor Noah that she and Mitchell started talking about the gig right after the Newport set, when Mitchell told her she wanted to play more. Learn more about plans for the June 10 show, which will mirror the private "Joni Jams" Mitchell has held in her home over the years, in the Daily Show interview.
Like all of us, singer-songwriter Glen Hansard heard the news of Russia's invasion of Ukraine earlier this year and felt helpless and sad. But he found himself buoyed by a snippet from a Patti Smith performance he'd recently watched, and then got to put that hope into action by helping a neighbor who'd taken in two Ukrainian refugee families. "People, take heart," Smith had told her audience. "Things will get better, and if they don't, we'll make them better!" As Hansard got to know one of the refugees near his home in Ireland and hear her stories, a song took shape. "Take Heart," released this week, features Hansard's former Swell Season partner Marketa Irglova, whose parents have taken in Ukrainian refugees in the Czech Republic. Also featured are as three Ukrainian refugees in Ireland on backing vocals. You can watch Hansard and his Ukrainian counterparts perform "Take Heart" in the video below:
Folk Alliance International's annual conference is set for next February, and details about the event are beginning to come into view. Valerie June will be the keynote speaker for 2023, and the conference theme will be "Facing the Future: Sustainability in Folk Music." FAI also announced this week a new "City of Honor" program that will zoom in on cities and scenes advancing today's folk music, with the first City of Honor being Memphis, Tennessee. The city's sound will be explored through showcases with Memphis-based artists as well as a panel titled "I'll Take You There: Making Music in Memphis Now." Learn more about the next FAI conference, taking place Feb. 1-5 in Kansas City, Missouri, here.
Singer-songwriter Andrea Von Kampen was originally signed up to write the soundtrack for A Chance Encounter, a Samuel Goldwyn Films feature set for release next Friday, but she ended up being one of its stars as well. The female lead character is a folk musician, so while Von Kampen was new to acting in movies, the role seemed made for her. In the movie, which was filmed in Italy, the folk musician meets an aspiring poet in Sicily as both seek inspiration, and chemistry and creativity collide against the scenic backdrop. The film opens in theaters and on demand on Oct. 28, but in the meantime you can check out the trailer here. The soundtrack is out today and features four original songs Von Kampen wrote based on the movie's script as well as covers of standards "Hard Times" and "Goodnight, Ladies."
Yep Roc Records is celebrating its 25th birthday this weekend with a party featuring some artists that helped the label get its footing in its earliest days as well as some of its newest signees. Among the performers Saturday at North Carolina's Cat's Cradle venue, not far from Yep Roc's Hillsborough headquarters, are Caitlin Cary (Whiskeytown, Tres Chicas), Dawn Landes, The Old Ceremony, Chris Stamey (The dB's), Jobi Riccio, and Ruen Brothers. Some Yep Roc musicians past and present also put together a video wishing the label a happy birthday, including Nick Lowe, Michaela Anne, Dave Alvin (and his cat Buddy), Kim Richey, Chuck Prophet, Jim Lauderdale, Tift Merritt, and Steep Canyon Rangers. We'd like to join in the well-wishing too: Happy birthday, Yep Roc, and thanks for 25 years of great tunes!
WHAT WE'RE LISTENING TO
Here's a sampling of the songs, albums, bands, and sounds No Depression staffers have been into this week:
Thee Sacred Souls – "Love Is the Way"
Noah Kahan – "Stick Season"
Maddie Witler – "Real"
The Tall Pines feat. Casey Driessen – "Ezekiel"
Kate Rhudy – "Ships in the Night"
Tom Petty – "Even the Losers"
The Bad Ends – "All Your Friends Are Dying"
WTF with Marc Maron podcast featuring Béla Fleck
Sylvie – "Further Down the Road"
Brandi Carlile – "Space Oddity" (David Bowie cover)
Leyla McCalla's Tiny Desk Concert
Wilco – "A Lifetime to Find"
---