BONUS TRACKS: FreshGrass Awards Season Opens, RIP Bobbie Nelson, Get Hip to Heardle, and More
---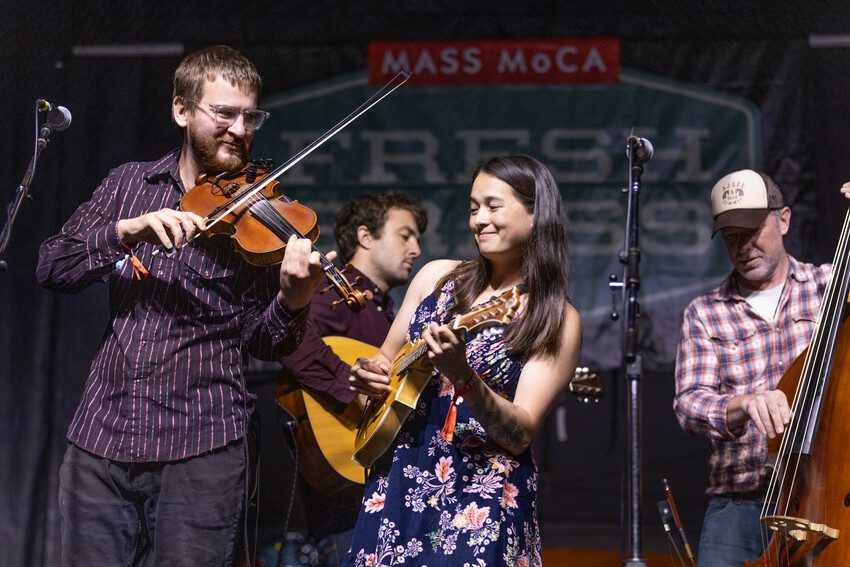 2019 FreshGrass Band Award winners AJ Lee and Blue Summit perform on the main stage at the FreshGrass Festival in North Adams, Massachusetts, in 2021. (Photo by Douglas Mason)
Winning a contest can be a great boost to a burgeoning musician's career, and if you're a picker pushing roots music forward, it's time to apply for this year's FreshGrass Awards, sponsored by the FreshGrass Foundation, the nonprofit organization that publishes No Depression. Cash prizes and more are awarded to finalists in the band, fiddle, banjo, and guitar categories, and finalists perform for the crowd and a panel of judges at the 2022 FreshGrass Festival in North Adams, Massachusetts. Submissions are accepted through May 15 via this form. Fans, don't sit this out! If you know an artist you think would be interested, please encourage them to apply.
Music venues have been up and running again for a while after months of shutdown early in the pandemic, but business is still far from normal. COVID-19's omicron variant kept crowds away, causing show cancellations for slow ticket sales and even no-shows for paid tickets, which can still hurt the bottom line, as this story from Durham, North Carolina's IndyWeek explains. Even now, ticket sales are slow at many venues as audiences are wary of committing to events in advance. That's understandable, but it's also more bad news for venues. If you feel safe doing so, make your favorite venue's day by jumping off the fence and buying that ticket you've been thinking about.
Bobbie Nelson, Willie Nelson's older sister and piano-playing bandmate in their Family Band, died Thursday, according to a statement from the family. She was 91 years old. She appeared on several of Willie's albums, including Shotgun Willie and Red Headed Stranger. Bobbie and Willie Nelson worked together, with David Ritz, on 2020's memoir Me and Sister Bobbie: True Tales of the Family Band (ND review). Read more about her life and musical contributions in this obituary from Rolling Stone.
In Ukraine, musicians and venues are using their voices and networks for advocacy and aid for their fellow citizens, and several spoke with Spin about how people are feeling and what they need from the rest of the world amid invasion from Russia. Hear what they're experiencing and how they're coping — and what they hope the outside world understands about the situation — in this piece by The Hold Steady's Franz Nicolay.
You've heard about Wordle — probably more than you'd like to if you're on social media and sick of people sharing those yellow, green, and gray squares. But as a music fan, Heardle might be a game you can get behind. The object is to guess a song in six tries based on audio snippets that get a bit longer with each guess: the first few guesses give you one second of the song, from the top, then the snippets get more generous as you need more help. Unfortunately, you can't customize the music by the era or genre you know best; the songs are "semi-randomly plucked from a long list of popularly streamed artists," according to the game's info page.
Publicists are a big part of making the music world go 'round as artists try to get their names out there and media outlets try to bring you their stories. Most of them are passionate fans of the music they're promoting and wizards at finding the compelling story behind each project. One of the very best in the biz is Cary Baker, who has helped No Depression bring you reviews and stories about your favorite artists for as long as we've existed. In fact, he's been at it for 42 years, most recently as the head of his own firm, Conqueroo, whose motto is "Music publicity since 6:30 this morning" (and I can confirm that's legit). Cary announced last week that he's retiring as of March 18. That means, perhaps, that he'll finally get to sleep in, but by no means is he planning to sleep on the wide range of music he loves. In this interview with Variety, he mentions plans for writing about music on his own terms, and of course continuing to attend concerts and conferences. You can also read about his contributions to R.E.M.'s stardom, his long-time client James McMurtry, and other highlights of a remarkable career. All of us at No Depression are so grateful to Cary for his help and his friendship over the years.
WHAT WE'RE LISTENING TO
Here's a sampling of the songs, albums, bands, and sounds No Depression staffers have been into this week:
Kathleen Edwards – "Options Open (Acoustic)," from her new EP, Dogs and Alcohol, coming in April
Leyla McCalla – "You Don't Know Me," from her new album, Breaking the Thermometer, coming in May
Allison Russell featuring Sa-Roc – "All of the Women (Dim Star Remix)"
Delbert McClinton – "Ain't That Loving You" (Jimmy Reed cover) from his upcoming album, Outdated Emotion, coming in May
Erisy Watt – "Big Sky"
Madeleine Kelson – "Make You Proud"
Lo_Liner – "Cascadia Subduction Zone Blues"
Aoife O'Donovan – "What Else Can I Do?" (Encanto cover); proceeds to go Mi Familia Vota
Cloud Cult – Metamorphosis
Caroline Spence – "Clean Getaway," from her new album, True North, coming in April
---