BONUS TRACKS: Changes to the Punch Brothers Family and Willie on the Big Screen
---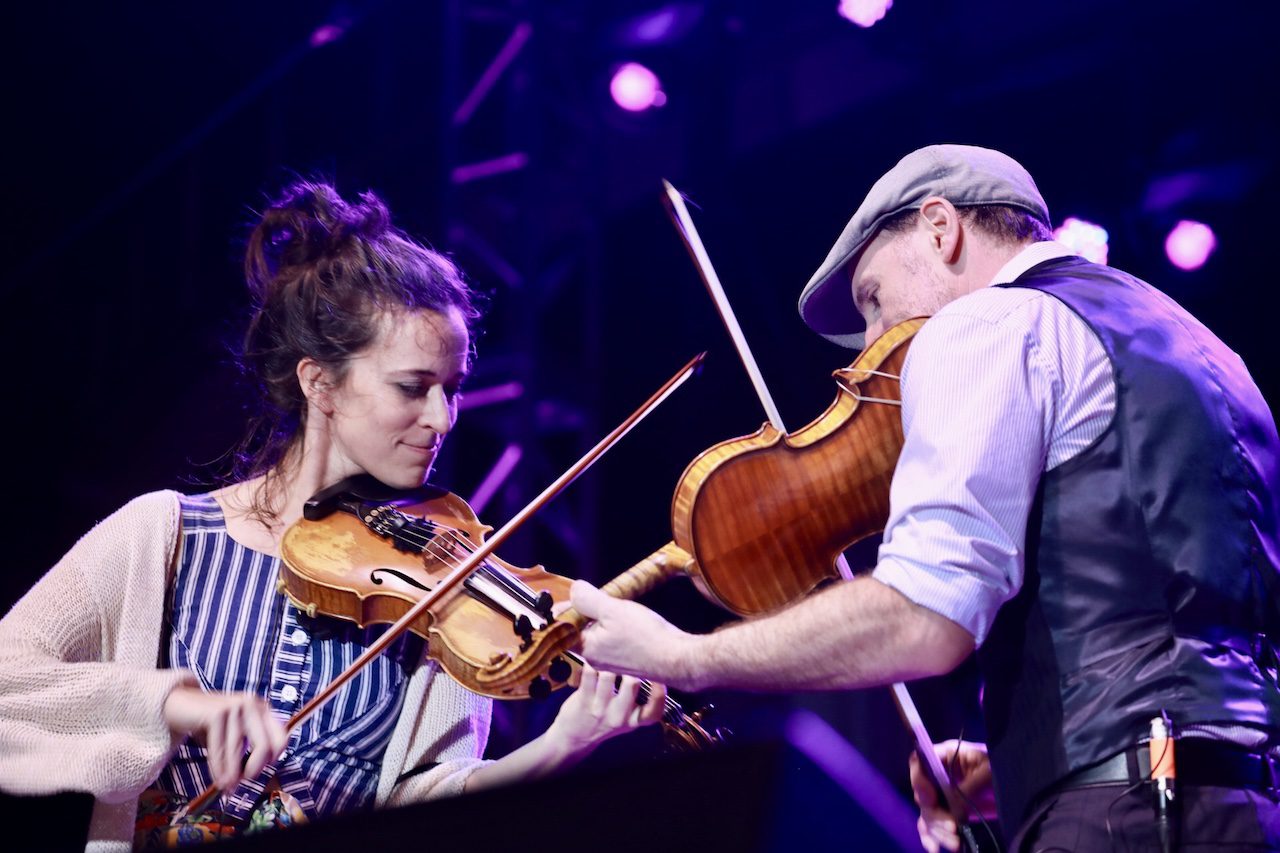 Brittany Haas and Gabe Witcher jam aboard Cayamo 2022. Witcher is departing Punch Brothers after 18 years, and Haas has been named the band's new fiddle player. (Photo by Larry John Fowler)
The Punch Brothers announced Thursday that fiddle player Gabe Witcher is exiting the band. Witcher, a founding member who's been part of the group's lineup for its entire 18-year history, "has decided it's time for the next step in his musical journey," according to a post on the band's social media accounts. No further details about his plans were given. But the band has a plan in place going forward: Hawktail fiddle virtuoso Brittany Haas was announced in the same post as the band's "new sibling." Witcher, who has also composed film and TV scores and produced albums for Sara Watkins, Noam Pikelny, and others, will play his last shows with Punch Brothers at the Telluride Bluegrass Festival in a couple weeks.
View this post on Instagram
If you couldn't make it to Los Angeles' Hollywood Bowl for Willie Nelson's musical 90th birthday bash a few weeks ago, don't worry — it's coming to a theater near you! Long Story Short: Willie Nelson 90, featuring selections from two days of star-studded concerts, will open in movie theaters nationwide on June 11, with additional screenings through June 15. Visit willienelson90experience.com to check showtimes near you, and read more about it via this story from The Associated Press.
One of the artists at Willie's birthday celebration was Sturgill Simpson, and he's about to make an appearance on your small screen, if you watch the Max (formerly HBO Max) show The Righteous Gemstones. A teaser for season three of the show, about a televangelist family, shows a glimpse of Simpson as a heavily armed militia member cut into scenes with star (and show creator) Danny McBride, John Goodman, Edi Patterson, and Adam DeVine. The Righteous Gemstones returns for its new season on June 18, and you can watch the trailer in this article from Rolling Stone.
WHAT WE'RE LISTENING TO
Here's a sampling of the songs, albums, bands, and sounds No Depression staffers have been into this week:
Old Crow Medicine Show – "Louder Than Guns"
Henhouse Prowlers – "Lead and Iron"
Adeem the Artist – "ICU"
The Lowlies – "Simple Reminder"
Jacob Sharp feat. Aoife O'Donovan – "Other Side"
Bobby Rush – "I'm the One," from his new album, All My Love For You, coming in August
The War and Treaty – "Dumb Luck"
Dropkick Murphys feat. Jaime Wyatt – "Bring It Home"
Margaret Glaspy – "Act Natural," from her new album, Echo the Diamond, coming in August
Small Paul Band – "Miner for a Dream"
Jax Hollow – "Only the Wild Ones"
Joanna Sternberg ­– "People Are Toys to You," from their new album, I've Got Me, coming June 30
Cut Worms – "Ballad of the Texas King," from their new self-titled album, coming in July
My Sister, My Brother – "Another Life," from their new album, My Sister, My Brother II, coming in September
Hiss Golden Messenger – "Nu-Grape," from his new album, Jump For Joy, coming in August
---