BONUS TRACKS: How Much Would You Pay for a Bruce Springsteen Ticket?
---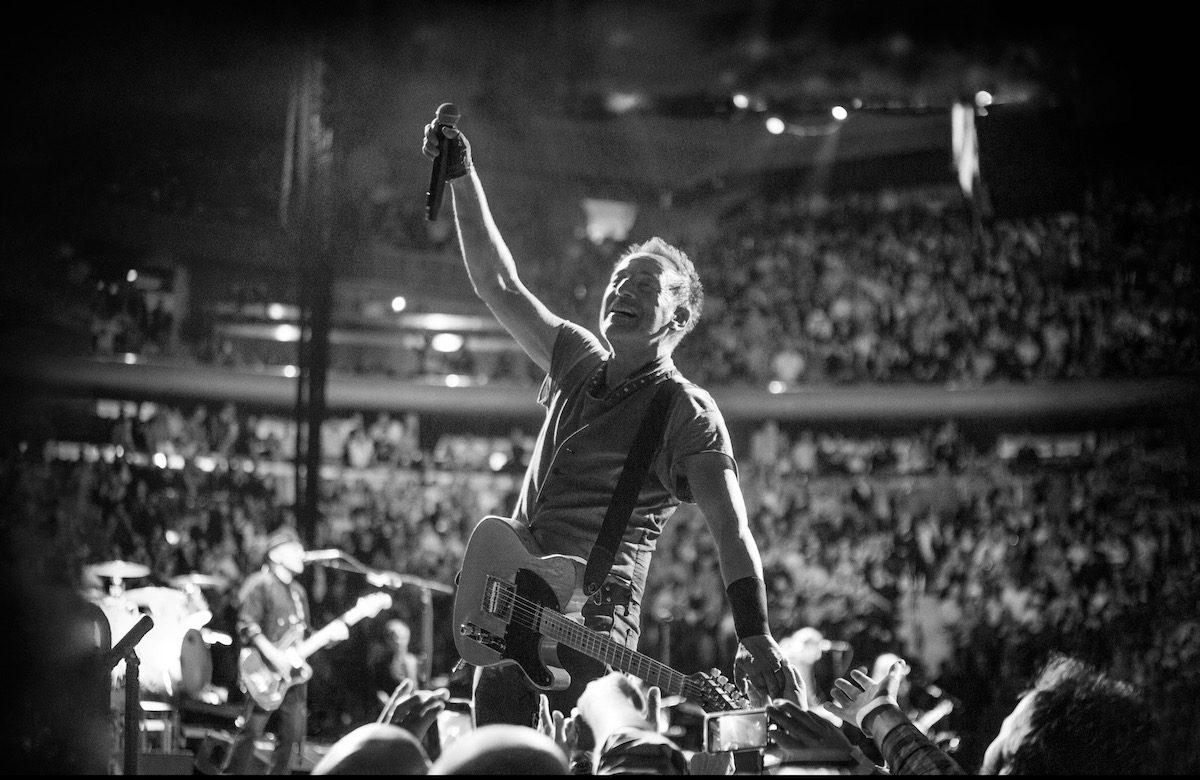 Bruce Springsteen onstage (photo by Danny Clinch)
Look, Bruce Springsteen tickets aren't cheap, and they haven't been for a while. You're going to pay a few hundred bucks to see The Boss unless you luck out and snag a nosebleed seat before the scalpers scoop 'em up. But this week a few hundred turned into a few thousand within a few hours of tickets going on sale for Springsteen's 2023 arena tour under Ticketmaster's new "dynamic pricing" program. Purported to help consumers (LOL), artists, and promoters by setting prices according to demand, the pricing scheme pushed midrange floor seats for several of Springsteen's shows to $4,000-$5,000 (including, of course, several hundred in fees). As it turns out, even the most ardent Springsteen fans have their limit, and this pushed them past it. As Variety reports, they took to Twitter with their outrage, many asking Springsteen himself to, like, do something about it. Springsteen hadn't responded as of Thursday night; Steven Van Zandt/Little Steven took to Twitter to throw up his hands and reiterate that he has nothing to do with the price of tickets. Which is true, technically, but if The Boss can't use his leverage to solve a problem, who can? (Well, the fans can, actually. Many of the people complaining said they went ahead and bought those tickets anyway, which just tells Ticketmaster and its algorithms that dynamic pricing is working fine, does it not?)
The latest on the list of '90s pop stars getting another turn in the pop culture spotlight is Shania Twain, who seems to be everywhere all of a sudden. As a new generation of music fans finds and falls in love with her bold style in country music and fashion, a documentary coming to Netflix next Tuesday fills in her backstory for those who might not be familiar. Not Just a Girl traces Twain's humble beginnings in Timmons, Ontario, onward to her arrival in Nashville and through her rise into the stratosphere. Along the way, she forged her own path and inspired many others musicians to do the same, including Orville Peck, Diplo, and Avril Lavigne, who offer their thoughts in the film. The documentary is accompanied by a compilation of key Twain songs (plus one new track) titled Not Just a Girl (The Highlights) and includes footage of Twain recording her latest project, her forthcoming sixth album. Learn more about the film via People, and watch the trailer here.
Best-of lists are bread-and-butter for music magazines (yes, we do them too), but it's rarer to see a worst-of list. In its "50 Worst Songs By Otherwise Great Artists" list, Spin takes some of your favorite artists and bands to task for their missteps. Willie Nelson gets a slap, as does Fleetwood Mac (and not for any of the songs you'd expect), both The Beatles and The Stones, and even Bob Heckin' Dylan. Is a list like this petty? Yeah, maybe. And it's sure to make you mad at least a few times as you read through. But to me it's just showing how high these artists have set our expectations, and it serves as a reminder that everyone takes a little stumble every once in a while. They generally go right back to greatness, and so can we!
WHAT WE'RE LISTENING TO
Here's a sampling of the songs, albums, bands, and sounds No Depression staffers have been into this week:
Lucy Dacus ­– "Believe," a cover of the Cher hit for Spotify Singles
The Tallest Man on Earth – "För sent för Edelweiss"
Waxahatchee and Kevin Morby – "Tears in the Typing Pool" (Broadcast cover) and "The Goldheart Mountaintop Queen Directory" (Guided by Voices cover), released via Bandcamp as a fundraiser for Vote No Kansas as the organization fights a bill in the artists' home state that would clear a path for Kansas to ban abortion
Chris Pierce – "45 Jukebox"
Twain – "The Priestess"
Bonny Light Horseman – "Summer Dream," from their new album, Rolling Golden Holy, coming in October
John Coltrane – Sun Ship
Tim Baker – "Year of the Dog"
Cass McCombs – "Karaoke" from ­ his new album, Heartmind, coming in August
Chuck Prophet – "Pin a Rose on Me"
Dustbowl Revival – "Lying to Myself," from their new EP, Set Me Free, coming in October
Jake Blount – "Once There Was No Sun," from his new album, The New Faith, coming in September:
---