BONUS TRACKS: Allison Russell and Brandi Carlile Join Forces + More Roots Music News
Posted On August 19, 2022
---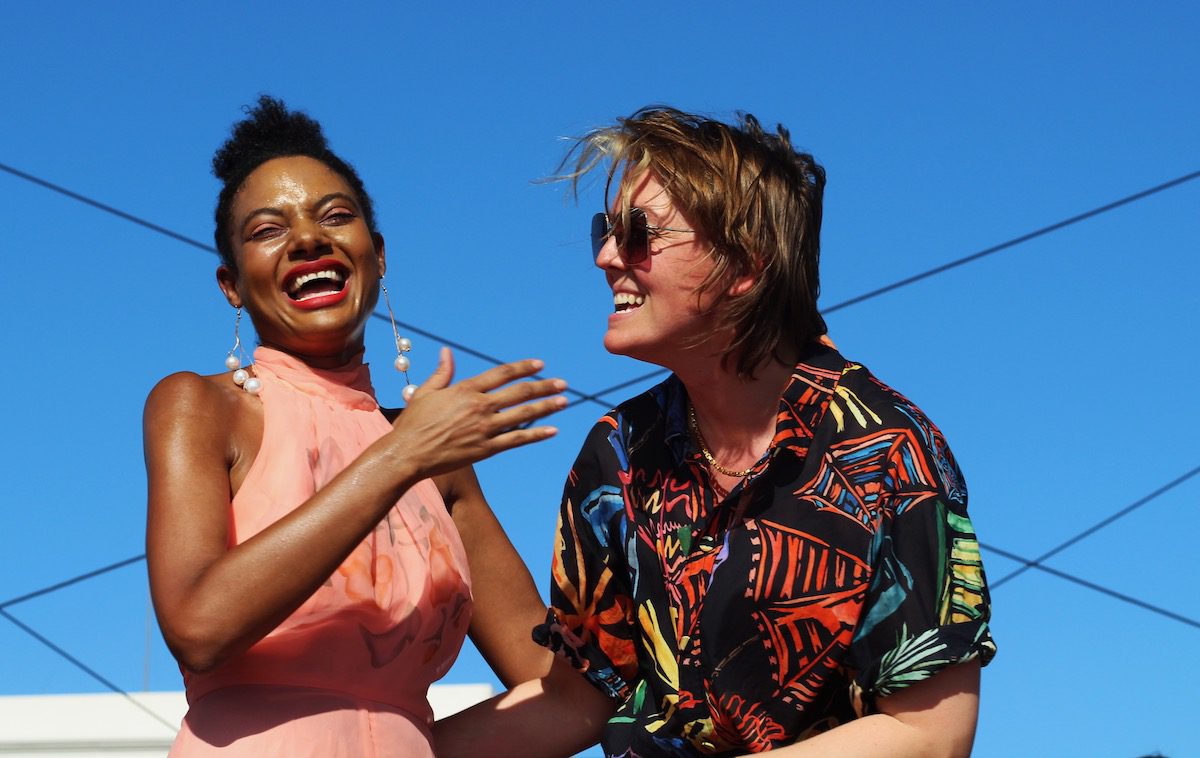 Allison Russell and Brandi Carlile at Girls Just Wanna Weekend in February 2022 (photo by Aimsel Ponti)
In addition to being innovative, bold roots musicians, both Allison Russell and Brandi Carlile are known for their big hearts and commitment to positive change, so it feels completely right that they've come together to record "You're Not Alone," Russell's song originally on the Songs of Our Native Daughters album in 2019. Here, the song gets a strings accompaniment from SistaStrings, and proceeds from the song on Bandcamp will benefit the Everytown for Gun Safety Support Fund from Carlile's Looking Out Foundation and The Fight for Reproductive Justice Campaign. In verse accompanying the single's release, Russell wrote:
Every child deserves to be loved and protected. Our families with LGBTQIA+ parents are just as precious.
No one should be forced into the sacred role of parenthood against their will.
Human Rights are worth fighting for.
We've come a long way but we must go farther still.
Just as Gretchen Peters' live album, The Show: Live From the UK, lands in the world today, Peters has announced that, for the touring side of her career, the show is over. The pandemic provided part (but not all) of the push to "reclaim more of my personal life," she explains in an interview with Folk Alley. Robert Earl Keen and Steep Canyon Rangers' Woody Platt have similarly announced plans to stop touring, though they, as well as Peters, intend to continue making music. Read more about Peters' decision to come off the road via her announcement on Facebook.
Touring is getting harder for musicians in the pop world, too, even those with the biggest of budgets to work with. Some pop stars like Adele, Harry Styles, and BTS are turning to residencies — extended stays in one town — to keep costs and hassles down. Read more about the economic forces behind residencies and what they might mean for the future of touring in The New York Times.
If the phrase "Indigenous music" brings to mind a certain sound, whatever that sound is, you're probably only scratching the surface. Native composers are weaving their histories and experiences into experimental music infused with power and meaning. Read more about Indigenous musicians exploring new sonic frontiers in this piece from The New York Times.
WHAT WE'RE LISTENING TO
Here's a sampling of the songs, albums, bands, and sounds No Depression staffers have been into this week:
Andrew Bird and Iron & Wine Tiny Desk Concert
Ron Pope – "Dreams" (Fleetwood Mac cover)
Becky Buller – "Millworker" (James Taylor cover)
Anthony D'Amato – "Ships in the Night," from his upcoming album, At First There Was Nothing, coming in October
The Deslondes – "South Dakota Wild One"
TIM – "High Hopes"
Various Artists – Pacific Breeze: Japanese City Pop, AOR, and Boogie 1972-1986
Emily Elbert – "Stream of Consciousness"
Margo Cilker – "That River"
Adrian Quesada – Boleros Psicodélicos
Goose and Trey Anastasio Band tour announcement video:
---