BONUS TRACKS: A Roots Music Guide to the Grammys, Eric Church's Basketball Cancellation, and the Latest FreshGrass Lineup
---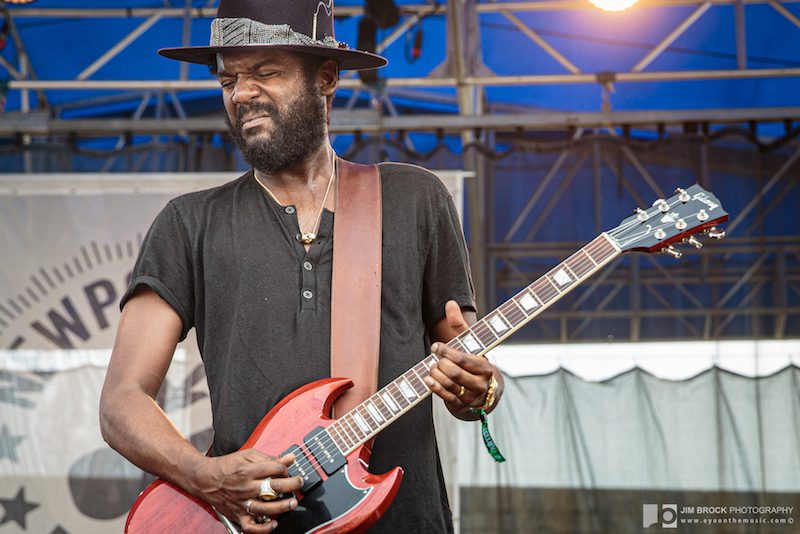 Gary Clark, Jr. - Newport Folk Festival 2018 - Photo by Jim Brock
Do you ever have a secret you're dying to share, but you can't right away? It's such a relief when the news can finally come out, especially when it's something good. That's how all of us at No Depression are feeling about this week's lineup announcement for FreshGrass | North Adams! Heading to the very cool grounds of MASS MoCA in North Adams, Massachusetts, with us Sept. 23-25 will be Gary Clark Jr., Old Crow Medicine Show, Trampled by Turtles, Yola, and a ton more. We're especially excited about the FreshGrass Awards, a showcase of up-and-coming talent in bands and on banjo, guitar, and fiddle that offers cash prizes and more to finalists. Learn more about the awards (applications are being accepted now!) and about the FreshGrass Festival in North Adams here. The festival is hosted by the FreshGrass Foundation, which publishes No Depression.
If you're a college basketball fan, this weekend is a very big deal to you. If you're a University of North Carolina fan, it's pretty much the biggest deal of all time. The entire Tar Heel Nation will be tuned in to watch the UNC-Duke rivalry play out in the Final Four, a historic event in itself, but the stakes even higher as the pair-up comes in Duke coach Mike Krzyzewski's final season before he retires. What Carolina fan could resist? Not Eric Church, apparently. On Tuesday he canceled a show scheduled for Saturday night in San Antonio so he can watch the game. "This is the most selfish thing I've ever asked the Choir [his fans] to do," Church said in a message to fans accompanying a notice of the cancellation, "to give up your Saturday night plans with us so that I can have this moment with my family and sports community." Billboard reports that there is no reschedule for the San Antonio date so far. Reaction was mixed, with many Texas ticketholders understandably upset. In North Carolina, though, I can report firsthand that there's considerably more understanding for the move. I can't offer an opinion on UNC vs. Duke, because despite living in Raleigh, I don't care. But I do think that a real basketball fan would never book a show on Final Four or Championship nights, just in case.
In case the Academy Awards weren't enough glitz and glamour (and, ummmm, extremely uncomfortable drama) for you last weekend, this Sunday brings music's turn in the spotlight: the Grammy awards! The 64th annual event is a long time coming, originally slated for Jan. 31 but pushed back amid the Omicron surge, and is shifting this year from Los Angeles to Las Vegas. Trevor Noah will return as host. The main event will be broadcast on CBS and streamed live on CBS.com starting at 8 p.m. ET. But the most important Grammys — to roots music fans, anyway — are handed out during the Premiere Ceremony, streaming live at live.grammy.com and the Recording Academy's YouTube channel starting at 3:30 p.m. ET. LeVar Burton will host as Grammys are given in categories including Best Americana Album, Best American Roots Song, Best American Roots Performance, Best Contemporary Blues Album, Best Traditional Blues Album, Best Bluegrass Album, and more. Allison Russell and Madison Cunningham are among the scheduled performers, and Arlo Parks and Sylvan Esso will be on hand to present awards. (Billy Strings will perform during the prime-time broadcast in a segment that seeks to spotlight genres that are out of the mainstream.) Need a refresher on the nominees for the roots music categories? I've got you. We'll be covering the Grammys on Sunday starting with the Premiere Ceremony, so stay tuned to nodepression.com. (Just don't ask us who we're wearing, because it's probably going to be sweatpants.)
COVID-19 is still lurking around, but most states have ended their mask mandates as the number of overall cases decline. So if you've been to an indoor concert lately, you probably haven't seen a lot of masks. But that puts touring artists who are just getting their feet back under them after a year-and-a-half pause in a precarious position. If they contract COVID-19, the tour comes to a screeching halt, and so does their income. "A breakthrough case could wind up costing your favorite artist tens of thousands of dollars of expected income, the difference between a profitable tour and a tour in the red," Speedy Ortiz singer Sadie Dupuis told Pitchfork. The article speaks to several artists who are trying to balance risking their health by touring and risking their income and momentum with fans by staying home. For many, masks are a precaution that can make touring feel possible, and they're begging fans to help them out by covering up — even when their state doesn't require it. The article also talks to venues that are working out a balance of their own as they try to accommodate fans who just want shows to feel normal again.
If you've been itching for some new music, it's your lucky day! Or, really, artists' lucky day, as it's Bandcamp Friday, and the platform is again waiving its fees to maximize the dollars that go directly to the artist. Treat yo'self!
WHAT WE'RE LISTENING TO
Here's a sampling of the songs, albums, bands, and sounds No Depression staffers have been into this week:
Chatham Rabbits – "You Never Told Me I Was Pretty," from their new album, If You See Me Riding By, coming in June
Nicki Bluhm featuring A.J. Croce – "Love to Spare," from her new album, Avondale Drive, coming in June
Various Artists – Music for Ukraine (We Jazz Records)
Lyle Lovett – "12th of June," the title track from his new album, coming in May
Brandee Younger – "Unrest I" and "Unrest II"
Barnaby Bright – "Castle Rock"
Woody Platt featuring The Duck Band (Jerry Douglas, Barry Bales, Rob McCoury, Daren Shumaker, Jason Carter, and Buddy Melton) ­– "One Last Goodbye"
Dallas Ugly – "Watch Me Learn"
Jadea Kelly – Roses
Zoe Sky Jordan featuring Jeremy Lister – "Hotel Shower"
Willi Carlisle – "Tulsa's Last Musician," from his new album, Peculiar, Missouri, coming in July
---