Bonny Light Horseman Announces Second Album, 'Rolling Golden Holy'
---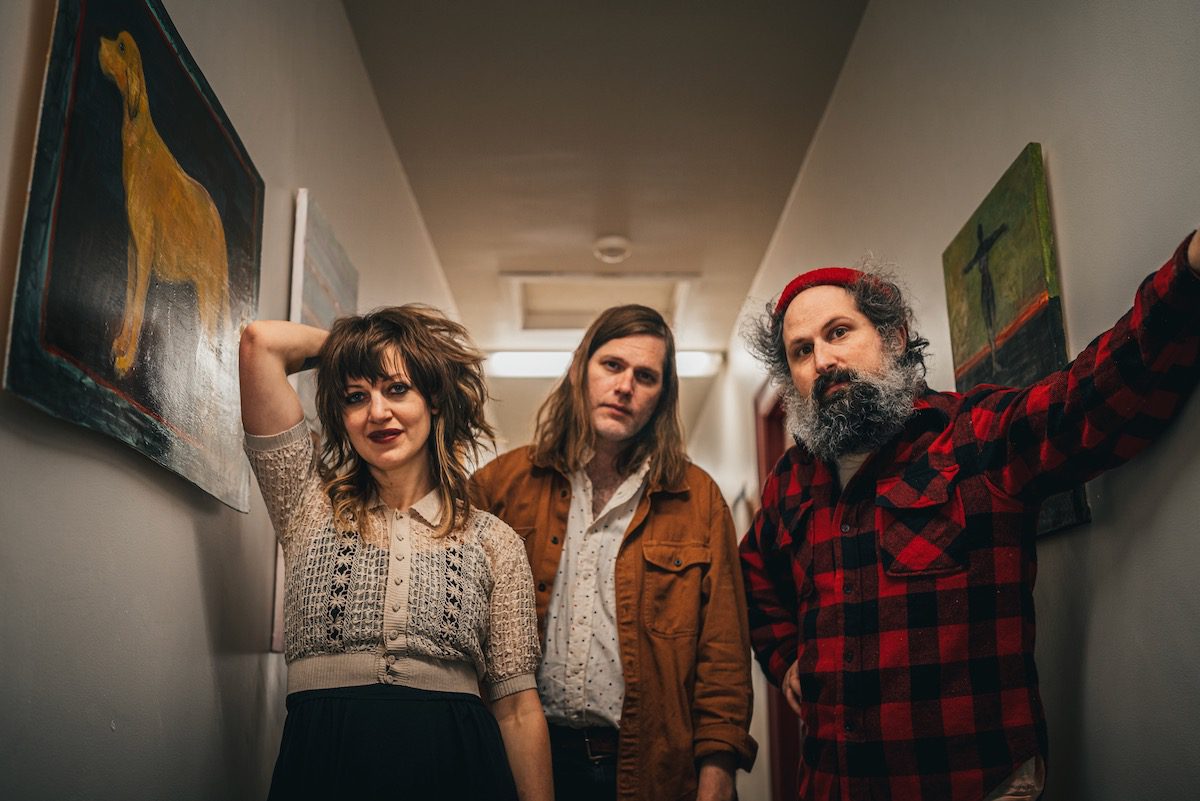 From left, Anaïs Mitchell, Eric D. Johnson, and Josh Kaufman, together as Bonny Light Horseman (photo by D. James Goodwin)
The self-titled debut album from Bonny Light Horseman — modern folk powerhouses Anaïs Mitchell, Eric D. Johnson, and Josh Kaufman — was a bright spot in 2020. And now the trio is back to brighten our 2022 with a new album, Rolling Golden Holy, coming Oct. 7 on 37d03d Records.
Like their debut, Rolling Golden Holy taps into old sounds to create something thoroughly new, but there's a different feel here, the group explains in a press release announcing the album and its first single, "California."
"Our first record was largely centered on the old world, whether it was some sort of mythical sweeping landscape on some British Isle, or maybe the old cities of the American East," says Johnson. "This is probably our first West Coast song. It's a sad one, a story about pulling up roots, new beginnings, goodbyes, early morning long drives, riding into the sunrise instead of the sunset. They usually don't end movies riding into the sunrise, but this movie has that scene."
The album came into being over writing and recording sessions at Aaron Dessner's Long Pond studio in New York's Hudson Valley (as seen in a documentary about Taylor Swift's 2020 Folklore album) and an old church-turned-studio called Dreamland near Woodstock. Those sessions took a "yes, and" approach that challenged each member of the trio to go a little farther and explore the boundaries of folk music both traditional and modern, according to the announcement.
Even apart, each of Bonny Light Horseman's members are known for creating new paths in folk music. Mitchell released a stunning self-titled album last January (ND story), her first solo release in a while since she's been busy with her Tony-winning Broadway show Hadestown. Kaufman has worked on stage and behind the scenes with Bob Weir, Dessner's band The National, The War on Drugs, and Josh Ritter. And Johnson's voice is familiar from his long-running project Fruit Bats, which released its latest album, The Pet Parade, in March 2021 (ND review).
The group is currently on tour with Bon Iver and has added some dates of their own through the summer.
Listen to "California" below, which Johnson says "started off as a little crooked minor-key old timey tune."
"Then the three of us took it through the ringer together and it became what you're hearing now," he continues. "We sat in a room in the woods of New York and clawed and pawed at it until it turned into a little bittersweet shuffler."
Bonny Light Horseman's self-titled album was voted the best roots music album of 2020 by No Depression's staff and contributors, and was included in the 50 best albums chosen by ND readers as well. Read our feature story about the album here.
---