Billy Strings, Appalachian Road Show Win Big at Bluegrass Awards Ceremony
Posted On September 30, 2021
---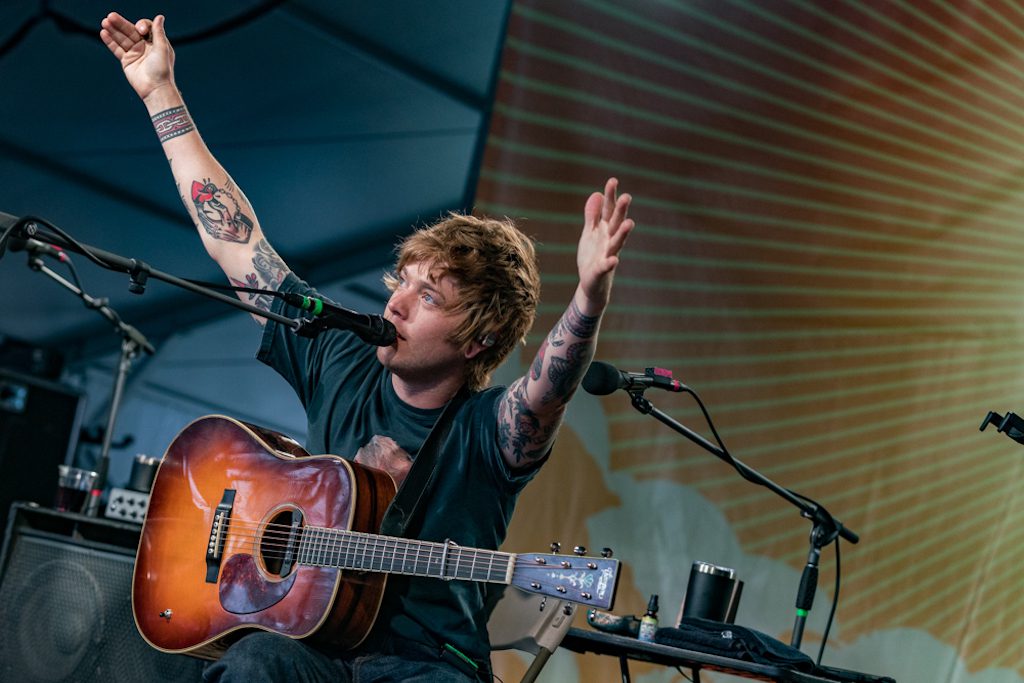 Billy Strings - Newport Folk Festival 2021 - Photo by Anthony Mulcahy
In an awards show infused with both the joy of reunion and the sorrow of missing beloved family members, the International Bluegrass Music Association honored some pioneers in the music as well as those carrying the tradition forward Thursday evening in Raleigh, North Carolina.
"If there's something we've learned over the last year, it's the importance of community," Jeremy Garrett said in the show's introduction, taking turns with hosting duties along with his Infamous Stringdusters bandmates. Andy Falco applauded the music community's work in finding new ways to be creative.
Billy Strings was one of the evening's big winners, with his named called for Entertainer of the Year and Guitar Player of the Year. And Appalachian Road Show was twice honored, for Instrumental Group of the Year and New Artist of the Year. Sierra Hull and Justin Moses won instrument awards for mandolin and resophonic guitar, respectively, a nice his-and-hers addition to the married couple's mantle.
Surviving members of The Stoneman Family performed as the band was inducted into the Bluegrass Hall of Fame, with Roni and Donna Stoneman joined by Sandy Stoneman, daughter of Ernest "Pop" Stoneman, who died in 1968. Despite their own quips about their age, they stole the show with spirited playing and commentary. Also inducted into the Hall of Fame were banjo player and bandleader Lynn Morris and singer, fiddle player, and bandleader Alison Krauss, who capped her heartfelt speech, remotely, with "COVID sucks, everybody!" (Read our interview with Krauss about her Hall of Fame nomination here.)
The past year brought a lot of heartbreaking losses to the bluegrass community, and the Infamous Stringdusters spoke of their close connection to Nashville's Station Inn and issued a call to "ring that bell" for its owner and operator, JT Gray. The band also related brief personal stories about Byron Berline, Bill Emerson, Tom T. Hall, and Tony Rice. A reading of names followed, accompanied by Chris Eldridge playing "Your Long Journey" solo on guitar.
The evening ended with an ensemble rendition of Rice's "Cold on the Shoulder," featuring Sister Sadie, The Travelin' McCourys, Eldridge, and Jim Lauderdale. 
Here is a partial list of categories, with winners in bold.
ENTERTAINER OF THE YEAR 
Balsam Range
Billy Strings
Doyle Lawson & Quicksilver
The Del McCoury Band
The Po' Ramblin' Boys
VOCAL GROUP OF THE YEAR 
Darin & Brooke Aldridge
Balsam Range
Blue Highway
Doyle Lawson & Quicksilver
Sister Sadie
INSTRUMENTAL GROUP OF THE YEAR 
Appalachian Road Show
Billy Strings
Michael Cleveland & Flamekeeper
The Infamous Stringdusters
The Travelin' McCourys
NEW ARTIST OF THE YEAR
Appalachian Road Show
Carolina Blue
Gina Furtado Project
High Fidelity
Merle Monroe
SONG OF THE YEAR 
"Banjo Player's Blues," High Fidelity (songwriter: Charlie Monroe)
"Hitchhiking to California" Alan Bibey & Grasstowne (songwriters: Wes Golding, Alan Bibey, and Jerry Salley)
"Just Load the Wagon," Junior Sisk (songwriter: J.R. Satterwhite)
"Leaving on Her Mind," Doyle Lawson & Quicksilver (songwriter: Jack Clement)
"Richest Man," Balsam Range (songwriters: Jim Beavers, Jimmy Yeary, and Connie Harrington)
ALBUM OF THE YEAR
Bluegrass 2020, Scott Vestal, Patrick McAvinue, Cody Kilby, Dominick Leslie, Curtis Vestal
Distance and Time, Becky Buller
Fall Like Rain, Justin Moses
Industrial Strength Bluegrass: Southwestern Ohio's Musical Legacy, various artists
Load the Wagon, Junior Sisk
Still Here, Steve Gulley & Tim Stafford
MALE VOCALIST OF THE YEAR 
Ronnie Bowman
Del McCoury (tie)
Danny Paisley (tie)
Junior Sisk
Larry Sparks
FEMALE VOCALIST OF THE YEAR
Brooke Aldridge
Dale Ann Bradley
Sierra Hull
Molly Tuttle
Rhonda Vincent
BANJO PLAYER OF THE YEAR 
Gena Britt
Gina Furtado
Rob McCoury
Kristin Scott Benson
Scott Vestal
BASS PLAYER OF THE YEAR 
Mike Bub
Todd Phillips
Missy Raines
Mark Schatz
Marshall Wilborn
FIDDLE PLAYER OF THE YEAR 
Jason Carter
Michael Cleveland
Stuart Duncan
Bronwyn Keith-Hynes
Deanie Richardson
RESOPHONIC GUITAR PLAYER OF THE YEAR
Jerry Douglas
Andy Hall
Rob Ickes
Phil Leadbetter
Justin Moses
GUITAR PLAYER OF THE YEAR
Trey Hensley
Billy Strings
Bryan Sutton
Molly Tuttle
Jake Workman
MANDOLIN PLAYER OF THE YEAR 
Jesse Brock
Sam Bush
Sierra Hull
Ronnie McCoury
Tristan Scroggins 
---